Thursday's Top 10: Happy U.S. Open Day!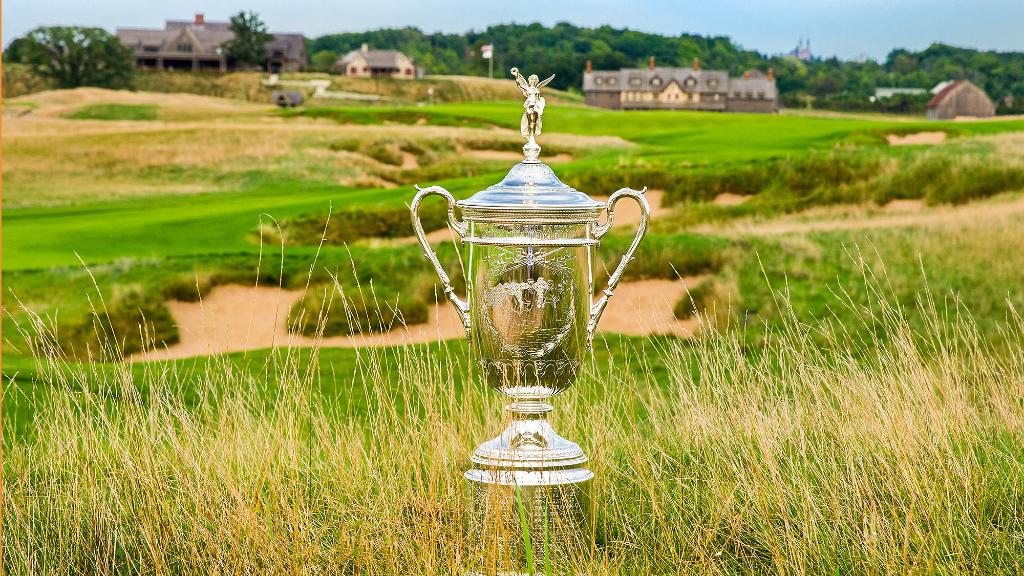 Golf fans, today marks the beginning of our favorite tournament! You know the one. To most, it's golf's national championship, but to the hackers like me out there, it's the tournament where the professionals tend to look more like us. This year's U.S. Open at Erin Hills is expected to be a little easier than the Open traditionally plays -- they should've left the fescue as it was -- but we can still count on seeing some of the big names really post some big numbers. I'll be glued to the coverage for four days.  
1. Keep eyes on Stephan Jaeger at 500-1 to win the U.S. Open.
My completely biased/homer/sleeper pick is Stephan Jaeger with former KSR writer Aaron Flener on the bag. Jaeger qualified for the U.S. Open two weeks ago and has two wins in his last three events since hitting a golf ball out of the backdoor of our beach house on a bachelor party back in May. You might've seen the video of Flener chugging beer out of their latest trophy earlier this week after they punched their ticket to the PGA tour next season; I hope to see a longer chug out of the U.S. Open trophy on Sunday. (And that 500/1 payday will be nice.) Go Jaeger. Go Flener.
2. Benny Snell released a music video
Kentucky running back Benny Snell has been dabbling in hip-hop music this offseason and yesterday he released a music video for his new song, "D To The A (Remix)." However, the video was quickly pulled due to some of the things seen in it, Snell explained in a note on Twitter last night. Soon after that, the note was pulled off Twitter, too. The lesson in all this? Maybe don't flaunt flashy cars, cash and jewelry when you're a student-athlete. It's only going to put a target on your back and bring unnecessary drama, whether you deserve it or not.
3. Here's a Kentucky football video you can watch online...
Football season is coming.
4. Malik Monk to work out for the Sixers today.
Many believe Monk is the perfect fit for Philadelphia. Will today's workout seal the deal? De'Aaron Fox will work out for the Sixers on Saturday.
5. The NBPA Top 100 Camp is underway in Virginia.
Several of the nation's top high school basketball players (100, to be exact) are at the University of Virginia this week for the NBPA's annual top 100 camp. UK target Naz Reid is among those showing off their skills, and yesterday he said he has upcoming visits to LSU and Louisville.
6. Joel Justus to watch more USA Basketball in Argentina today.
UK assistant Joel Justus is still in Formosa to watch the U16 USA Basketball team. Yesterday he saw the Americans beat Puerto Rico, 110-69, and today he gets another look when the team plays the Dominican Republic. According to Evan Daniels, Texas assistant coach (and KSR legend) Jai Lucas is also in Argentina to see the games, as well as Miami head coach Jim Larranaga.
7. Shout-out to the Madisonville Maroons softball team.
The Lady Maroons won the state softball championship last weekend with a win over Male on Saturday. It was only the second state title in any sport for Madisonville-North Hopkins, my old high school, so shout-out to the Maroons for bringing the trophy home! (Now if we can just get to the Sweet Sixteen again in my lifetime...)
8. Wichita State didn't love it when Kent Bulle wore his UK shorts in its basketball facility.
Our favorite professional golfer and friend of the program, Kent Bulle, was invited to shoot around at Wichita State and meet the team earlier this week while the Web.com tour is in town. And because he's a Cats fan (and didn't have anything else), Kent wore his UK shorts to meet the Shockers.
"Let's play with this ball today." 🏀@KentBulle, @FavelaArmando and @JustinLower_1 took over @GoShockers court prior to @AirCapClassic. pic.twitter.com/8zePf6ba4d

— Web.com Tour (@WebDotComTour) June 14, 2017
Kent told me Gregg Marshall was very nice and understood the basketball passion from a Kentuckian, but the shorts didn't go over very well with everyone else.
9. Louisville news coming today?
Louisville news coming today.
10. Stop 4 of the KSR Summer Tour is in Somerset, Ky. today.
Matt Jones, Ryan Lemond and the gang are at Ashley Furniture in Somerset for a two-hour live broadcast of today's show. Stop by and say hello.