Tim Couch on Will Levis: "He's got everything that you want"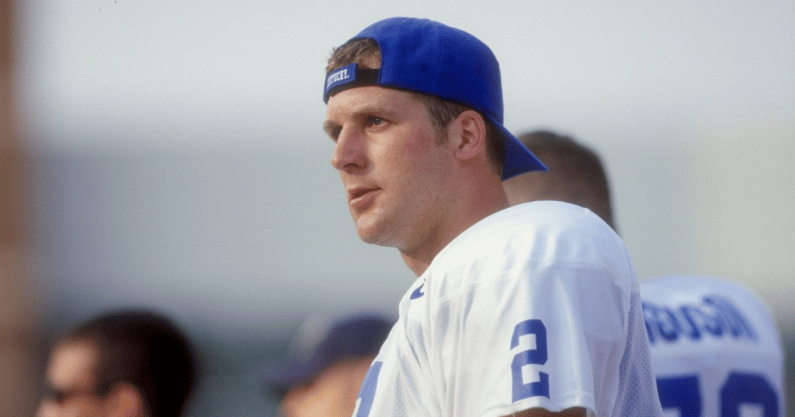 This summer Mark Stoops said Will Levis is is the best Kentucky quarterback since Tim Couch. Now is the perfect time to hear what the former No. 1 NFL Draft pick has to say about the Cats' current signal-caller.
The Kentucky football program has undergone a facelift since Couch took the SEC by storm in Hal Mumme's Air Raid 25 years ago. More than $155 million has been invested into upgrading facilities after he helped Mitch Barnhart select Stoops as the Cats' head coach back in 2013. Two wins away from surpassing Bear Bryant with the most wins in school history, it's safe to say Stoops was the right choice.
Kentucky is putting together 10-win seasons on a regular basis, and surprisingly, not because of excellent quarterback play. Securing a talent under center is the easiest way to flip a program's fortune, but Stoops has done it by investing in the trenches. Levis is the kind of difference-maker that can take the Cats to the next level. Couch tells the Herald-Leader's Josh Moore the former Penn State quarterback has what it takes.
"You look at the physical traits, his size, the arm strength obviously, his ability to run and make plays with his legs, his leadership, his toughness, he has all the qualities that you look for in a guy that's gonna be a high pick in the draft. He's got everything that you want.

"You just want to see him this year take it to another level with his accuracy and decision-making, some things that every quarterback can improve on as they mature in the system and more opportunities to play. He's got all the potential in the world. He just has to go out and take advantage of it."

Herald-Leader
On paper, Levis checks all of the right boxes. However, that's easier said than done. As Couch warns, the pressure weighing on a high-profile quarterback is heavy, especially in the era of name, image and likeness that can pull you in a thousand different directions. "It's about blocking things out and focusing on what's important," Couch says.
If Levis can keep his nose on the grindstone and fulfill lofty expectations, the Kentucky quarterback could be partying like it's 1999 at the NFL Draft next spring.