Tim Tebow shares advice to Will Levis: Don't Slide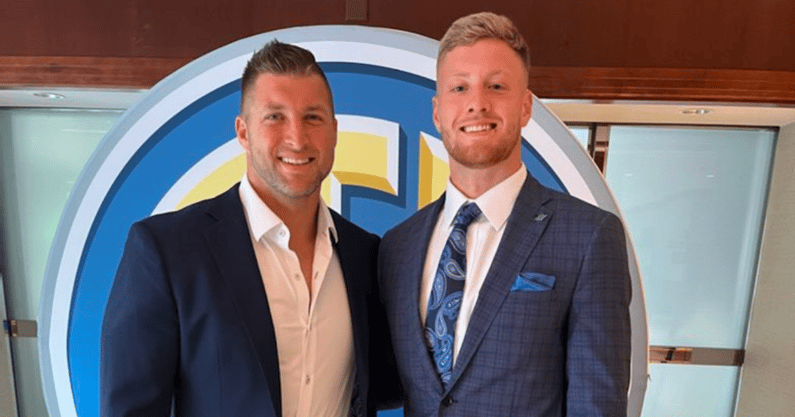 No player means more to the Wildcats in 2022 than Will Levis. Kentucky has climbed the SEC ladder in the trenches without difference-makers at quarterback. Now that they have one, it's imperative that he remains healthy, especially following Beau Allen's surprising preseason departure.
Levis can stretch defenses vertically with his big right arm. That's not the only facet of his game that makes him special. Just ask Missouri's Blaze Alldredge.
You could also ask Louisville defensive coordinator Bryan Brown how to defend Levis, but he wouldn't have an answer. After all, the quarterback did rush for four touchdowns against the Cards.
Know When to Hold Em, Know When to Fold Em
Kentucky must keep Will Levis out of harm's way, but they cannot coddle him. He's well-aware of the situation at hand. He must choose wisely when it's the right time to lower his shoulder to get extra yards or slide into the turf.
"I'm just gonna let my instincts take over for sure," Levis said at UK Football Media Day. "I know that my body and my health to this team is more important than anything else. I'm definitely not a traditional prototype quarterback with what I'm able to do in the run game and what I'm able to do physically. I know that there's opportunities where I can use that to my advantage, but it's more so just a matter of knowing when the risk is worth it. I'm definitely looking forward to sliding a little more this year."
Tim Tebow Shared Advice to the Kentucky Quarterback
At SEC Media Days Levis was interviewed by the former Florida Heisman Trophy winner. Tim Tebow is a big Levis fan, ranking him as the second-best quarterback in the SEC. It's probably because he sees a lot of his game in Kentucky's quarterback.
"They'll tell me to not be as physical, slide more and protect myself. He kind of took the opposite approach," Levis recalled. Tebow then shared a story from his Heisman Trophy year at Florida State.
"On a third and 15 he rolled out, lowered his shoulder and just demolished a dude and fell forward for the first down. He said that his favorite feeling in his career always was getting picked up by his offensive linemen, because it's the dudes who you try to earn their respect by how you treat them and how you operate as a unit. You know that they got love in their hearts for you when they're willing to chase down and get everyone away from you to pick you up."
There's an injury risk every time Will Levis leaves the pocket. That's the price of playing football. If he chooses the right moments, he can inject even more energy into his team to lift them to a victory.
"You're not supposed to do those things. You're not supposed to be physical, you're not supposed to have the body to be able to do those things. I'm in a unique position that when you do do that, it brings a little more hyper-energy than really any other position can to the team. So there's definitely some positives to it. It's an attribute of mine that I'm very proud of and that I'm going to continue to use smartly and effectively but it was cool to hear someone who's been through the same thing I have talk about that."