Toby Keith and Kirk Herbstreit joined The Mark Stoops Show
[caption id="" align="alignnone" width="966"]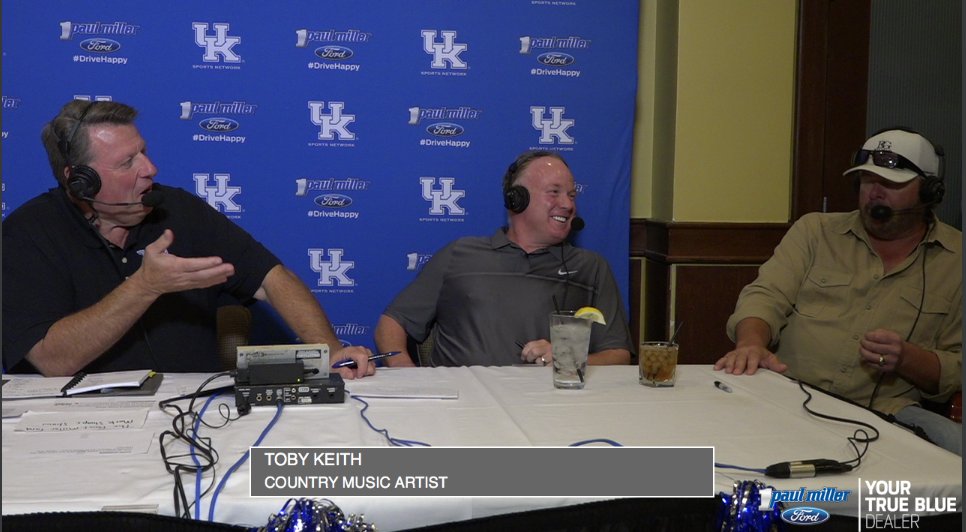 @UKSportsNetwork
[/caption] The Mark Stoops Show had a little extra swagger after the Cats' third win of the season.  ESPN's Kirk Herbstreit and country music superstar Toby Keith joined the Kentucky head coach to talk about his program.  Herbstreit was hesitant to praise Stoops too much; Keith was not. "This is my boy right here," Keith said.
 "This boy's going to take down Florida this week."
Toby Keith always knew Stoops was the right guy for the job at Kentucky. https://twitter.com/UKSportsNetwork/status/909912432247746560 At the end of the video, Toby mentioned that it's tough to succeed in football at a basketball school.  A few minutes later he asked, "How many great basketball schools have a good football team?" "Kentucky," Stoops immediately responded. It was an entertaining interview that featured plenty of praise for Stoops and criticism for Herbstreit.  If Tom Leach didn't cut him off, Keith would've spent the entire time bashing Herbie for picking Ohio State to beat Oklahoma. "He picked against my Sooners last week.  Him and Lee Corso and all them other talking pundits, all picked against my Sooners because they thought the only football played in the whole world is at Ohio State." You can watch a replay of this week's Mark Stoops Show on the
Kentucky football Facebook
page
.