Time moves differently these days. Three months ago, many of us were unconcerned about the coronavirus. Two months ago, most of us were adjusting to life in quarantine. A month ago, we were pulling at our ever-growing hair wondering when it all would end. Today, we are preoccupied with an entirely different issue. The gap between March 1 and today, June 1, seems infinite, yet the topic on everyone's minds spans centuries: racism.
I realize you probably came to this website this morning to escape the news, and I get that; however, I cannot type these words without addressing the anger and sadness in our nation right now. To slap a picture of the Kentucky mascot atop this post and pretend it is a normal Monday would be a farce. The deaths of George Floyd, Breonna Taylor, Ahmaud Arbery, and countless other persons of color are heartbreaking, and lay bare a perpetually fresh wound which has presented itself in the forms of protests across the world, both non-violent and violent.
One person was shot and killed during last night's protests in Louisville as the police and members of the Kentucky National Guard tried to disperse the crowd. Earlier in the day, this scene on the streets in the Derby City was a beacon of hope amid a sea of despair.
She just went in for the hug, and the officer accepted. Lasted almost a minute. Incredible pic.twitter.com/rJjvN0yhXz

— Roberto Aram Ferdman (@robferdman) June 1, 2020
In Lexington, the demonstrations remained peaceful, with protestors and police coming together to pray, hug, and even play a little Rock, Paper, Scissors.
Protesters are praying with police in Lexington. @heraldleader pic.twitter.com/oh7fHeZwVS

— Ryan C. Hermens (@ryanhermens) June 1, 2020
Memorable Moments | Lexington protesters play rock paper scissors and hug officers from @lexkypolice ❤️ pic.twitter.com/qtCxAEU1k2

— Robert Thomas WKYT (@RobertWKYT) June 1, 2020
This is an uncomfortable subject — one on which, frankly, the world does not need another white person's opinion — but I want to use this space this morning to express my love to everyone who is hurting. We will never know your pain, but please let us know what we can do to help. Our country has had too many tries to get this right and failed; let this be a moment of reckoning.
John Calipari, Mark Stoops speak out on the protests
Over the weekend, both John Calipari and Mark Stoops addressed George Floyd's murder and the ensuing protests. On Friday, Calipari tweeted that he was "sick" and "horrified" over the injustices and had talked to his team about it. Last night, he added to that, telling fans in a video that this week's "Coffee with Cal" is canceled so he can come up with a better way to add to the dialogue.
— John Calipari (@UKCoachCalipari) June 1, 2020
Stoops released this statement on Twitter Friday night:
As so many of us have seen and felt, I deeply hurt for the injustice we have in our country. We must find a way to treat each other the way we want to be treated, with unity and respect. As a nation, we must overcome it. And we must begin now. 🙏

— Mark Stoops (@UKCoachStoops) May 30, 2020
---
UK recruit Skyy Clark attended the protests in Nashville
Five-star guard Skyy Clark is one of Kentucky's top recruits in the 2022 class, and on Saturday, attended the protests in Nashville. Early on, the protests stayed calm; however, after dark on Saturday night, a handful of people lit a fire at the courthouse and looted businesses along Broadway. Clark was not among them, and on Sunday, took to social media to organize a cleanup for this afternoon:
anyone and anything is helpful. thank you to anyone who would love to participate. LETS REBUILD!!! pic.twitter.com/lJj4BPAjCy

— Sensei (@skyyclark) May 31, 2020
---
ICYMI, the basketball team will return to campus in late June
The SEC is lifting its ban on on-campus activities one week from today, but UK has yet to publicly announce its plans to bring players back to Lexington train this summer. On Saturday, Jack Pilgrim reported that the basketball team is preparing to have the team back on campus the week of June 22. Of course, this is all subject to change as we wait to see what COVID-19 will do in the weeks following re-openings across America, but if all goes well, the Joe Craft Center will be buzzing with the sounds of bouncing basketballs soon.
For more details on the timetable to return, check out Jack's post.
SOURCES: Kentucky basketball tentatively planning late June return to campus
---
Olivier Sarr is still fishing in Kentucky shirts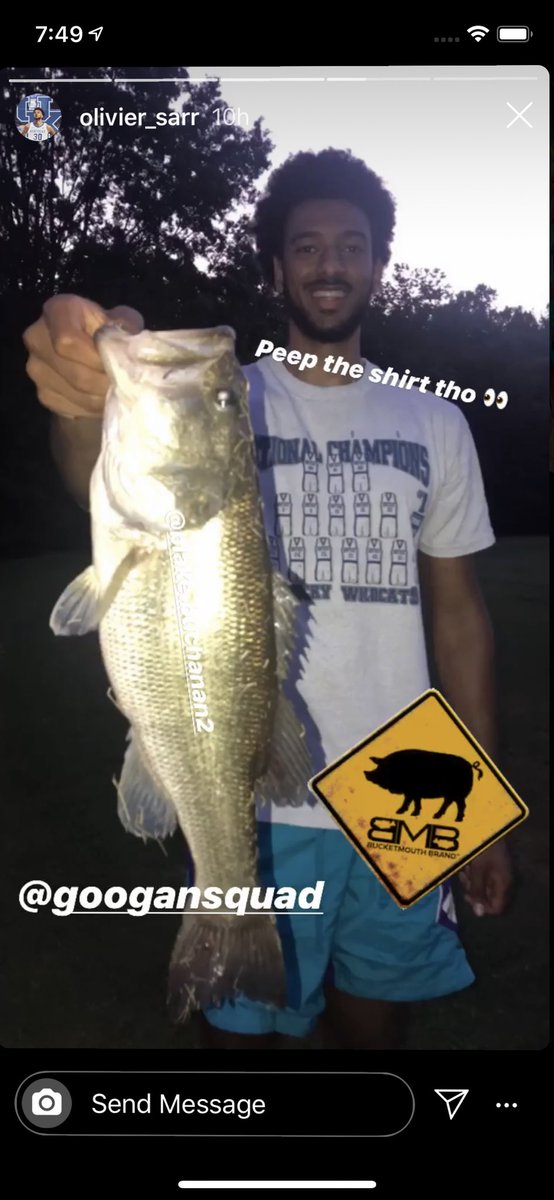 Whether or not Olivier Sarr will be able to suit up for Kentucky this season remains to be seen, but he continues to endear himself to the Big Blue Nation. On Saturday, he posted another pic of himself in a UK shirt with a big fish, proof that we need him in Lexington stat, if only for the inevitable bass fishing expedition with Kash Daniel.
---
KSR Dog of the Day
We need your adorable dog pics more than ever. Meet Bogie, a one-year-old Goldendoodle from Nicholasville who is the apple of his parents Stan and Carol Cave's eye.
---
Drew and Jack host KSR
Matt is in New York for the next two weeks, but Ryan and Drew have lined up plenty of special guests to keep the radio show rolling. Today, our very own Jack Pilgrim will cohost with Drew, so get ready for lots of basketball recruiting talk. Hopefully he can give us a little scoop on Calipari's virtual visit with Paolo Banchero last night. ::eye emoji::