Today on KSR: Another Yahtzee on the way?
Good morning, friends. Can you believe we're only 16 days from Kentucky football? It can't come soon enough. Sadly, there's no football availability today, but we've still got plenty of news from the gridiron.
Will Kentucky get another Yahtzee?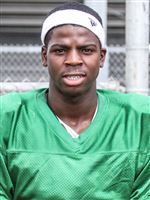 The 2018 class got a major boost last night in the form of four-star cornerback Stanley Garner, who chose Kentucky over Alabama, Clemson, Michigan, Louisville, and other ridiculously high-profile programs. Today, more good news could be on the way from the state of Florida in the form of three-star cornerback Jamari Brown. The Pompano Beach native is considered the 63rd best cornerback in the 2018 class and will choose between Kentucky, Auburn, and Temple this morning. The Cats currently lead his Crystal Ball, and should he pick Kentucky, he'll be the 18th member of UK's 2018 class, which already includes four players from the state of Florida. Eddie Gran's doing work, y'all.
Drew and I unveil our 2017 UK Legends Game Mock Draft
Yesterday, we received an updated list of former UK players participating in the Legends game that will precede the main UK Alumni Game next Friday night, and for kicks and giggles, Drew and I did a draft to make two squads. Who did I choose with the first pick? You'll have to wait until this afternoon to find out.
UNC continues to meet with the NCAA Infractions Committee
Just down the road from me here in Nashville, UNC basketball coach Roy Williams, football coach Larry Fedora, athletic director Bubba Cunningham, women's basketball coach Sylvia Hatchell, university officials, and their lawyers are meeting with the NCAA Infractions Committee for the second straight day. This will be UNC's chance to make their case in front of the committee, which isn't expected to hand down a punishment for several months. That makes @DaggumRoy a must-follow this week:
Jon Rothstein Tweet of the Day
Hearing Kentucky may toy with a super long lineup that features Kevin Knox at SG. Would give Cats four guys on floor over 6-9. Zone? #BBN

— Jon Rothstein (@JonRothstein) August 16, 2017
It think most of us already expected Cal to use Knox as a third guard just because he can, but I'd be lying if I said that didn't get me excited to see this team play. Stay hungry and humble, Jon.
Cool Eclipse News of the Day
I'm burnt out on most of the Eclipse stuff, but I do think it's cool that Bonnie Tyler will sing her hit song "Total Eclipse of the Heart" during the actual Eclipse on Monday. Royal Caribbean's Total Eclipse Cruise will be positioned in the path of totality and Tyler will perform the hit for guests just as the moon travels across the sun. In a nice blending of generations, she will be backed up by DNCE, the pop-rock band helmed by Joe Jonas and made famous by their obnoxiously-addictive 2015 hit "Cake by the Ocean." But that's not the song I want stuck in my head today. This is:
Summer Tour Stop of the Day: Benton
Come on out to CFSB Bank on West 5th Street to enjoy the show.