Today on KSR: Beat Mississippi State
Good morning, my friends, and welcome to one of the biggest weeks of the year. On Saturday, your University of Kentucky Wildcats will face the No. 14 Mississippi State Bulldogs in a game that could take this program one step further. That means we don't have a second to waste, so let's get to it.
We'll hear from Mark Stoops at noon
How does Stoops feel about his squad after Saturday's 48-10 thumping of Murray State? Find out during his press conference, which we'll stream live at noon on KSR.
We'll get a depth chart shortly before that. After the game, Stoops said he feels confident nose guard Quinton Bohanna will play vs. Mississippi State after injuring his ankle vs. Florida. That's very good news because the Cats will need all the help they can get to slow the Bulldogs, who lead the SEC in rushing with over 311 yards per game.
If you're going to the game, READ THIS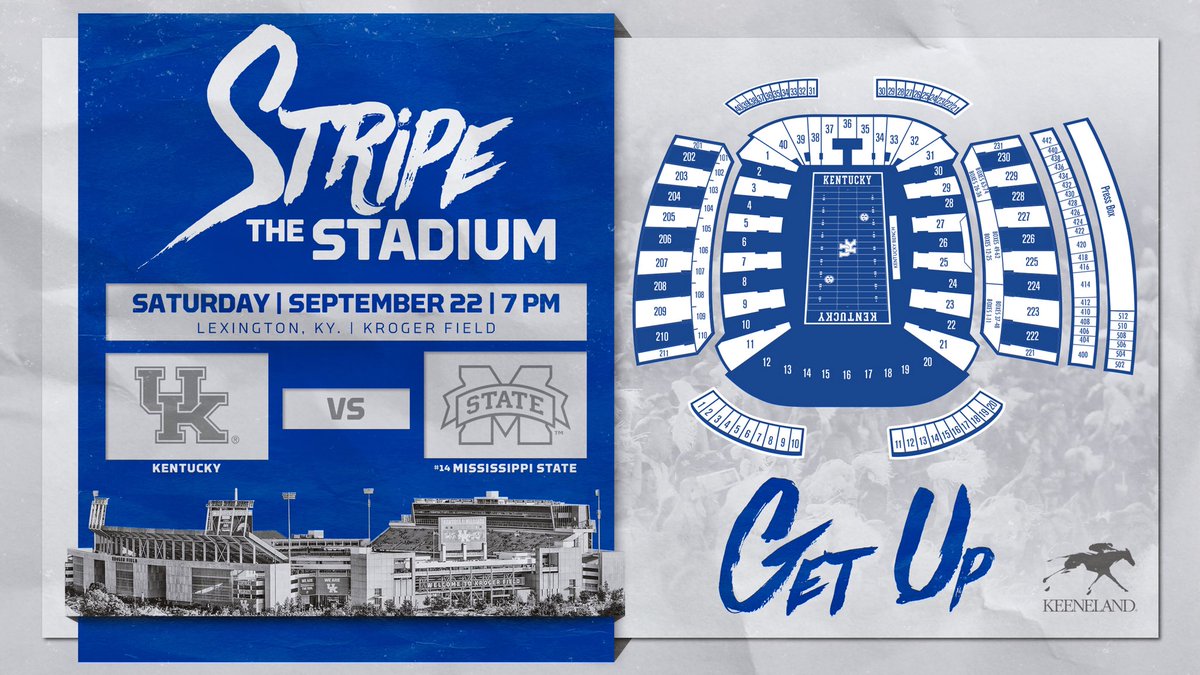 UK is trying to stripe out the stadium, but isn't giving out t-shirts, so if you're going to Kroger Field on Saturday, please participate and wear the proper color. Otherwise it will look lame.
Sections 2, 4, 6, 8, 10, 12-20, 22, 24, 26, 28, 30, 202, 204, 206, 208, 210, 222, 224, 226, 228, and 230 are expected to wear blue, while the other sections are being asked to wear white.
It wouldn't be Mississippi State week without a message from Helmet Guy
You heard it here first, Kentucky's going to win by 18 points. #HelmetGuyLine
Basketball recruiting updates coming this afternoon
Hey, remember basketball? It's been shifted to the back burner due to football, but Kentucky hosted five-star guard Scottie Lewis on an official visit this weekend, and late last week, John Calipari stopped in to see Jaden McDaniels, Keion Brooks, and Isaiah Stewart, all who were thought to be off the radar but apparently are back on it. What should we make of all this? TJ Walker will be by this afternoon to make sense of what's going on with Kentucky's 2019 class.
Kentucky's own Keelan Cole is frontrunner for Catch of the Year
The Louisville native and Kentucky Wesleyan grad had everyone talking yesterday with this insane grab:
KEELAN COLE. ABSURD. pic.twitter.com/bzk8iLTH9S

— CBS Sports (@CBSSports) September 16, 2018
The more you find out about Cole, the more fascinating his story becomes. At Central High in Louisville, he was a backup defensive back and only switched to wide receiver as a walk-on freshman at Kentucky Wesleyan, where he found his calling. After going undrafted after graduation, Cole signed with the Jags as an undrafted free agent and led the team in receiving yards. Now, he's the early frontrunner for catch of the year.
Meanwhile, my biggest accomplishment yesterday was cleaning our humidifier. Same thing, right?
Rick Pitino joins the Aaron Torres Sports Podcast
Aaron Torres managed to do what none of us have been able to: Get Rick Pitino to appear on a KSR platform. That's right, Pitino will be on the Aaron Torres Sports Podcast today, meaning you should double check to make sure you're subscribed. Get the podcast delivered directly to your phone by subscribing to the Aaron Torres Sports Podcast feed on iTunes or via Android's Podcast Addict app.  You can easily listen on the KSR App, available on iTunes and Google Play. Streaming online is simple through Pod Paradise.
The Football Podcast crew will also be back in the studio this evening to get you ready for Mississippi State…unless an NFL team wises up and calls Austin MacGinnis. Cleveland, I'm looking at you.
No update yet on the boy who was struck by a drunk driver
As you've probably seen by now, a four-year-old boy was struck by an 18-year old drunk driver on Cooper Drive during the game on Saturday. The boy was taken to the hospital with life-threatening injuries, and I've been looking this morning and unfortunately, can't find an update on his condition. The driver, Jacob Heil, was arrested and is due in court on Wednesday for an arraignment. It's been confirmed that he was a pledging Alpha Tau Omega. What a horrible situation all around.
KSR is with App Harvest in Pikeville
What up, Eastern Kentucky! Today's show is live from Shelby Valley High School (125 Douglas Park) in Pikeville so come on out to get ready for the week and learn more about App Harvest.
[mobile_ad]