Today on KSR: Doomsday for UofL?
For more than a week, fearful whispers filled the city of Louisville.  Yesterday, Dan Dakich (of all people) became the first to state the rumors publicly.  
According
to Dakich's source
"inside the room," Louisville's NCAA appeal has been denied, which means they'll forfeit their 2013 title banner and the school will be fined $15 million. A UofL spokesperson responded: "This is pure speculation. The NCAA will contact the university in advance of any announcement regarding the appeal. We have not been contacted by the NCAA." If Dakich is correct, the ruling could be released as soon as today.  If the spokesperson is correct, University-6 could hear from the NCAA as soon as today, making way for a Friday afternoon news dump.  Either way, Louisville's day of reckoning is coming soon.  In other Louisville news...
Katina Powell Cited for Stealing a Toothbrush
According to
Jason Riley
of WDRB
, Katina Powell and her daughter Lindsay were cited for allegedly stealing a toothbrush at Wal-Mart.  Worth $32, the citation of theft under $500 is a Class a misdemeanor. That story sounds more like a mad-lib than news.  I think that means it's time to switch gears.
KSR is going to the Mountains
Matt, Ryan and Drew have loaded up the KSR wagon and made way for the Appalachia.  Their adventure starts in Martin County, but they had to call an audible.  The radio show will now be at Giovanni's Pizza on 3256 Blacklog Road.  It's your last chance to see the gang before they get to Morgantown for the Big 12/SEC Challenge.
Cal, Huggins Preview the Match-up
Before they meet on the court, the coaches will take the mic -- technically, the phone.  This morning the SEC and Big 12 are hosting teleconferences.  I have a feeling John Calipari will still be fired up; who knows what we'll get from the Huggy Bear, but I'm sure it will be electric.
Herro Heading to the Hoops Summit
The future Kentucky shooting guard may have been spurned by the McDonald's All-American Game, but Nike is paying attention.  Herro announced
on Twitter
he will be one of twelve representatives for Team USA when they take on international competition April 13 at 10:00 p.m. ET in Portland.
A Busy Slam Cover
My eyes can't handle everything that's happening in this picture of Boogie and The Brow.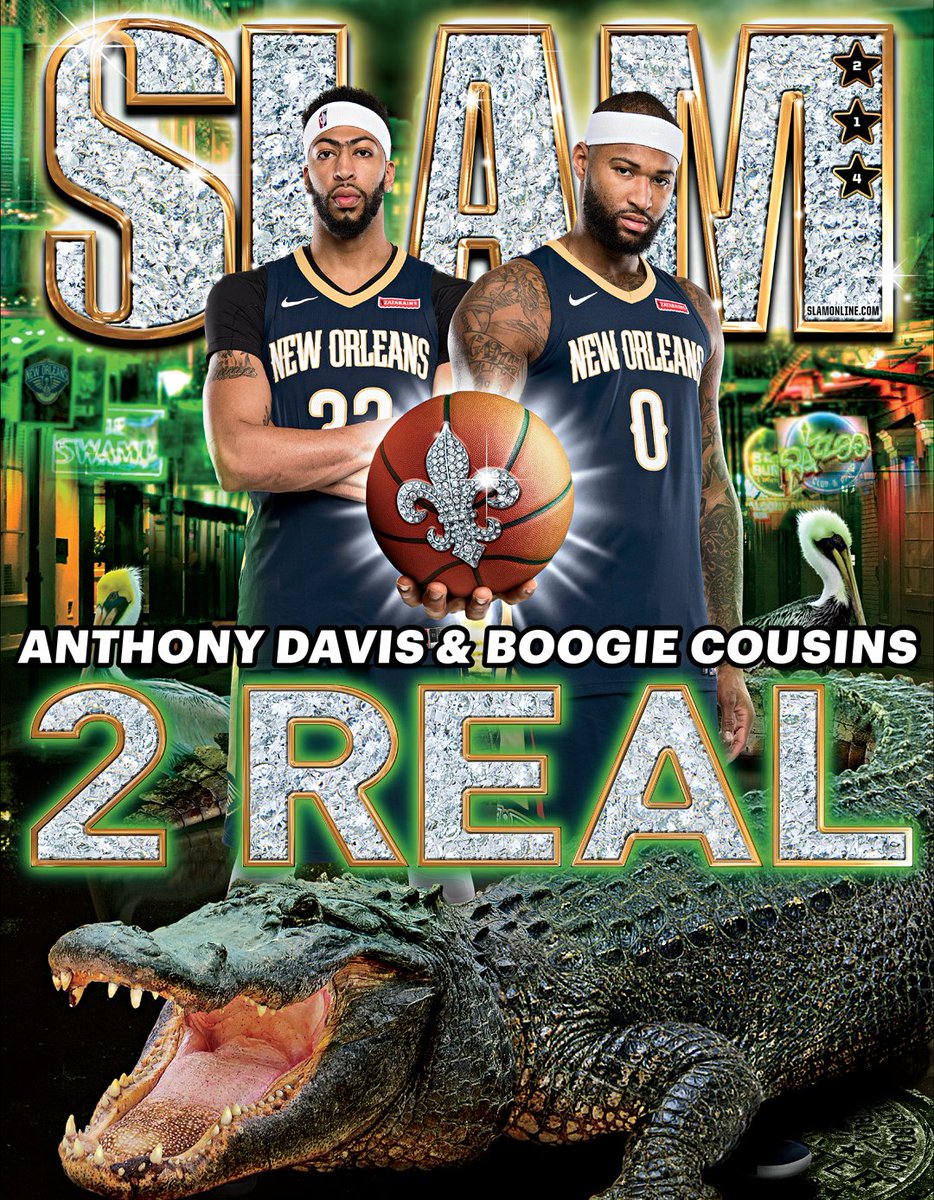 College Basketball on TV
| | | |
| --- | --- | --- |
| Time | Game | Network |
| 7:00 | No. 25 Michigan at No. 3 Purdue | ESPN |
| 7:00 | Morehead State at Murray State | ESPNU |
| 8:00 | Penn State at No. 13 Ohio State | BTN |
| 9:00 | UCF at No. 17 Wichita State | ESPN2 |
| 9:00 | South Florida at Tulane | ESPNU |
| 10:30 | Cal at UCLA | FS1 |
| 11:00 | BYU at No. 16 St. Mary's | ESPN2 |
Food for Thought
This should get the wheels turning to start your day.
I'm making my case for the golden eagles and the wolf pack, and not just because I'm a fan of the Starks.  The aerial advantage provides a distraction while the wolves take care of business with wise teamwork on the ground.  Who are you taking? [mobile_ad]