Today on KSR: Eddie Gran talks offense, ESPNU is ESPN "The Ocho," Goat Yoga
You see that look in Eddie Gran's eye? He knows football is just around the corner. Here's what you and Eddie can look forward to today in the world of UK sports.
Eddie's gonna give us an update on his offense
There was no football availability yesterday, but today, Eddie Gran and some of his players will address the media following practice. According to reports, Stephen Johnson looked remarkably sharp at the open practice on Saturday, specifically on his short throws, so it will be good to hear Gran's take on his senior quarterback's progress. On the flip side, will he confirm all the hype we've heard about Drew Barker? Finally, can he tell me if that sweatshirt he's wearing is available for purchase online? Check back around lunchtime to find out.
Eastern Little League takes on Wisconsin in Great Lakes Regional
On Sunday, Lexington's own Eastern Little League all-star team beat Indiana to advance in the Great Lakes Regional, but yesterday, they lost to Illinois, setting up a win-or-go-home showdown vs. Wisconsin this morning. Coverage of the game starts at 10 a.m. on WatchESPN.
Come on, kids. Channel all that hate you had for Sam Dekker two years ago and get us some much-needed revenge.
ESPN 8: "The Ocho" is real thing
To celebrate the eighth day of the eighth month (and their nosediving ratings), ESPNU is ESPN 8, aka "The Ocho" for one day only. If you're not familiar with your early 2000's sports comedies, The Ocho was a fictional ESPN channel in the movie Dodgeball: A True Underdog Story. Fittingly, they're showing some awesomely random sporting events: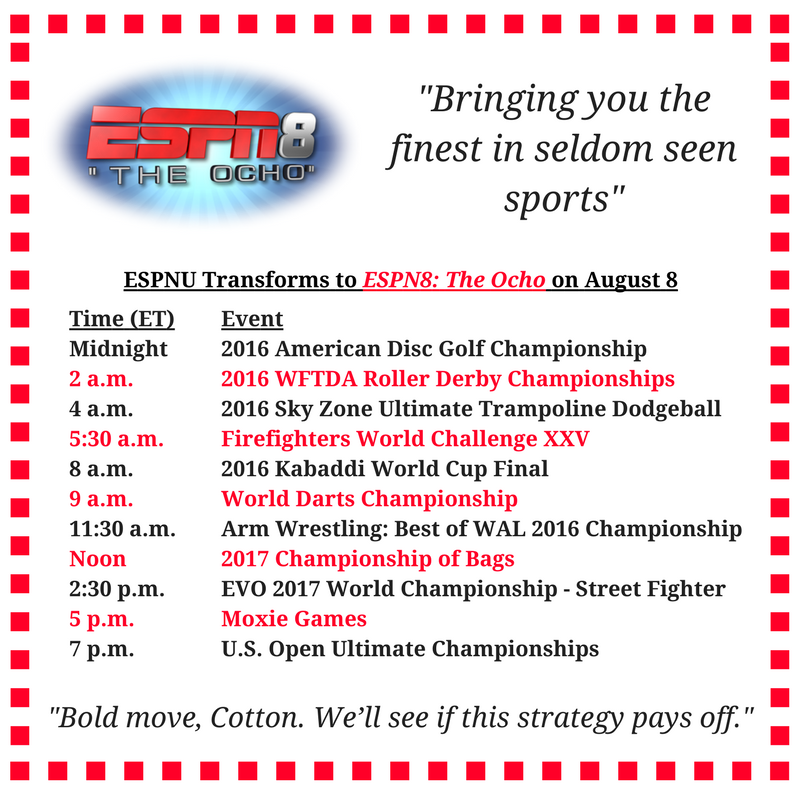 Raise your hand if you just googled "What is Kabaddi?".
Podcast of the Day: Kentucky Thrones Radio
Still not over Sunday's episode of Game of Thrones? Me neither. Thankfully, Nick and TJ are here to feed our addictions. Refresh your KSR podcast feeds to hear their takes on the "Spoils of War," by far the most dramatic episode of the this season.
Bizarre fitness trend of the day: Goat Yoga
https://www.instagram.com/p/BXfsXhcAZdf/
On Saturday, I tried the latest fitness trend taking over Nashville: goat yoga. As an animal lover, I had been looking forward to it for weeks, and I'm happy to report it lived up to expectations. Basically, you and 25 other people go through a basic yoga class while waiting for the goats to come visit you and jump on your back (it's their natural instinct to jump to the highest point around). There were a few "eww" moments (yes, one pooped on my mat, but the Shenanigoats staff quickly cleaned it up), but overall, it was a great experience. When else in life do you get to cuddle with goats?
Channing Tatum Sighting of the Day: ?
Over the last few days, the Magic Mike star has been spotted in Lexington and Harlan on a promo tour for his upcoming movie, Logan Lucky. Will he show up in another random Kentucky town today? If so, I'm not sure the Commonwealth's women can handle it.
Channing Tatum still hanging around Kentucky, spotted in Harlan
KSR Summer Tour Stop of the Day: Monticello
Get on out to the Wayne Theater to enjoy the show and register to win tickets to a game this season.