Today on KSR: I saw the end of Kentucky's season flash before my eyes
I almost witnessed the greatest tragedy in the history of Kentucky football.  
Almost
. Following each Wednesday Kentucky football practice, it takes a little longer to get to player interviews.  Forced to delay their weekly lift, the defensive players resort to some good ole-fashioned horse play before speaking to the media.  It's usually in the form of some pick-up touch football.  The shenanigans have a tendency to spill over into the interviews. https://twitter.com/RoushKSR/status/1042536264157806592 I fully encourage shenanigans, especially for high school and college kids.  You can't put them in bubblewrap.  They've got to live their lives and enjoy their success.  However, I gasped when last night's shenanigans became borderline dangerous. Mike Edwards was forced to turn toward the practice field as players taunted him from within the weight room.  Josh Allen took the opportunity to slide behind him with a glove in hand.  As Edwards responded to a question from Derek Terry, he didn't notice Allen creep up behind him.
WHAP! 
The glove slapped off the right side of Edwards' face.  All bets were off and chaos ensued.  In the blink of an eye, Allen dropped his equipment and began sprinting away.  The players in the weight room darted off to grab his abandoned pads, while Edwards ditched the interview to sprint after Allen. The pursuit created an involuntary, audible gasp.  In an attempt to evade the Badger, Allen veered into the concrete adjacent to the weight room.  As his cleats scraped the concrete, thoughts of Reggie Bush creeped into my mind.
"No. No. No. No. No. No." 
I held my breath until Kentucky's All-SEC pass rusher safely returned to the turf approximately three steps later.  The brief fear of a lost season due to friendly fire was paralyzing, but over in an instant. This season has made me do many crazy things. I did not think it would lead to a temporary post-practice panic attack, but I guess that's what happens when the Cats are a top 15 team. Speaking of Allen...
Another Award for Allen
After Allen was named SEC Defensive Player of the Week for the third time in four weeks, the UK pass-rusher was named Lott Impact Trophy Player of the Week.  He's been nominated each week, but couldn't crack the code until he pulled of an incredible 8 tackle, 4 TFL and 3-sack performance.  The school will receive a $1,000 donation to the general scholarship fund for his efforts.
WHOA
This Finebaum graphic is pretty incredible, especially when you consider that Henry rushed for 2,219 yards in 2015. [caption id="" align="alignnone" width="1200"]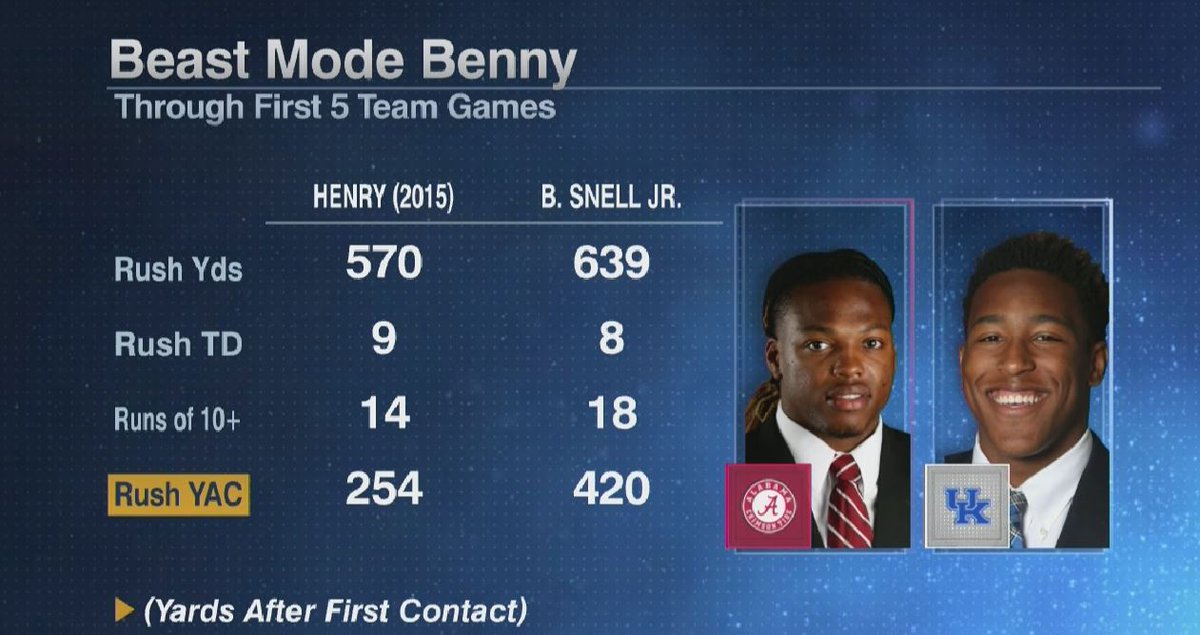 @Finebaum
[/caption]
Hoosier Daddy?
Indiana's candy-caned footballers took an L in Lexington at the hands of your Kentucky Wildcats.  No. 4 UK shut out No. 2 Indiana 3-0 in front of a record crowd at The Bell. https://www.youtube.com/watch?v=heAqPP1omfA
A "Too Close to Call" Game Prediction
Kentucky is currently a six-point underdog on the road at Texas A&M.  Vegas does not believe in the Cats, but the
S&P+ rankings
do.  The analytics system has a pretty good record predicting games.  This week's game is too close to call.  It predicts Kentucky to win 26.1 to 26.05.  It doesn't get any closer than that, folks.
Register for the Go Big Blue 4 Miler
The Go Big Blue 4 Miler is back.  The walk/run that winds through the athletics facilities, including the new baseball stadium, and ends at the Kroger Field goal line.  Last year Ryan Lemond braved the task.  This year you can run it with Jared Lorenzen.  
Register here
to start your Caturday with a sweat.
Poor Drew
Mr. Franklin's football prowess is being questioned by the Big Blue Nation.  Earlier this week the
KSR Football Podcast
drafted players from the UK defense.  It was an entertaining and dramatic segment, however, nobody believes in Team Drew.
Click here
to cast your vote.
Barstool is Coming to KSBar
Big Cat, Pres and the rest of the Barstool Radio crew will be in Lexington this afternoon, broadcasting LIVE from KSBar and Grille from 4:00-7:00.  Come for the hysterical conversation, stay to watch the Patriots host the Colts for Thursday Night Football. [mobile_ad]