Today on KSR: Kentucky takes on SEC Media Days 2021
It's Football Time in Hoover. The Kentucky Wildcats are en route to a city that sleeps to take center stage at SEC Media Days. Mark Stoops will be making his ninth appearance at the event when he takes the podium at 2:30 pm ET on the SEC Network, now the second-longest tenured coach in the conference, trailing only Nick Saban. Stoops' consistency and longevity will certainly be a talking point throughout the day as he makes a transition offensively following the addition of Liam Coen. We will not find out who will be Kentucky's quarterback, but he may shine a little light on the upcoming competition. Stoops will be joined by offensive tackle Darian Kinnard and defensive end Josh Paschal. Unlike previous Media Days, only two players are attending for each team. To allow for social distancing, each player is standing behind the podium in the grand ballroom, rather than at small tables in breakout sessions. The big boys will be dressed to the nines and KSR will have boots on the ground to make sure you hear everything you need to know from SEC Media Days. Georgia's Kirby Smart is up first at 10 am ET, followed by Tennessee's Josh Heupel. Once Stoops wraps up, Lane Kiffin will hold court with the media for the first time since he was wearing Tennessee orange. It's going to be an eventful day at the Wynfrey Hotel.
Sweet Shoes, Dan
Florida's football coach is definitely not overcompensating at all for his swagger shortcomings.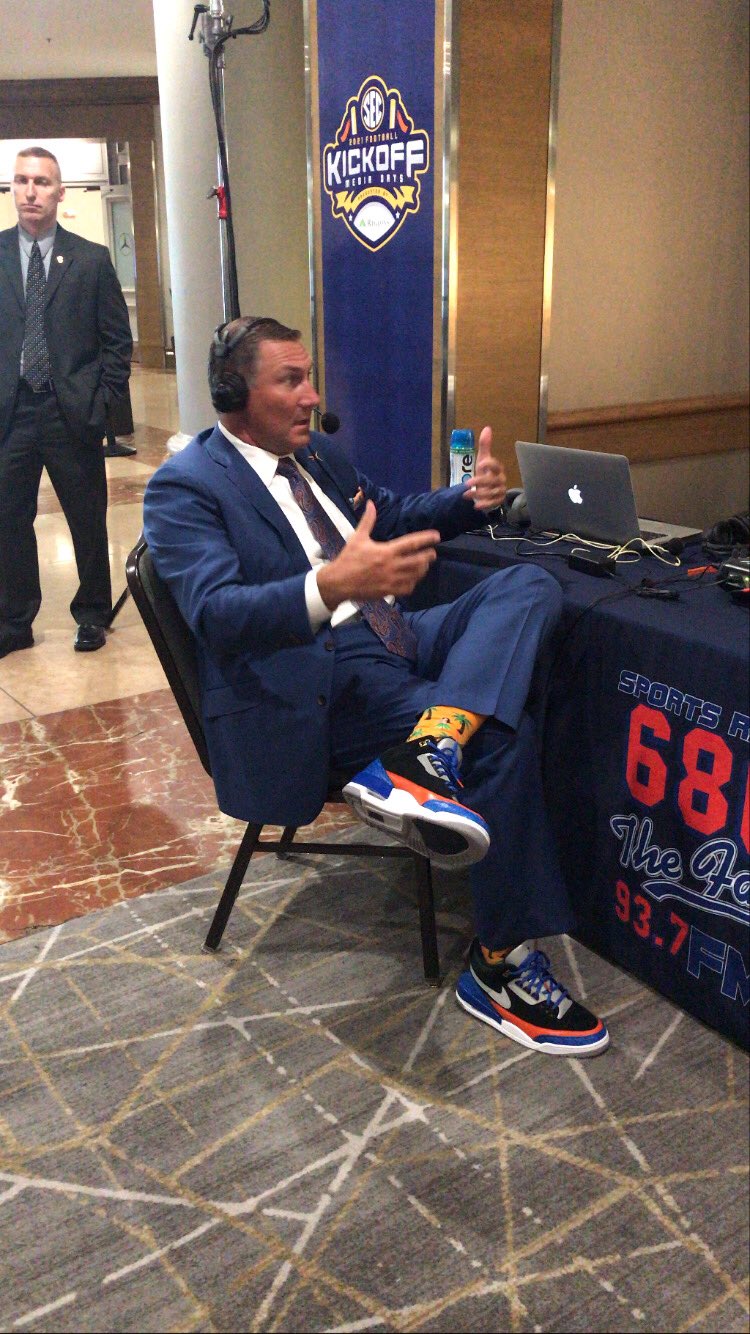 Nice Try, Shane
Just when I thought Dan Mullen was the ultimate SEC Media Days try-hard, Shane Beamer pulled this Steve Spurrier stunt. This joke won't be so funny when the Cocks win three games in 2021. [caption id="" align="alignnone" width="591"]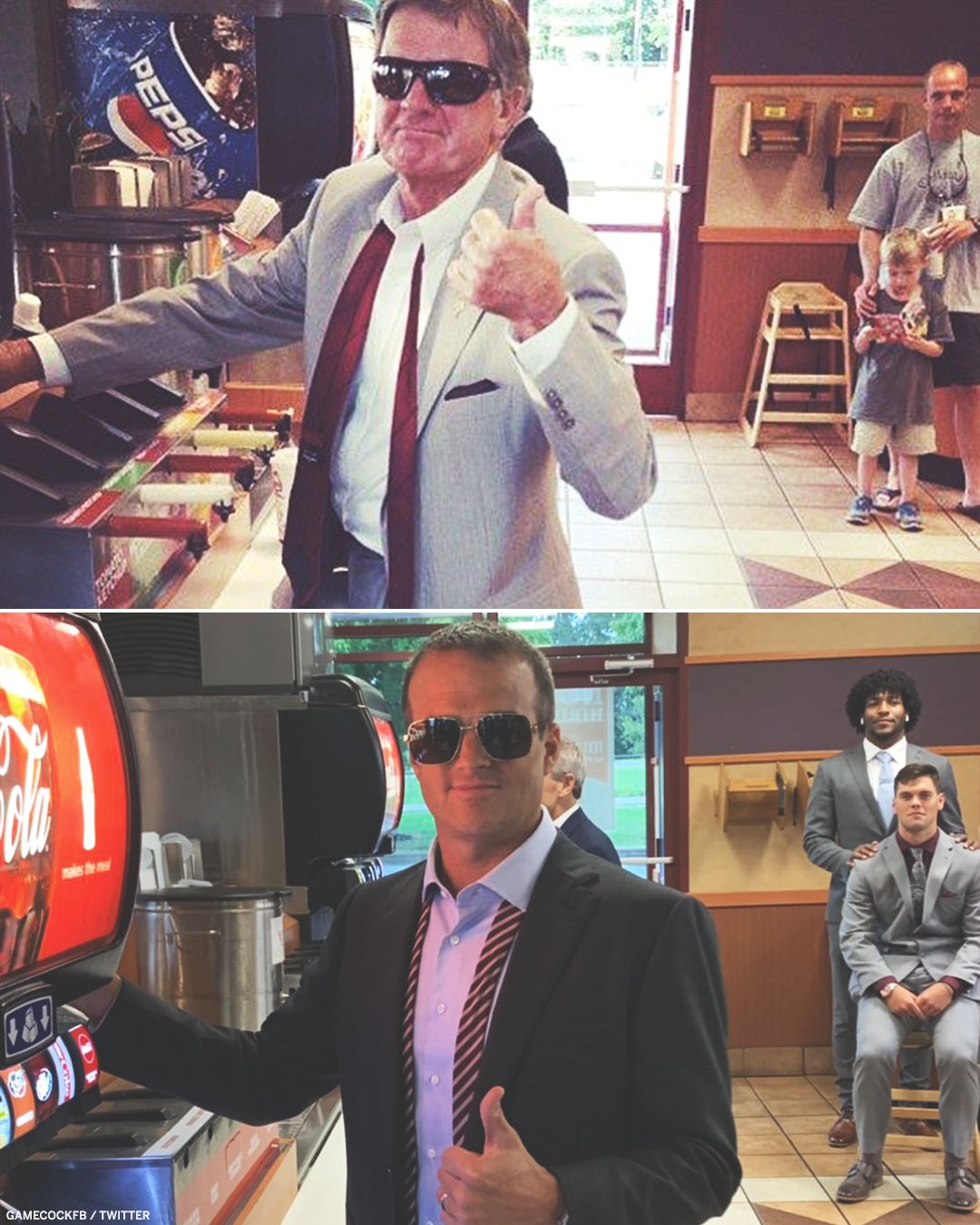 @SECNetwork[/caption]
Listen to What you Missed
If you'd rather hear what happened then glue your eyes to the SEC Network, Luckett and I got you covered on the latest edition of 11 Personnel.
Subscribe and download the podcast
, then follow along with all of our shenanigans on
KSR's Instagram story
. You also want to keep your eyes peeled on the
KSR YouTube page
because I think you're going to like what you'll see this morning.
NBA Finals Game 6
The Buck could stop in Milwaukee Tuesday night. After taking a 2-0 lead in the NBA Finals, the Phoenix Suns are on the verge of elimination. Despite making 13-of-19 three-pointers in game five, the Bucks' Big Three was too much for Devin Booker and Co. to cap off a miraculous comeback. Fiserv Forum will be rocking when the Bucks try to clinch only their second NBA Championship.
UK in the TBT
Before the Finals tip-off there are a few Kentucky basketball players taking the hardwood on national television. Archie Goodwin, Marquis Teague and Marcus Lee will be suiting up for the Eberlein Drive in The Basketball Tournament, beginning at 7 pm ET on ESPN2. It's the pro basketball perfect pregame show because it's not a pro basketball pregame show.
A TBT
This isn't about The Basketball Tournament or a Throwback Thursday, but a Throwback Tuesday. We now know Scoop Lemond's origin story and it all starts with this promo. Man, they really knew how to make local TV sports promos in the 90s. https://twitter.com/LexTVandRadio/status/1417126908710510592?s=20
"This is supposed to be food you actually eat."
To say the Mets' Gary Cohen is not a big Skyline chili fan would be an understatement. Cincinnatians, cover your ears. https://twitter.com/AndrewMarchand/status/1417301020078641154?s=20