Today On KSR: More football excitement coming your way
Good morning from this gorgeous day at the KSR office park in Lexington. Like you, we're slowly coming back down to earth after Kentucky football had another fun weekend while maintaining a perfect record. It's kind of surreal for the lifelong Kentucky fan, but it's pretty awesome, too. Makes you want to pinch yourself, doesn't it? For those who can't get enough of it, there will be plenty more football coverage coming your way today and in the days ahead before they tee it up again on Saturday in College Station. Until then, keep your head high and keep dreaming those crazy dreams about the possibilities at the end of the year.  
Mark Stoops' press conference coming your way at noon.
It's Monday, which means Mark Stoops will hold his weekly press conference at 12 o'clock today. And considering his team is undefeated through its first five games, you can expect him to be a little excited about the Wildcats. We'll have the live stream here on Kentucky-Sports-Radio-dot-com so you can follow along.
The Cats climb up the rankings.
Kentucky moved up four places to No. 13 in the new Associated Press college football poll. Over in the coaches' poll, Kentucky jumped two places to No. 15 in the country.
An underdog once again.
For the fourth time in four conference games, Kentucky opened as the underdog when the Week 6 lines were released Sunday. Texas A&M is giving up 6.5 points, although it has already moved a half point to 6 after the early action.
You'll get a new KSR Football Podcast tonight.
This week's post-South Carolina/pre-Texas A&M KSR Football Podcast will hit shelves late tonight. We will record the episode around 6 pm at KSBar & Grille so feel free to stop by to get Austin MacGinnis' autograph. Or Nick Roush's.
Benny's Heisman campaign made it to The Today Show.
Blue got in this morning. [caption id="" align="alignnone" width="900"]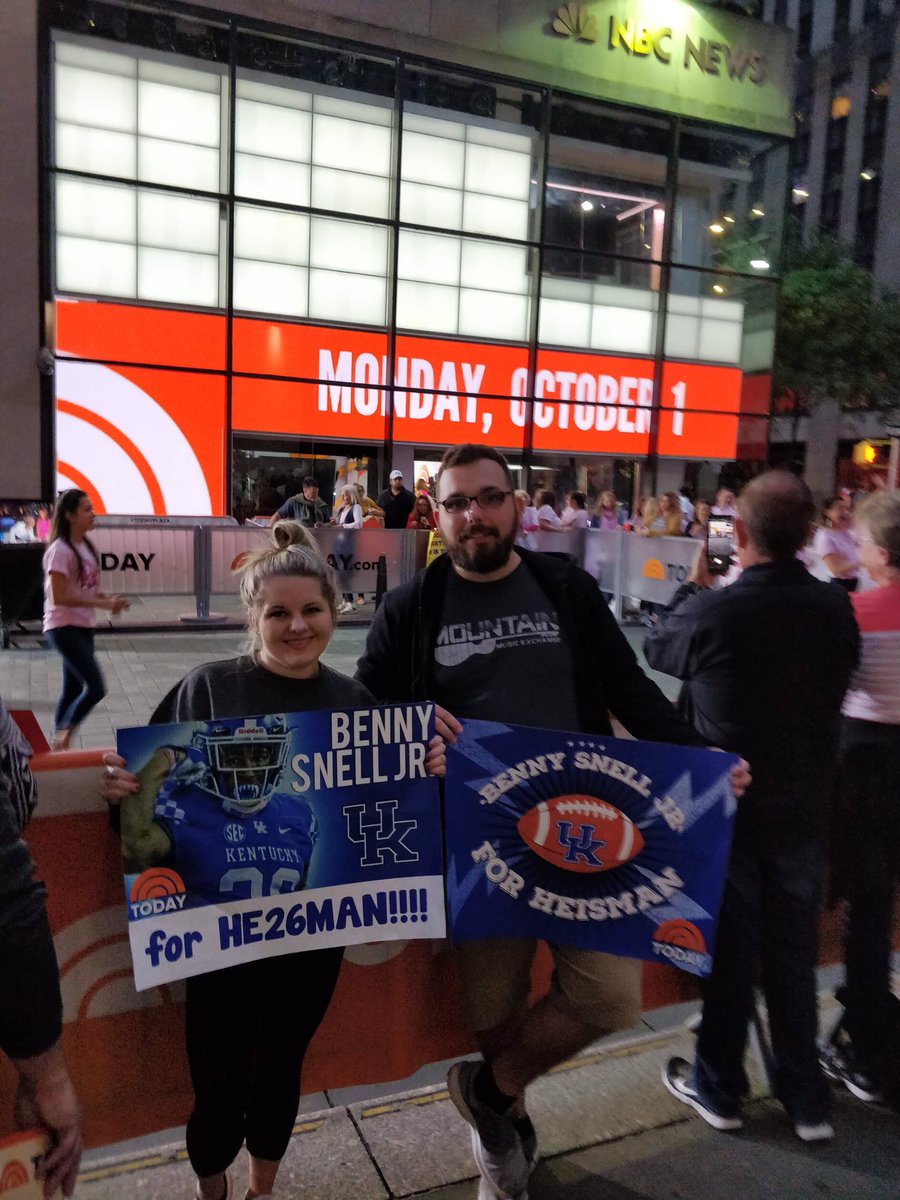 Twitter/@KyChic42
[/caption]
Four-star power forward no longer considering UK.
Zeke Nnaji, a four-star power forward out of Minnesota, eliminated Kentucky from contention when he announced his top five over the weekend. He recently earned a scholarship offer from John Calipari and had plans to visit Lexington, but for whatever reason, decided to go another direction. TJ Walker will have more on this in his Monday recruiting notes later today.
Would you fight Reid Travis?
Let's say he were a movie villain and he planned to murder your whole family. Would you take a swing at him then? What if he and his henchmen were going to blow up the planet and the fate of humanity relied on you taking him down. Would you fight him then? I still say no. We would all just have to die because this photo is terrifying. [caption id="attachment_248159" align="alignnone" width="1080"]
(Instagram/@KentuckyMBB)
[/caption]