TODAY ON KSR: Relive a Monumental Night in Lexington
Last night was a program-changing night for Kentucky, with their 28-7 victory over 14th ranked Mississippi State. So, what would be a better way to kick off your Sunday recovery day then reliving how great last night was? Before you head on into church or settle yourselves in for NFL football all day, relive the best moments from last night on this beautiful Sunday morning.
Benny Snell Broke Randall Cobb's Record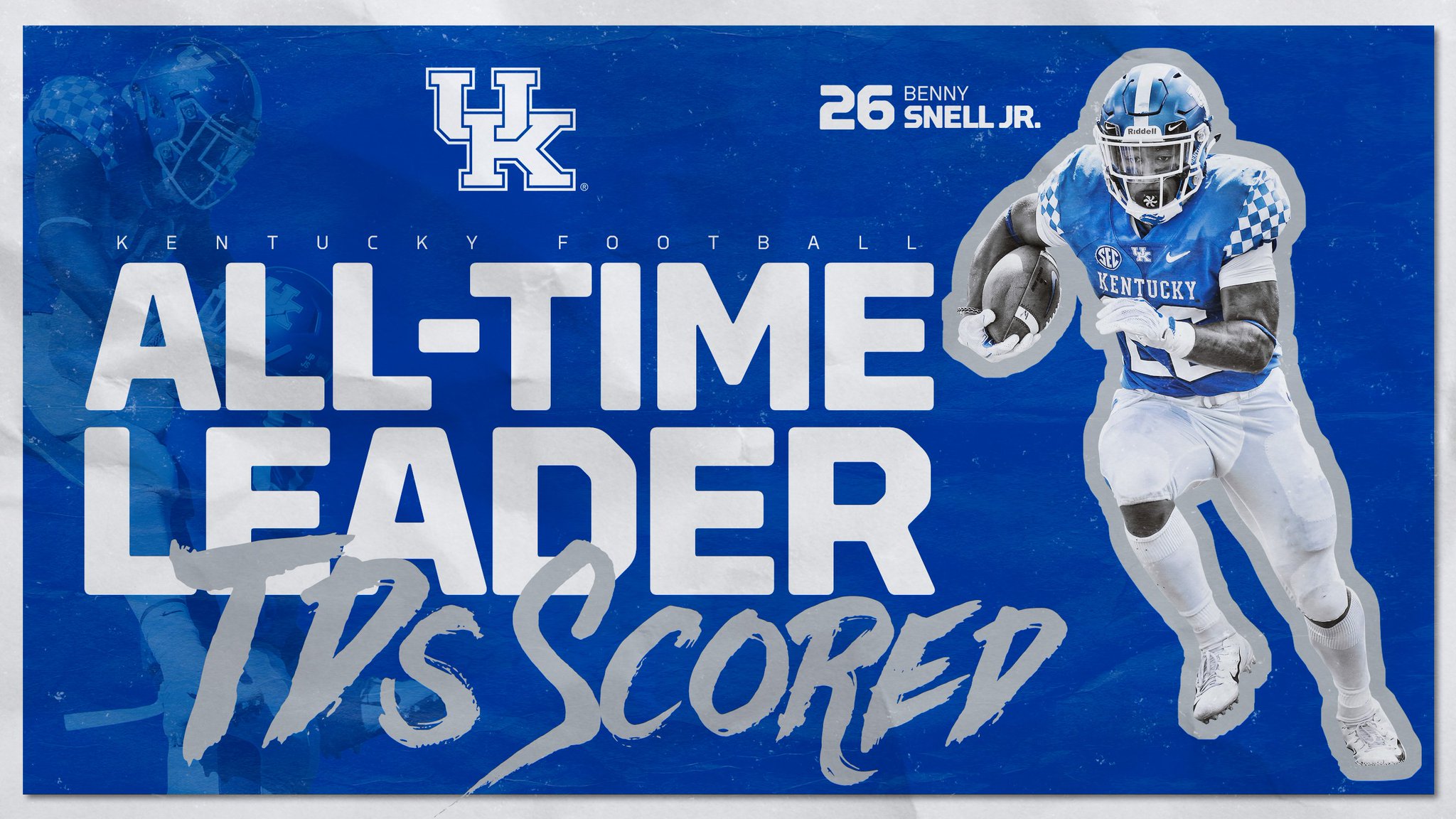 Coming into last night's game Randall Cobb held the record for most career touchdowns at UK with 37, and Benny Snell was creeping up on him with 35. After last night, Benny Snell shattered Cobb's record with four touchdowns, making
Benny Snell the player with the most touchdowns in school history, with 39 and counting.
Benny's four touchdowns also tied his own record for most in a single game at UK. His first four-touchdown performance was against New Mexico State in 2016, his debut as a Wildcat Benny Snell is knocking on the door for surpassing Rafael Little for third-most rushing yards in school history, as well, with 32 yards separating the two. He needs 872 yards to break the school record.
Dorian Baker and CJ Conrad made some Sunday plays
The BBN has been anxious to see something special happen with CJ Conrad and Dorian Baker returning from injury this season. While they both had been relatively quiet in the first three weeks, both of them made MASSIVE plays last night that was quite impressive. Those two catches looked like something you'd see on Sunday. Dorian even got two feet in bounds.
GREAT catch by Dorian Baker. pic.twitter.com/7tQ3tzIuFV

— Scott Charlton (@Scott_Charlton) September 23, 2018
AMAZING catch by CJ Conrad pic.twitter.com/jBjBOZG3xV

— Scott Charlton (@Scott_Charlton) September 23, 2018
KASH 3:16
Kash Daniel has embraced the role of this team's Stone Cold Steve Austin, and it's incredible. From saying he hopes all the Mississippi State's players are crying and their girlfriends break up with them, to telling the College Gameday crew to get new jobs, then thanking God for Benny Snell, and everything in between; Kash Daniel cut one of the greatest promos of all time. You should check it out:
Kentucky's Defense is legit
We knew this defense was going to be good, but I don't think anyone could have predicted this defense would be THAT good. Through four games this defense hasn't allowed a single point in the third quarter, which is a massive turn around from three or four years ago where it seemed like that Cats would always slip up in the third quarter. Consequently, that's the reason why Kentucky has some of their losses. But, this defense has held true. Holding a Mississippi State offense that was averaging 587.7 yards per game to just 201 (only 53 in the 2nd half) is insane. The hype train for Nick Fitzgerald definitely got stopped in Lexington. Watching the defense play so well has been gratifying, as it seems like we have watched it grow over time. We have made it through the growing pains, and it looks like the players, fans, and coaches are reaping the befits with this defense. It's been a long time coming.
College Gameday....we see you
Ahem, Y'all got some 'splaining to do.
BBN did its part
Last night's atmosphere was fantastic, one of the best environments I've ever experienced in my 12 years of attending Kentucky football games.
I'd put it up there with South Carolina in 2014 and Louisville from 2007.
Even though we were just short of a sellout, the BBN showed up, and you guys were loud. It changed the outcome of the game too, as evident by Mississippi State's numerous false start penalties. As Stoops said, it takes all of us, and the BBN was a critical factor in last nights game.
Having crowds like this for every big game is crucial.
A big tip of the cap to the BBN for sitting in the rain and making Kroger Field one 0f the best environments in the SEC.
Stripe out, maybe not the greatest success
Even though the fans were a great success, the stripe out...not so much. This is how it looked 10 minutes before kickoff with fans still getting to their seats.
We'll get 'em next time, Stripe Out. pic.twitter.com/4SZ3B3Gpf6

— Drew Franklin (@DrewFranklinKSR) September 22, 2018
To the BBN's credit, it is hard to color coordinate when you have to wear your rain jacket.
We want all the smoke...Literally
Before the start of the fourth quarter, the good folks at Kroger field decided to put on a firework show. Personally, I thought it was pretty cool, but the smoke decided to linger and let's just say the viewing pleasure for the first few plays of the fourth quarter weren't the best.
View from the press box pic.twitter.com/8lrhw2x50T

— Drew Franklin (@DrewFranklinKSR) September 23, 2018
It did, however, provide us this really badass picture of Josh Allen. Absolute specimen. [caption id="attachment_247639" align="aligncenter" width="1199"]
UK Athletics[/caption]
We are in uncharted territory
Kentucky will probably be ranked at some point today for the first time in 11 years (If they aren't I'm convinced there is some conspiracy), 4-0 for the first time in a decade, 2-0 in the SEC for the first time in three decades. Kentucky has beat back to back ranked opponents for the first time since 1997. Kentucky is 12-4 in their last 16 home games, the best stretch since 2006-08. Kentucky is 13-5 in their previous 18 games, best stretch since 1976-78. If those stats don't say it for you, I will.
We are in a new era of Kentucky football.
Kentucky seems to have talent that is better or at least just as good as every opponent on their schedule. A Heisman contending running back, a dual-threat quarterback with a big arm, a stout defense, and a team that plays with pride and purpose. With two games remaining in the toughest half of UK's schedule, one being at home against a team the Cats have beaten the past four years. This is all new to us; I'm not quite sure how to handle it. Dare I imagine the impossible? Dare I dream of Atlanta? Dare I fantasize of a nine-win season?
Dare I say it, Kentucky is good at football.