Today on KSR: Sellout day for UK
Good morning, folks! I hope you all had a great Tuesday and your Hump Day is off to a grand start. It's still finals week at Kentucky and most places across the country, so there's not much going on with the football or basketball teams, but that won't stop us from crunching out content here at KSR. Let's hop to it.
Tickets! Tickets!:
If you want to sit in the Kentucky section in Orlando you better hurry and get your tickets through UK Athletics. As of Tuesday Kentucky was down to just 300 tickets and will likely sellout its 9,000 ticket allotment today. So, you know, hurry. I know many folks don't buy through UK Athletics, and that's fine and dandy because I'm thinking the Big Blue Nation is going to show up in a big way down in Orlando. Heck, the majority of people will end up not buying through UK so it's likely UK gets over 20,000 people at the game (which is just 20 days away!). If you want to try and gobble up some of the remaining 300 tickets, click the link below: http://kentuckysportsradio.com/football-2/uks-citrus-bowl-ticket-allotment-is-almost-sold-out/
Some good recruiting news:
Maybe. Just maybe. https://twitter.com/ChadSimmons_/status/1072677417003692032 The four-star safety is ranked the 23rd best safety in the class of 2019 and holds offers from nearly all the top programs in the country but seems to be down to UK and South Carolina. Jammie Robinson is from Leesburg, Ga, and will officially visit Lexington this weekend for the mega-UK football weekend. I can't confirm he's actually wearing UK gloves, but I have no reason to doubt Chad. Chad is a good fella.
Speaking of new additions:
No, I don't know who the transfer is that Matt Jones has been talking about for weeks, but he did give us an update on his radio show on Tuesday. Matt said it could be announced anytime but his guess is next week and he even mentioned that there may be a SECOND TRANSFER! He's not as certain about the second transfer, but said if both happen and end up at UK it will be a "huge coup." No one at KSR besides Matt knows the mystery transfers, but a former UK target is on the market. http://kentuckysportsradio.com/main/former-kentucky-commit-is-on-the-transfer-market/
Trouble at Nova:
Coming off a national championship and two in the last three seasons, Jay Wright is far from the hot seat. He would have to have five straight bad seasons before Nova fans would even be remotely disappointed. But, this may be one. Villanova fell to Penn last night 78-73. The Wildcats are now 8-3 on the season, which isn't bad, but with loses to Furman, Penn and a home blowout to Michigan and Kansas looming on Saturday things could be better. And after the loss freshman Jahvon Quinerly (who played just one minute in the loss) went to Instagram to express his frustration. Obviously the post was deleted (duh), but this will almost certainly be a distraction for Villanova. I'd expect an apology from Quinerly today. Quinerly initially committed to Arizona but flipped to Villanova after things went down at Arizona with the FBI investigation. Things aren't great for UK basketball, but at least the locker room is intact. https://twitter.com/itsryanbowman/status/1072690906581659648
Will Josh Allen win another award:
I don't think there's any for him to win today, but knowing how many he's racked up over the last few weeks I wouldn't be surprised if someone made up a new award just to give it to Allen. It's trophy SZN. Tuesday he was announced to the ESPN All-American team. Here's a running list of his rewards/accomplishments:
Lott IMPACT Trophy (National Defensive Player of the Year)
Chuck Bednarik Award (National Defensive Player of the Year)
Bronko Nagurski Trophy (National Defensive Player of the Year)
SEC Defensive Player of the Year (AP, Coaches)
First Team All-SEC (AP, Coaches, ESPN)
First Team All-American (Sports Illustrated, The Athletic, Pro Football Focus, AP, FWAA, CBS, The Sporting News, ESPN)
Finalist for the Walter Camp National Player of the Year, the Butkus Award (nation's best linebacker), and Ted Hendricks Award (defensive end of the year).
T.J.'s Favorite Defensive Player 2018 (T.J.)
UK vs. UofL comparison:
Seton Hall has played against Louisville and Kentucky. Despite trailing most of the game, the Cards came out on top against Seton Hall, and despite the Pirates trailing most of the game against UK Seton Hall pulled out a win against the Cats. Sports, man. Seton Hall head coach Kevin Willard talked about the differences. Basically, UK is stronger and more physical and the Cards are better shooters. That's a fair assessment. Whatever. The Seton Hall game still steams me. http://kentuckysportsradio.com/basketball-2/seton-hall-coach-on-the-difference-between-kentucky-louisville/
What's your favorite Christmas movie?: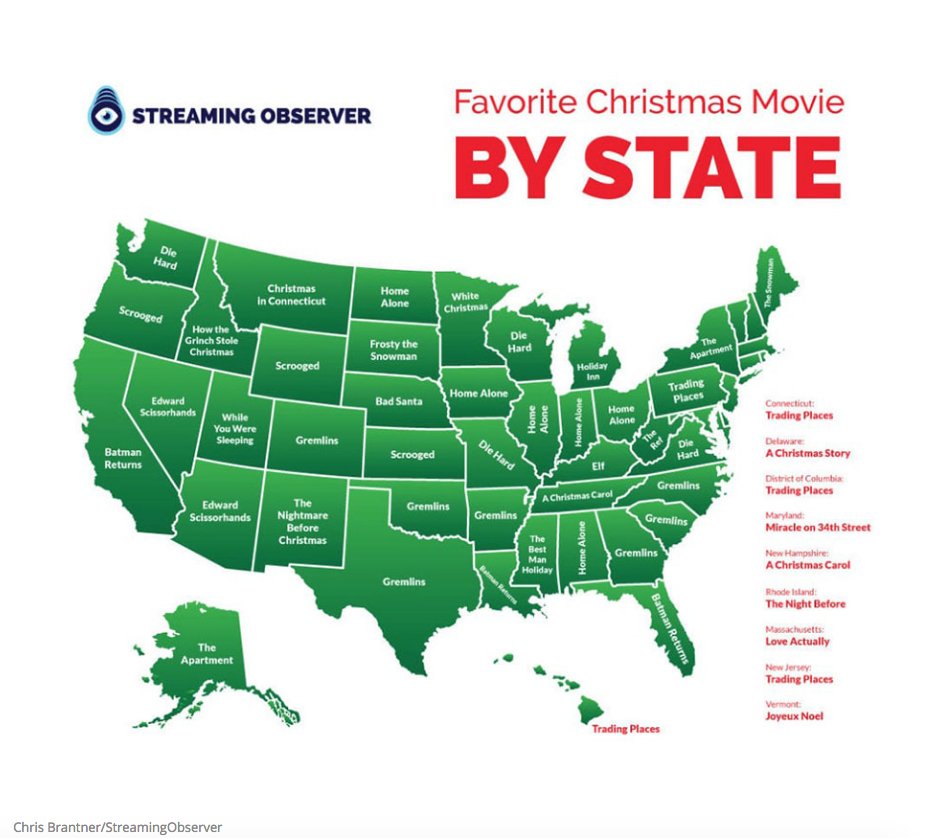 This website suggests that Kentuckians enjoy Elf the most during the holiday season. I like Elf. Not my favorite Christmas movie but it's definitely in the top five. Maybe in the top three. An instant classic. But my goodness some of these states are ridiculous. Alaska, what the hell is The Apartment? New Mexico with The Nightmare Before Christmas? Creepy but I respect it. Is Batman Returns even a Christmas movie? [mobile_ad]