Today on KSR: The mourning after
The day after the final loss is always hard. For me personally, I grew to really love this team, which made yesterday both frustrating and heartbreaking. Given the adversity they faced with injuries to PJ Washington and Reid Travis, it's impressive they made it to the Elite Eight. On the other hand, they blew an 11-point lead to Auburn and could have won it all had they not.
If you believe in destiny, this group had a good case, with PJ returning for a sophomore season and Reid transferring in to serve as one of the best veterans of the Calipari era. Add in Tyler Folk Herro, a lovable Keldon Johnson, and a strong supporting cast and this team had all of the ingredients to make a run. But, the tournament is random, and there's no better example of that than Auburn, a 30-9 squad that lost to Kentucky by 27 points a month ago, beating the Cats to make the Final Four. March can be both beautiful and cruel.
So, today sucks, but for me, nothing will ever suck as much as the day after the loss to Wisconsin in 2015. A piece of my fandom broke then and changed how I've viewed things ever since. I love this group, and the fact that they won't be together again is sad, but I'm not waking up crying like I did four years ago. That's something, right? Plus, Duke lost, which made everything a little more palatable.
Moving on ain't easy, but we've gotta do it.
The players reflect on the end
Stay or go season is upon us and will dominate the next two months, but for now, I just want to appreciate this group and the memories they've given us before saying goodbye.
https://www.instagram.com/p/BvsLFe6AiHa/
Love all my Brothers💙😏

— ashton hagans (@H23Ash) March 31, 2019
So much is going through my head right now about the past 4 years. But all I can say is how much I loved this team on and off the court! BROTHERS FOR LIFE! 🙌🏼🙌🏼

— Jonny David (@JonnyDavid) March 31, 2019
……😔 love my brothers so much

— Immanuel Jaylen Quickley (@IQ_GodSon) March 31, 2019
https://www.instagram.com/p/BvsQtD7nD08/
I love my job, but the moment I dread the most is walking into the losing locker room. Watching Keldon Johnson, Ashton Hagans, PJ Washington, and others struggle to keep their composure just a half hour after their season ended was brutal, and, in my opinion, not entirely necessary; however, sad locker rooms can serve as a reminder of much these kids care. There are plenty of reasons to be frustrated with yesterday's result, but I guarantee they're the saddest of us all.
Actually, Stone Cold Willow is the saddest of all
Stone Cold Willow says he wanted to lay down on State Street as UK lost. pic.twitter.com/47ILHXtKvj

— Phil Pendleton (@philtvnews) March 31, 2019
I was just making peace with the loss until I saw this.
Brace yourself; tired narratives are coming
Kentucky's loss gave sportswriters everywhere another chance to take a jab at John Calipari, and you better believe they pounced. Yahoo's Jeff Eisenberg called this season a choke job:
Wow, the cover of @yahoo, but no mention of Coach K losing in the same round with the best recruiting class in history. Duke had the greatest player since Anthony Davis but UK choked? #bbn pic.twitter.com/LDjhDdXGSI

— Outcast Charters (@ChipHHI) April 1, 2019
While ESPN's "Get Up" debated whether or not John Calipari's job is in jeopardy:
This is absolutely PATHETIC pic.twitter.com/NTzFkzU8I6

— Jared Leet (@Jared_Leet) April 1, 2019
And then there was this from Dan Wolken:
Auburn has veteran guards and it was just a mismatch all day with UK's guards. The peril of a one-and-done approach.

— Dan Wolken (@DanWolken) March 31, 2019
Let me know when they say the same about Coach K.
KSR Dog of the Day
Shoutout to Melvin and his adorable pup, who rock Kentucky blue on even the hardest of days.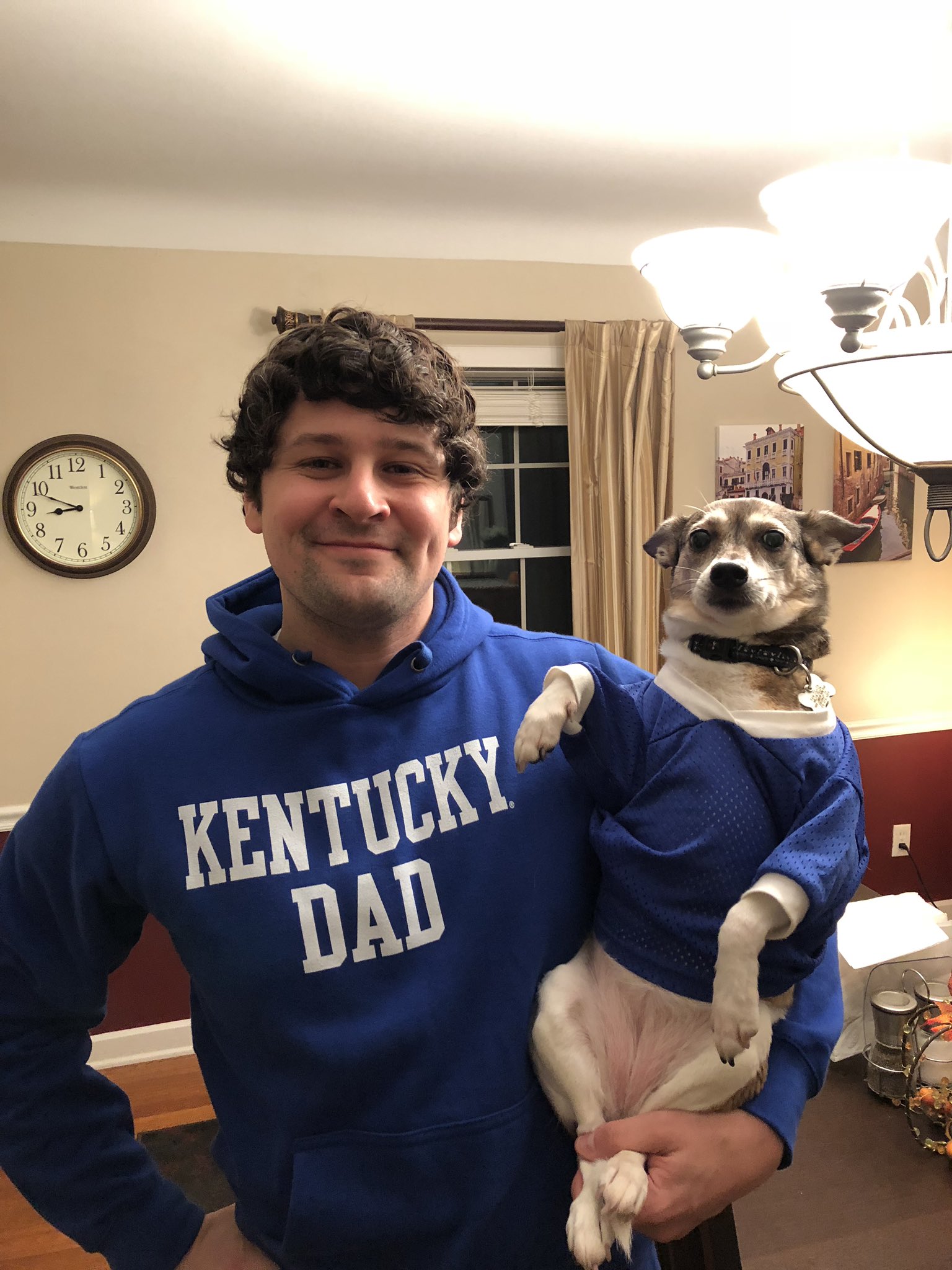 Group therapy in an hour
We'll get through this together.
[mobile_ad]