Today on KSR: UK Travels to West Virginia and Boogie's Bad Break
[caption id="" align="alignnone" width="1172"]
WVU Athletics
[/caption]
Cousins' Injury isn't Fair
The best season of DeMarcus Cousins' career abruptly ended last night with less than ten seconds remaining in the game.
The
injury
to his left Achilles tendon comes just four days after
Boogie
made history
by becoming just the fifth player to ever post 40/20/10.  After almost one complete year with Anthony Davis, New Orleans was finally clicking, ranked sixth in the West and poised to send the All-Star starter to the playoffs for the first time. Cousins' future is unclear.  It appeared that he would finish his best season of his career in the playoffs.  Now he'll enter the free agent market in rehab. He has a long time to decide his next move.  Until then, he has support from his peers and the entire Big Blue Nation. https://twitter.com/KarlTowns/status/957107440901910529 https://twitter.com/DmillerKY/status/957143571987095552 https://twitter.com/AlexTheGreat22/status/957102169127309318 https://twitter.com/DevinBook/status/957100565573480448 https://twitter.com/Enes_Kanter/status/957125450299457536 https://twitter.com/UKDeWaynePeevy/status/957260910325837825 https://twitter.com/KingJames/status/957102640357310464 https://twitter.com/Bam1of1/status/957118260054577152 https://twitter.com/gordonhayward/status/957119955857694721 https://twitter.com/AntDavis23/status/957158533195157504
Kentucky Opens as 8-Point Underdogs
The Cats will be underdogs when West Virginia pulls out all of the stops for the primetime
College Gameday
match-up.
11:00 -- College Gameday airs on ESPN live from Morgantown
4:30 -- The KSR Pregame Show begins on 630 WLAP
7:15 -- Dan Shulman, Jay Bilas and Maria Taylor call the Cats and the Gators on ESPN
If you can't hear Tom Leach and Mike Pratt on the
UK Sports
Network
, you can listen on Sirius-81 and XM-81.
History with West Virginia
Kentucky leads the border state series 15-5.  Huggins' record vs. UK is only 1-4, with the one win coming in that God forsaken 2010 Elite Eight.  Calipari exacted revenge by eliminating West Virginia from the NCAA Tournament in 2011 (71-63 in the second round) and in 2015 (78-39 in the Sweet 16). The last time a Kentucky team traveled to West Virginia, Adolph Rupp was the head coach.  Tom Parker led the Cats in scoring with 24 points, Kent Hollenbeck had 23, Tom Payne and Mike Casey each chipped in 19 to take down the Mountaineers 106-100 on December 7, 1970. This West Virginia team has lost three of their last four, a skid that started when Kansas handed them their first home loss of the season.  The Mountaineers have lost at home only five times in the last three seasons.
Cal Kicked it with Huggy
Prior to tonight's tenuous tip-off, John Calipari and Bob Huggins spent the night raising money at a charity fish fry.  More than 2,000 people were in attendance.  Cal joked on
Twitter
, "He told me I was helping. He never asks LOL." [caption id="" align="alignnone" width="470"]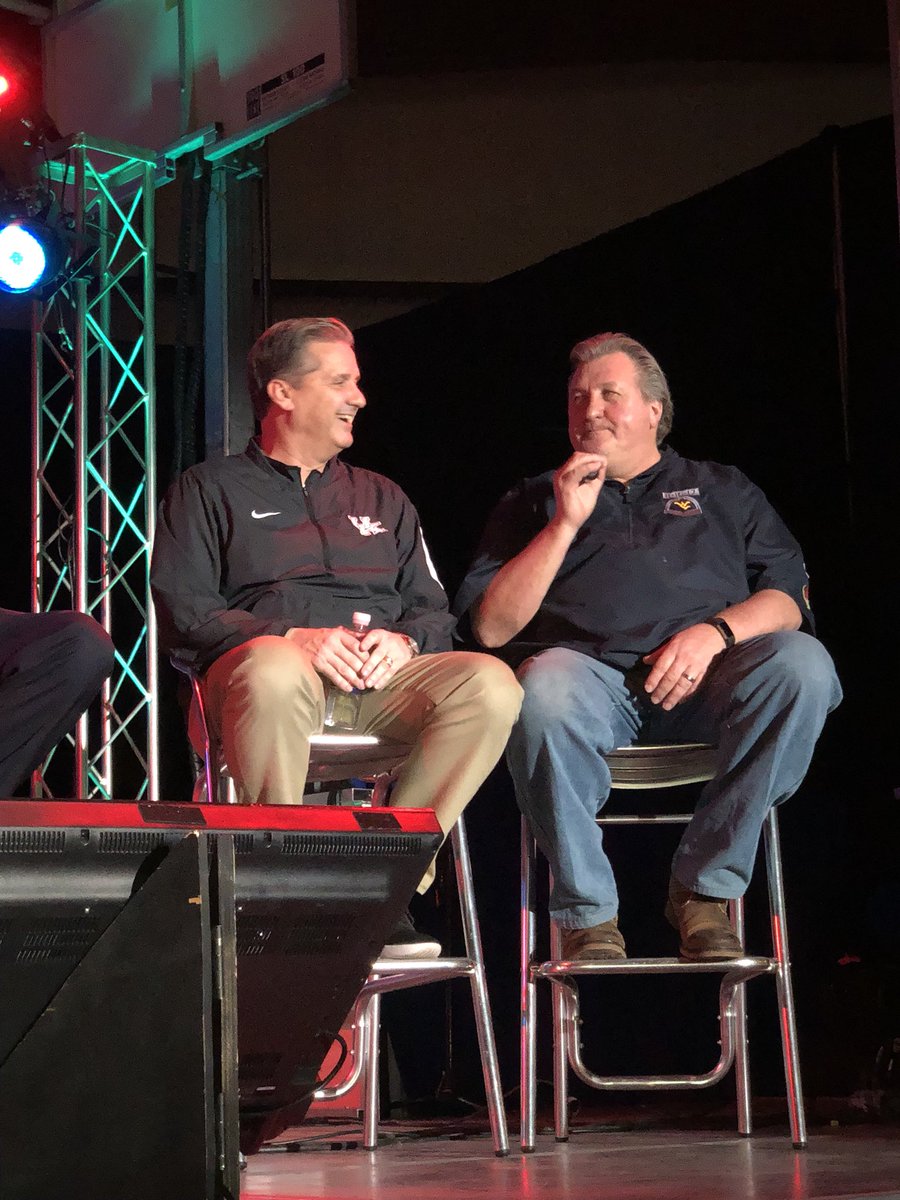 @UKCoachCalipari[/caption]
The Big 12/SEC Challenge Schedule
| | | |
| --- | --- | --- |
| Time | Game | Network |
| Noon | Baylor at Florida | ESPN |
| Noon | Texas Tech at South Carolina | ESPN2 |
| 2:00 | Ole Miss at Texas | ESPN2 |
| 2:00 | Georgia at Kansas State | ESPNU |
| 2:15 | Oklahoma at Alabama | ESPN |
| 4:00 | TCU at Vanderbilt | ESPN2 |
| 4:30 | Texas A&M at Kansas | ESPN |
| 6:00 | Oklahoma State at Arkansas | ESPN2 |
| 7:00 | Kentucky at West Virginia | ESPN |
The New UK Baseball Unis are Unbelievably Awesome
How do I get one? https://twitter.com/UKBSBLReece/status/956948627183820800
Congrats to John Reecer
Last night the KSR contributing writer won first place for best sports column in a college publication from the Kentucky Press Association.  KSR has accomplished many things, but I believe Reecer is the first active publisher on this site to ever win an award for journalism.  Congrats! [mobile_ad]