Tomorrow on Kentucky Sports Radio...Pardon My Take
[caption id="" align="alignnone" width="1200"]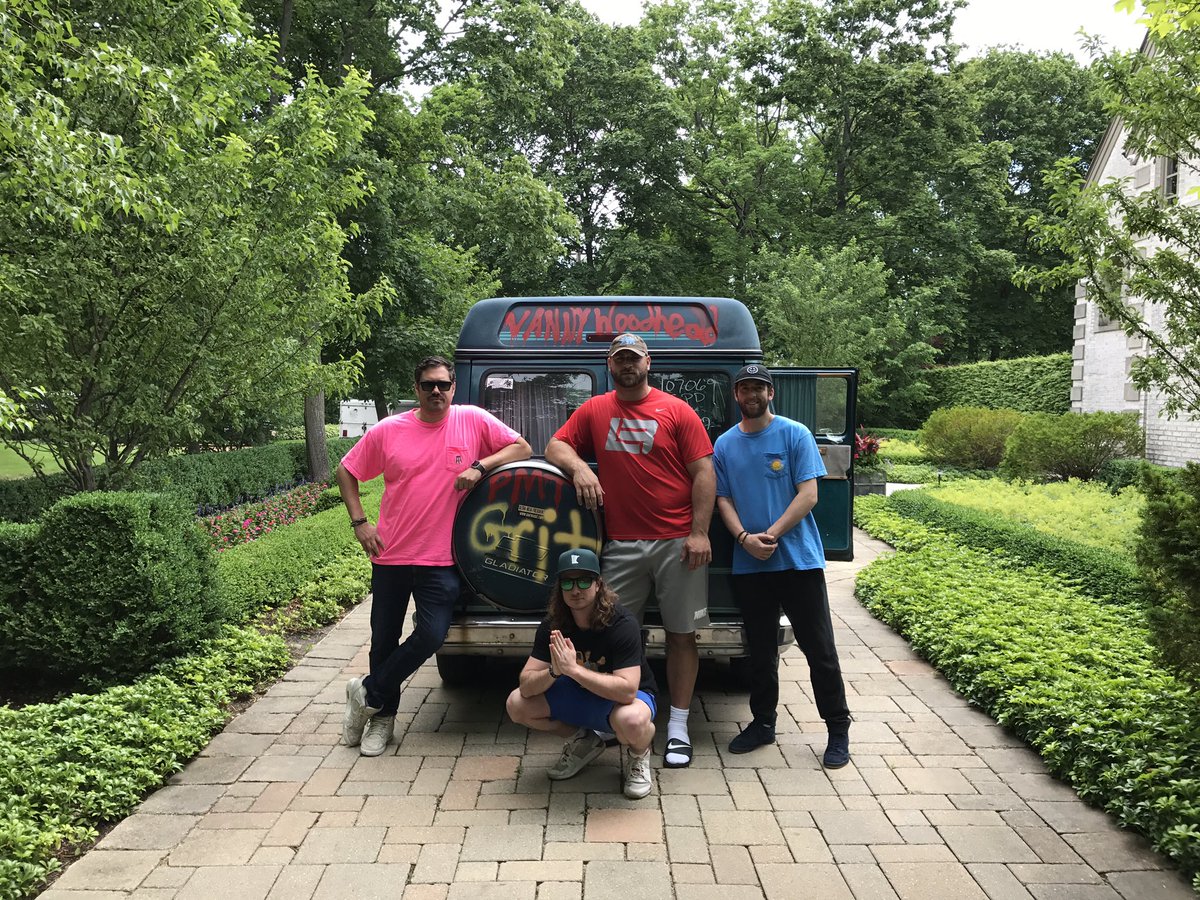 (L to R via @PardonMyTake) Big Cat, PFT Commenter, Chicago Bear Kyle Long and producer Hank in front of their 1993 conversion van, Vanny Woodhead.[/caption] Tomorrow morning from 10:00-noon, the nation's No. 2 and No. 3 podcasts collide. Pardon My Take is taking over Kentucky Sports Radio.
The Barstool Sports production is only a year-and-a-half old, but their fame has outgrown their numbers.  Describing how their hi-jinx became mainstream is difficult, so I'll leave that to 
Awful Announcing
. There are two ways I can convince you to listen tomorrow morning:
1.  The show will feature interviews with Mark Stoops and Malik Monk. 2. PMT is the only "sports thing" I enjoy outside of my job.
You probably don't need any explaining of the latter to listen, but I'll do it anyway.  An award-winning listener since day one, the episodes each Monday, Wednesday and Friday ensure that a tough day at work never makes me to forget why I love my job: sports are fun.  Nobody has more fun than Big Cat, PFT Commenter and Hank. For those who haven't marked it on their calendar (I know a few), prepare for laughs.  Lots of laughs.  If you aren't laughing, it's probably because you don't get the joke and are not connecting the dots.  If you still don't like it because Wisconsin-grad Big Cat brought up that disastrous 2015 Final Four game once again, just wait, there's more great guests coming up on KSR.
June 28: Evan Daniels June 29: Aaron Torres June 30: Jennifer Palumbo and Mrs. Tyler Thompson
Week Two
July 3rd and 4th: "Best of" shows to celebrate America's Independence July 5: KSR Football Podcast July 6: Mo Egger July 7: Steve Romines and T.J. "Makes em Pay" Smith
If you haven't done it yet, make sure you're subscribed to
the new KSR radio podcast to feed
to make sure you can hear every episode on your phone.