The Top 10 Kentucky Football Players of the Mark Stoops Era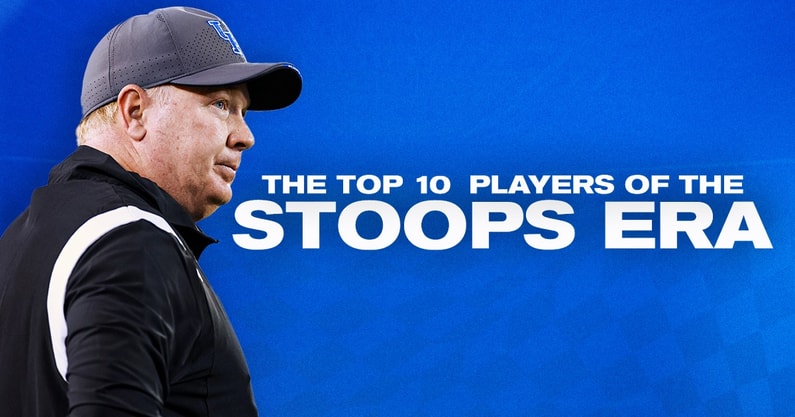 The Big Blue Nation has watched the Kentucky football program reach new heights with Mark Stoops at the helm of the program for ten seasons. Before Stoops begins his 11th season just two wins shy of surpassing Bear Bryant as the Wildcats' winningest head coach, let's look back on the players who helped the Youngstown native make history.
Twelve members of the Kentucky Sports Radio staff were polled, asked to vote for their top ten players. There were only two stipulations: they had to play for Stoops and their play is exclusively judged on what they did during their time at the University of Kentucky. After playing in six straight bowl games, and winning four, the KSR crew had plenty of players to choose from. Three emerged near the top, while a handful of others competed to make the cut. Without further ado, here are the Top 10 Kentucky Football Players from Mark Stoops' First 10 Years at Kentucky.
10. Josh Paschal
It's not hyperbole to say that Josh Paschal was the heart and soul of the Kentucky defense throughout his illustrious career. The only three-time team captain in school history, Josh Paschal served as inspiration as he fought, and won, his battle with cancer in 2018. Despite the malignant melanoma diagnosis in August, he returned to the field on Senior Day to start against Middle Tennessee State.
Not only was Paschal a good guy off the field as a member of the Allstate Good Works Team, he was a nasty dude in the trenches. Opponents had to run away from JP. He tallied 15 tackles for loss in 2021 and 37 in his career, the third-most in school history. Josh Paschal produced a few memorable plays in his career, but none more than the blocked field goal returned for a score against Florida.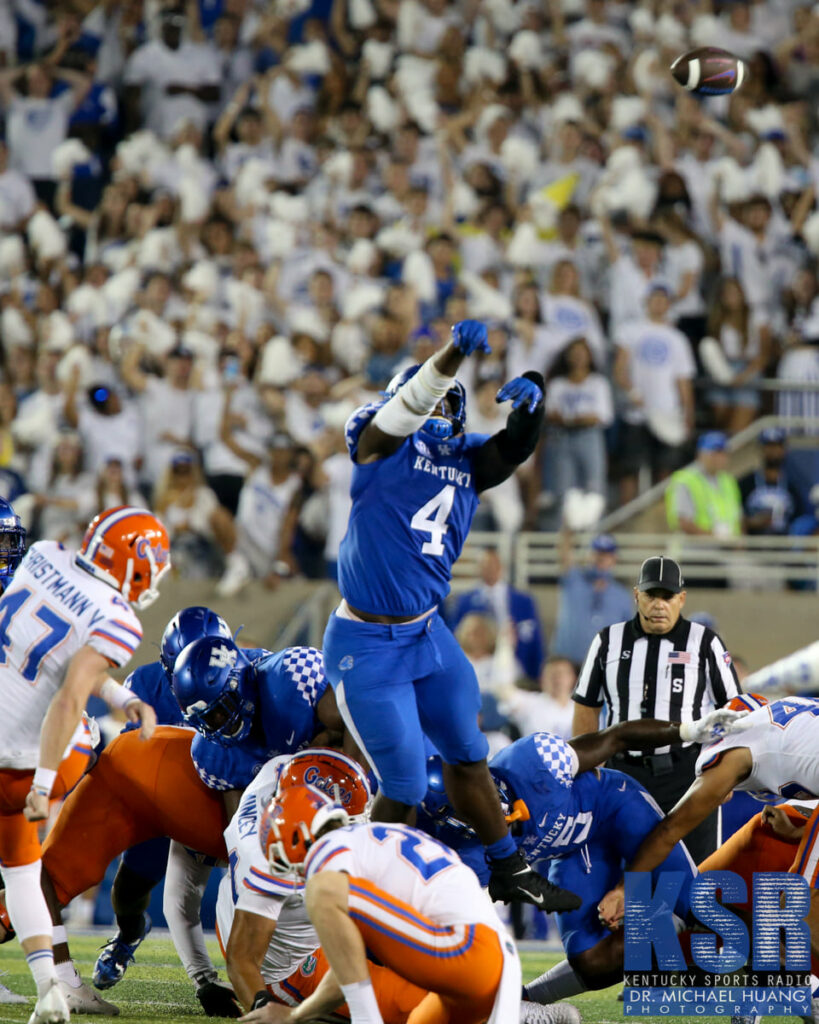 9. Austin MacGinnis
It's hard for a placekicker to crack a list like this, but that's how good Austin MacGinnis was during his four seasons at the University of Kentucky. When MacGinnis took the field to attempt three points, there was an 80% chance it was going through the uprights. He ended his career as the school's all-time leading scorer (359) and holds nearly every Kentucky football placekicking record with 72 made field goals.
Most importantly, MacGinnis played with ice in his veins. He delivered in the clutch time and time again, burying a 51-yard game-winner as time expired against Mississippi State and a 47-yarder with 12 seconds remaining to defeat Lamar Jackson's Louisville Cardinals.
8. Chris Rodriguez
A controversial 2022 offseason cannot take away from Chris Rodriguez's accomplishments to this point in his Kentucky football career. The Georgia native's 2021 campaign was the fifth-best ever by a Wildcat by rushing for 1,379 yards. His nine 100-yard games are the most in Kentucky single-season history. Rodriguez averages more than 6.57 yards per carry (third in UK history) because he does not get tackled behind the line of scrimmage. That's exactly what happened in the 2020 regular season. He was not tackled for a loss once. Few Kentucky running backs are in the same company as Chris Rodriguez.
7. Darian Kinnard
The powerful play of the Big Blue Wall has served as the cornerstone for Kentucky's success since 2016. Nobody dominated opponents quite like Darian Kinnard. The Knoxville native was a high school All-American at St Ignatius (Oh.) and played like one as soon as he stepped on campus. He worked his way into a starting role as a true freshman, beginning a streak of 39 consecutive starts. Following the 2021 season Darian Kinnard was a Consensus First Team All-American, the 12th in school history and first offensive lineman since Sam Ball in 1965.
Stay up to date with interviews, podcasts and all things Kentucky football by subscribing to KSR's YouTube channel.
6. Mike Edwards
The Badger is one of only two defensive backs in the Kentucky Football 300-Tackle Club. A stalwart for the UK defense, Mike Edwards was named All-SEC three times and did not miss a game in his four-year career. In addition to his 318 career tackles (21 for loss), he had 23 pass deflections, 10 interceptions and two defensive touchdowns. An instinctual playmaker, he had a nose for the football unlike few others to ever play defense for Mark Stoops.
5. Bud Dupree
When Mark Stoops arrived in Lexington, the Kentucky football roster was not SEC-ready — with one exception. Bud Dupree was recruited to Kentucky to play tight end, but quickly moved to defensive end where he flourished. The future first round draft pick for the Pittsburgh Steelers ranks third in school history in sacks (23.5) and tackles for loss (37). He also delivered the first exclamation point of the Mark Stoops era, capping off a dramatic comeback win over South Carolina with a Pick Six at Commonwealth Stadium.
4. Wan'Dale Robinson
After initially choosing to leave his home state, the prodigal son returned home and delivered the best season ever by a Kentucky wide receiver. Wan'Dale Robinson broke single-season receiving records set during the Air Raid era with 104 receptions for 1,334 yards. Like most players on this list, when the Kentucky football team needed a hero, he stepped up. Trailing Iowa with two minutes remaining, Robinson accounted for 86 receiving yards on four receptions, carrying the Cats down the field to set up Chris Rodriguez's game-winning touchdown.
3. Lynn Bowden
Lynn Bowden's Paul Hornung Award campaign in 2019 is one of the most remarkable seasons in college football history. The receiver transitioned to quarterback halfway through the season, rushed for 1,468 yards and led the Wildcats to a 6-2 record that was capped off with a game-winning touchdown pass in the Belk Bowl.
Before he went under center, Bowden delivered electricity from multiple positions in 2018 to propel the Wildcats to significant wins. He caught a 54-yard touchdown in the Swamp, subbed himself in to return a punt for a touchdown at Missouri and brought another kick to the house in the Citrus Bowl.
2. Benny Snell
Benny Snell made Kentucky football cool. He knew how to look into a camera and confidently deliver the Snell Yeah moniker. He backed up his talk with a physically abusive running style that wore down opponents. Despite the physical nature of his play, it never seemed to take a toll, finishing his career with 26 straight starts.
When Benny Snell stepped off the field for the final time, he broke or tied 14 school records. Most importantly, he was the school's all-time leading rusher. Snell broke Sonny Collins' 43-year-old record with a 12-yard touchdown run against Penn State in the Citrus Bowl.
1. Josh Allen
College Football's Consensus National Defensive Player of the Year in 2018 was also the consensus first place selection, receiving all 12 first-place votes by the KSR staff. The former two-star prospect had already compiled an impressive resume through his junior season. When Josh Allen returned in 2018, the Kentucky football record book was rewritten.
In his final season he tallied a UK single-season record with 17 sacks, the most by an SEC player since 2000. Oliver Barnett's almost 30-year career sack record was shattered when Allen tallied 31.5 in his career. He also tallied 41 tackles for loss and 11 forced fumbles in his illustrious career.
A menace on third downs, Josh Allen had a knack for being everywhere all at once. The big-time player was always in the middle of big-time plays in big games. He forced a fumble on the final play of the streak-snapping win at Florida. He had 11 tackles and two sacks to prevent Missouri from converting a first down for the entire second half. Josh Allen did not have to play in the Citrus Bowl, but he still blocked a field goal and sacked the quarterback three times.
Josh Allen is one of the greatest defensive players to ever wear Kentucky blue and a future College Football Hall of Famer.
Just Missed the Cut
Zero quarterbacks made the top ten, but Stephen Johnson and Will Levis were the next players up, each one vote shy of surpassing MacGinnis and Paschal. If we repeated this process one year from now I have a feeling Levis would be much higher on this list.
Former center and current GA Drake Jackson finished at No. 13. The Big Blue Wall was been dominant, but the individual pieces split up the vote, allowing only Kinnard to crack the Top 10. Bunchy Stallings, Landon Young and Jon Toth also received votes.
Ray Guy Award winner Max Duffy appeared in as many ballots as Za'Darius Smith. Boom Williams and Juice Johnson earned votes after making their mark on the Kentucky record book. Jamin Davis, Courtney Love and Quinton Bohanna received some recognition for their contributions to the UK defense.
Previous Posts Celebrating 10 Years of Mark Stoops: 10 Most Influential People, Top 10 Plays, "We've Arrived" Moments, By the Numbers