Top 15 prospects Matas Buzelis, Justin Edwards receiving heavy interest from Kentucky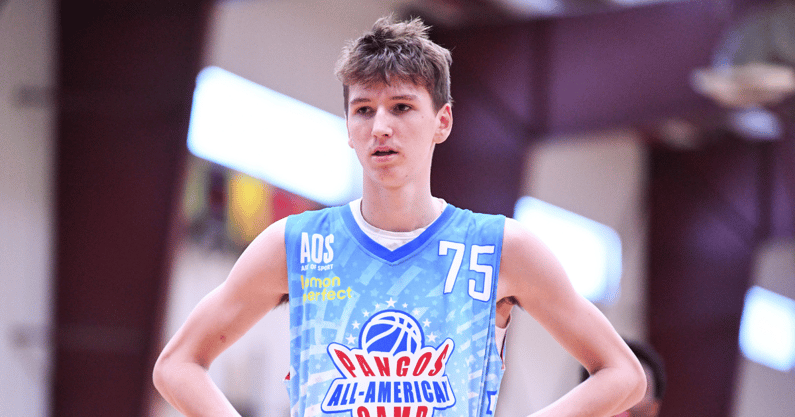 John Calipari has recently talked about incorporating more small-ball tactics into his offensive philosophy, expecting to roll out four-guard lineups, even if four guards aren't necessarily on the court at the same time. The idea is for a forward with guard-like abilities to slide in and handle the ball while also being big and long enough to defend forwards. That was the exact plan when five-star class of 2022 small forward Chris Livingston upped his decision date so he could pick Kentucky a week ago–and Calipari is already working on the next group of recruits who will fill the same role.
Matas Buzelis and Justin Edwards, a pair of top 15 small forwards from the class of 2023, are names to monitor on the recruiting landscape. Kentucky has been paying close attention to these two in recent weeks, especially once in-person visits were allowed earlier this month. Let's learn a little bit more about them.
Matas Buzelis: 6-9, 185 pounds
Brewster Academy, Wolfeboro (NH) – No. 12 overall by On3
Listed as both a small forward and power forward, don't be fooled by semantics–Matas Buzelis fits the exact mold of what Calipari is dreaming about when it comes to a four-guard lineup.
Following a breakout summer, Buzelis has shot up recruiting rankings in recent weeks and figures to remain on that trajectory heading into his junior season. His frame is lanky and skinny but he possesses impressive touch on his passing and can shoot the lights out of the ball. Buzelis' 3-point shot is not only reliable but borderline unguardable. He's agile and smooth for someone who is a legit 6-foot-9, keeping his head up along the way to sneak in passes that others simply can't see. Buzelis won't blow you away with his athleticism, but he's a guard built into a forward's body that knows how to make finesse moves and slink his way to the rim. If he has a chance to cram down a dunk, he's damn sure going to try.
There's a reason why Calipari is making in-person visits to meet with him.
Buzelis initially heard from Kentucky once the contact period opened in June and, according to a report by Jake Weingarten of Stockrisers, received a visit from Calipari on Wednesday. And to give you an idea of Buzelis' rising status as a future star, Duke's Jon Scheyer is also expected in for a visit very soon.
Buzelis' offer sheet includes the likes of Michigan, Ohio State, Florida State, Wake Forest, Arizona, DePaul, Illinois, Kansas, North Carolina, Syracuse, and UCLA. Duke and Kentucky have yet to offer, but don't expect that to drag on for much longer.
Playing his AAU ball for the Mac Irvin Fire (which is based out of Chicago) alongside fellow class of 2023 Kentucky target J.J. Taylor, Buzelis received his first Power 5 scholarship offer from Illinois last November, back when current UK assistant Chin Coleman was on the staff. That previous relationship will surely help Kentucky's chances early on.
Justin Edwards: 6-7, 180 pounds
Imhotep Institute, Philadelphia (PA) – No. 6 overall by On3
While not as tall as Matas Buzelis, he sure is more athletic. Justin Edwards might need to add some more meat on his bones, but he can still bulldoze his way to the rim. The lefty has a penchant for getting to the rim. But if he isn't looking for a lane, he can rise up and fire from deep. Edwards is just a crafty scorer in general with multiple ways to fill it up. He's a high-level bucket-getting guard who knows how to play on the wing–another snug fit into a four-guard lineup.
Before making the trip to see Buzelis on Wednesday, Calipari was actually in to see Edwards on Tuesday, who is also receiving significant interest from the likes of Michigan, Virginia, Maryland, Tennessee, Georgetown, Auburn, Pittsburgh, and Penn State. He's another case of coming into his own as a special talent over the summer–even more so than Buzelis, actually–playing for Team Final. Calipari went to watch Edwards at the Peach Jam and was in to see him last week, as well. According to Ari Rosenfeld, UK assistant Orlando Antigua was in to see Edwards on Wednesday. An offer feels imminent…