Top takeaways from Kentucky Women's Basketball Media Day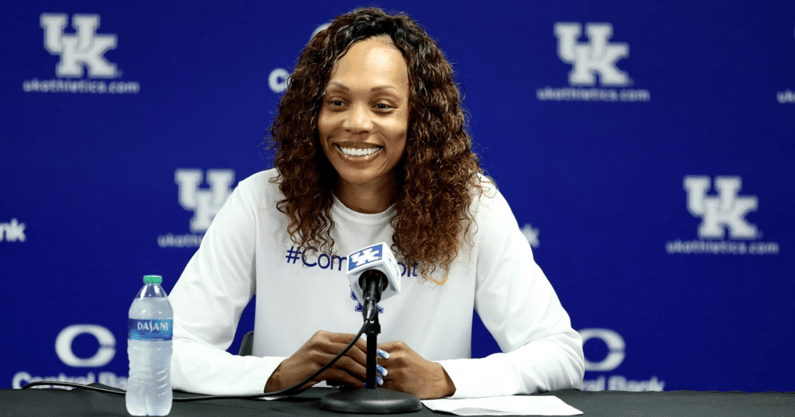 It's been a wild couple of days for Kentucky Women's Basketball fans and things are only going to get crazier. With the Wildcats' season sitting just over the horizon, it was time for the program's annual media day on Monday morning.
Aside from the 'Cats colorful personalities and impressive skills, there was plenty of insight to gain from Monday. Here are some of KSR's top takeaways from the Kentucky women's basketball team's big day.
Elzy is building a Kentucky Women's Basketball culture
If you like grit, then you'll love Kyra Elzy. In her second season as head coach, Elzy is establishing a culture off the court that is just as important as the plays called on it.
Like many Kentucky diehards, Elzy sees that famous Kentucky blue and immediately thinks of hard-nosed play. While this style hasn't necessarily been consistent throughout recent years, Elzy is looking to make up for lost time.
"Culture is something that we've talked about all summer long," Elzy said during Media Day. "It was funny Coach Gail Goestenkors, when she got here we were doing our staff retreats, and she was like 'I've heard culture more this summer than I've heard in the last five years.'"
Coming from a veteran, Hall-of-Famer like Goestenkors, that means something. With this season being Elzy's first full season as head coach, she's taking every opportunity to make her vision for the program a reality. Even if that means sleep away camps at Fort Campbell or hopping into team drills from time to time.
"This is my program now and change of guard from Coach [Mitchell]. So, setting the tone and culture of how I wanted things was really important," Elzy said.
With a coach as hands-on as Elzy is, it isn't hard to get players to buy your message. Now, the 'Cats just have to show off their purchase. — Grant Grubbs
The starting lineup feels cemented
For the second day in a row, a common theme quickly established itself: Elzy has her top five rotational players.
After rolling out a starting five of Jazmine Massengill, Robyn Benton, Blair Green, Rhyne Howard, and Dre'Una Edwards during Sunday's Blue-White Scrimmage, Elzy did the same during Monday's open practice.
It wasn't as obvious as it was on Sunday, but Elzy ran with that same starting five during the team's first 5-on-5 drill on Monday. Four seniors and one redshirt-junior is one veteran-heavy starting lineup. Go ahead and mark them down to open the season at the beginning of November. — Zack Geoghegan
There's more to this team than Rhyne Howard
Saying Rhyne Howard is a great player is like saying water is wet. It's easy to get swept up watching the two-time SEC Player of the Year make shots that almost seem like magic. Unfortunately, it's not only fans that enjoy watching Howard, but her teammates too.
Last season, Kentucky Women's Basketball often relied far too heavily on their star player. Instead of moving off the ball or finding open lanes, teammates would stop and stare with dropped jaws as Howard attempted to single-handedly dismantle their opponents. Elzy recognized this pattern and is making sure it doesn't happen again.
"Rhyne is obviously a talented basketball player," Elzy said. "But with that said, she has a supporting cast that can help take her to the next level, along with this program."
The 'Cats have four players returning this season who averaged more than five points per game last season, not including Howard. Elzy would like to see all of them register double-digit scoring totals regularly.
Elzy is aware Howard's scoring will only be boosted when opponents are forced to respect her fellow 'Cats.
"Obviously, [Howard] is an integral part of our offensive success. However, like I've alluded to earlier, Rhyne Howard cannot do it alone," Elzy said. "We're going to have to have multiple people score in double figures to really keep the defense honest."
"Last year, we watched Rhyne too much. She does make phenomenal plays, but we can't get caught watching. We have to be a part of the action. We need other people involved in the offense."
The team this year can't solely play on Rhyne's time or else the clock may strike midnight before their fairytale season ever begins. — Grant
Kyra Elzy has no fear
Rappelling down from the rafters of Rupp Arena for your first Big Blue Madness appearance as a head coach is a pretty badass move. But Coach Elzy didn't do that just to be different–she just doesn't show any fear.
In reality, dropping in from the ceiling of a basketball arena is lightwork compared to what she's already done.
"No, I'm not scared of heights, and it did fit my personality," Elzy said of her BBM entrance. "I'm pretty adventurous. So I've been skydiving. I've been bungee jumping, parasailing. So I do all sorts of crazy things in my free time when basketball is not going on. So now I can add that to my list."
Get you a coach who can jump out of a plane and land in front of Memorial Coliseum ready to run a two-hour practice. — Zack
Kentucky Women's Basketball will play position-less basketball
Whether your bitter, old-school grandpa likes it or not, the game is changing. Kentucky Women's Basketball intends to change with it.
With one of the most versatile squads Kentucky has ever seen at her disposal, Elzy intends to play position-less basketball this season. Of course, this doesn't mean there'll be no such thing as a guard or center, but more so that any player on the team can fill these roles.
When asked what's different about the 'Cats this year, Elzy was more than ready to discuss her unique game plan.
"What makes this team very unique and special is our versatility. We play position-less basketball. We play fast," Elzy said. "We must play a disruptive style of basketball. We are undersized, but we can press and run and be disruptive, which is a fun brand of basketball."
Undersized is relative. While the 'Cats don't boast any player above 6-foot-4, only three scholarship players stand less than 6-foot tall. Not to mention, many of these 6-foot-plus players are combo-style guards such as Howard, Treasure Hunt and Blair Green.
Don't be shocked if you see Edwards pushing the ball up the court or Howard dominating in the post. While that distinct brand of ball may be disorienting to fans at first, it'll be even more confusing for opponents. Elzy doesn't mind using these guerilla-style tactics–if it leads to victory.
Rhyne playing out of the post
As Grant alluded to above, Rhyne Howard will spend much more time playing out of the post this season. It's a skill she's spent the summer honing after not flashing much of it at all throughout her first three seasons as a Wildcat.
This isn't to say she'll live down there, but as one of the bigger guards on the roster, she can take full advantage when matched up against undersized defenders. When you're already as well-rounded a player as Howard is, it's about adding tiny layers to your skillset that won't necessarily stick out but will improve your overall game.
"The one thing that we have worked with (Rhyne) on all summer is her post game, being able to post up," Elzy said. "She is a big-body guard. She needs to post more consistently and finish."
Elzy plans to play positionless, which will result in plenty of guards on the court at once. If Howard can drop into the post and threaten to score, she doesn't even have to shoot to make an impact–draw a defender (or two in her case) and find the open woman. — Zack
---
If you want to hear the rest of Elzy's comments on the upcoming season, check it out here.
Closing thoughts
The Kentucky Women's Basketball Media Day provided fans with just another sneak peek into the team's upcoming season. Though the media day may only be a glimpse of the team's future, the peek appeared to be blindingly bright. Fans won't have to wait too much longer to see what the 'Cats are made of as the squad will face-off against Lee University on Nov. 4 at Memorial Coliseum.