Transfer Portal Deadline for Fall, Winter Sports Draws Near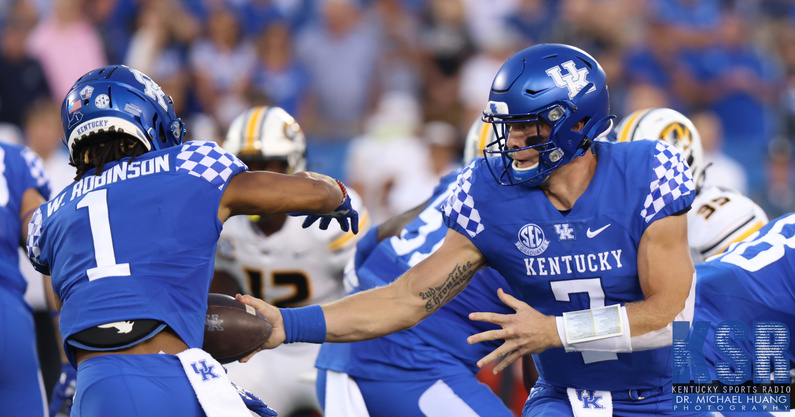 Time is ticking for prospective student-athletes to submit their name into the transfer portal and retain eligibility for upcoming the 2022-23 season.
Fall and winter sports college athletes who want to play for a different school next year must enter their name into the transfer portal by Sunday, May 1. Athletes that wait until after the deadline to hop into the portal will be ineligible to play next season. The portal resets August 1.
Of course, there are exceptions to every rule. Last summer Joey Gatewood jumped into the transfer portal once it was clear that Will Levis would be Kentucky's starting quarterback. He transferred to UCF, a school not too far from his hometown of Jacksonville, and received a waiver from the NCAA to play right away for Gus Malzahn. He has since switched positions, moving to wide receiver.
The deadline has coerced a couple of Cats to enter their name into the transfer portal following the conclusion of spring practice. Friday afternoon Clevan Thomas became the fourth Kentucky football player to depart over the last two weeks.
The May 1 deadline only applies to departures. Mark Stoops and John Calipari can still scout the transfer portal in search of new talent. On Friday Stoops picked up a much-needed commitment in the secondary from Keidron Smith. UK could add more defensive backs, and maybe an offensive lineman, prior to kickoff against Miami, (Oh.) on Sept. 3. Meanwhile, Coach Cal is on the prowl for at least one, maybe two more portal players. Tom Leach was one of a few people close to the program that teased a commitment over the weekend. However, we're still waiting for Illinois State's Antonio Reeves to pull the trigger.
While most old coaches love to gripe about the changes in college athletics, Stoops and Calipari have leaned into the transfer portal. Jacquez Jones (Ole Miss) led Stoops' team in tackles, while Wan'Dale Robinson (Nebraska) broke every single-season UK receiving record by catching passes from Will Levis (Penn State). On the hardwood Sahvir Wheeler (Georgia) dished out the third-most assists in college basketball, paling in comparison to Oscar Tshiebwe's (West Virginia) historic season as Kentucky's first ever unanimous National Player of the Year.