Transfer Portal Report: SEC East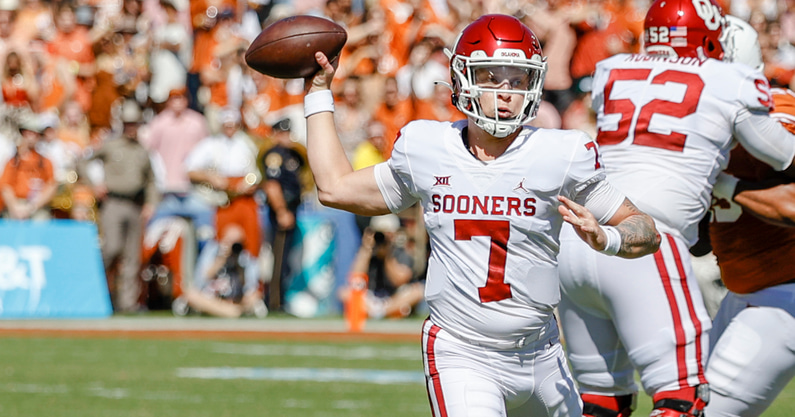 There is no doubt about it, we are currently stuck in the free agency portion of the year on the college football calendar. As teams got ready for spring semesters to begin on their campus, coaching staffs attacked the transfer portal with gusto.
At Kentucky, the Wildcats have added four scholarship players from the transfer portal since the end of the season and are continuing to look for additions at cornerback, EDGE, and offensive tackle.
Elsewhere, the rest of the SEC also dove into the portal. Some programs lost contributors, and others bolstered their roster. There will be another big batch of portal entries coming in the spring, but for now, most rosters seem to be set for the moment.
KSR's Transfer Portal Department is going to dive in on each school in the SEC to see where everyone stands. First up is the SEC East.
Florida is doubling down on Billy Napier
Players Lost: 7
Players Added: 6
Top Get: O'Cyrus Torrence (iOL, Louisiana)
Coaching changes are now extremely hard to deal with when it comes to roster construction. Thanks to the transfer portal, players now have an easy out when a new staff comes in.
That played out at the University of Florida.
Since dismissing Dan Mullen, the Gators saw five starters leave, and three have landed at Power Five programs. Meanwhile, linebacker and former top-100 recruit Ty'Ron Hopper could be heading to Missouri.
How did Napier handle this? By bringing some talent with him.
O'Cyrus Torrence is a legit NFL Draft prospect at guard and was rated as one of the top-five players at his position per PFF last fall. Tailback Montrell Johnson rushed for 838 yards and 12 touchdowns as a true freshman. The New Orleans native also be making the move with fellow rookie offensive tackle Kamryn Waites.
Florida also added former blue-chippers Jack Miller (QB, Ohio State) and Jalen Kimber (CB, Georgia) after short stays at blue blood programs.
There are plenty of areas to still fill, but Napier is off to a decent start. Florida needs the Sun Belt transfers to deliver. Meanwhile, Hopper and Mohamoud Diabate (Utah) leave some big holes at off-ball linebacker.
Georgia departures will help the rest of the SEC
Players Lost: 7
Players Added: 0
Top Get: TBD
A couple of weeks ago in Indianapolis, Kirby Smart finally got that giant gorilla off everyone's back at Georgia as the Bulldogs finally brought home a national championship. That was mainly accomplished due to absurd high school recruiting.
The Bulldogs have locked up another top-five class in 2022 and are scheduled to add 27 high school players to the roster. Therefore, some attrition was needed. Every player that has left the program has landed at a Power Five school.
Yeah, UGA is good at recruiting.
Seeing Jermaine Burton leave for Alabama stings, but other than that every departure was expected. We're still waiting for JT Daniels to announce his destination, but it was mainly par for the course for the Bulldogs.
Expect UGA to attack the portal after spring practice to address whatever needs must be met on the depth chart.
Kentucky lost a lot but added value
Players Lost: 13
Players Added: 4
Top Get: Tayvion Robinson (WR, Virginia Tech)
In two of the last three signing classes, Kentucky has inked the best hauls in program history. However, teams can only have 85 scholarship players on the roster. With the return of some super seniors, that creates a numbers crunch.
At Kentucky, some attrition was needed, and the Wildcats had plenty of it.
To this point, 13 scholarship players have entered the transfer portal, and only a couple started games for the Wildcats last season. Jared Casey (LB, Indiana) and Cedrick Dort Jr. (CB, Wisconsin) were the only two to land at a Power Five program.
Meanwhile, Kentucky added four Power Five transfers into the program plus walk-on Deuce Hogan (QB, Iowa). At wide receiver, Javon Baker (Alabama) and Tayvion Robinson (Virginia Tech) should make an immediate impact.
Tashawn Manning (iOL, Auburn) will likely start as a super senior, and Darrion Henry-Young (DL, Ohio State) has potential as a former top-150 recruit who will be a redshirt sophomore in 2022.
The Wildcats have been very busy in the portal and still have a few other needs that must be met.
Portal must act as bridge for Eliah Drinkwitz and Missouri
Players Lost: 11
Players Added: 6
Top Get: Joseph Charleston (S, Clemson)
No one in the division had a more disappointing season outside of Florida than the Missouri Tigers. After going .500 in the All-SEC season, Eliah Drinkwitz's program had a flop in 2021.
The once-promising starting quarterback Connor Bazelak has moved to Indiana, and All-SEC tailback Tyler Badie is off to the NFL. Meanwhile, the defense finished No. 113 overall in yards per play under new play-caller Steve Wilks.
Then some good players left.
Promising young defensive lineman Mekhi Wingo decided to make the move to LSU. Contributing defensive back Shawn Robinson moved to Kansas State, and tight end Daniel Parker is now at Oklahoma.
Drinkwitz's staff jumped into the portal to land Clemson safety Joseph Charleston and Stanford running back Nathaniel Peat is returning home and could fill Badie's shoes. Meanwhile, Oklahoma State defensive tackle transfer Jayden Jernigan was a big get at a position of need.
The Tigers just inked a top-15 recruiting class, and that 2022 haul will be something for Drinkwitz to build around. However, the coaching staff in Columbia needs time to develop that talent. The portal must act as a bridge, but Mizzou is doubling down on high school quarterbacks.
A huge year three is coming at Missouri.
Shane Beamer is looking for portal to bolster South Carolina rebuild
Players Lost: 8
Players Added: 7
Top Get: Spencer Rattler (QB, Oklahoma)
Following the dismissal of Will Muschamp, Oklahoma assistant coach Shane Beamer was hired by South Carolina to help fix things in Columbia. The new coach inherited a tough situation and was only able to put together a class that ranked No. 50 overall in average star rating in the class of 2021 with just 13 signees.
The Gamecocks took a step forward with 22 signees in the class of 2022 but are still outside the top-30 in average star rating ahead of only Vanderbilt in the SEC.
Therefore, the coaching staff needs to use the transfer portal to fill gaps. That mission was accomplished.
The Gamecocks landed five Power Five transfers to go along with FCS All-American Antwane Wells (WR, James Madison) and All-MAC safety Devonni Reed (Central Michigan). Meanwhile, Christian Beal-Smith (Wake Forest) should help upgrade the running back room, and Terrell Dawkins (NC State) will provide depth at defensive end.
However, the big splashes were a couple of former players for Beamer at Oklahoma.
Spencer Rattler comes in to be QB1 for the Gamecocks, and buzz is already off the charts for the former five-star prospect from Metro Phoenix. Meanwhile, Austin Stogner will team up with Jaheim Bell to create a terrific tight end combo.
Thanks to some big wins late, South Carolina has a lot of momentum heading into year two. The Gamecocks will need transfer additions and super seniors to help continue that climb as Beamer's staff looks to develop some young talent.
Tennessee has had disappointing run in portal
Players Lost: 9
Players Added: 4
Top Get: Gerald Mincey (OL, Florida)
Despite finishing the year with a modest 7-6 record, the Vols built a ton of momentum in the first season under Josh Heupel. The offense was electric, and Virginia Tech transfer Hendon Hooker will enter the 2022 season as a darkhorse Heisman Trophy contender.
Yet, that momentum has not carried into the transfer portal.
After closing strong and signing a top-20 recruiting class, the Vols have mostly missed on their top transfer targets. Specifically, Wyoming wide receiver Isaiah Neyor flipped from Tennessee to Texas last week.
The loss of tailback Tiyon Evans to Louisville stings, but Tennessee dodged a huge bullet getting Tyler Baron to stay on campus. Yet, this roster is still in flux from the Jeremy Pruitt departure and needs some transfer help.
Heupel and his staff must get some additions after spring practice.
Long rebuild continues at Vanderbilt
Players Lost: 14
Players Added: 2
Top Get: Kane Patterson (LB, Clemson)
Vanderbilt football has a lot of issues and head coach Clark Lea seems to have a big window to fix things on the West End. The former Notre Dame defensive coordinator is trying to change the culture, and more often than not attrition is needed.
That happened in this transfer cycle as the Commodores lost starters at multiple positions to the portal. Things could be bleak for Vandy again in 2022.
The Commodores leaned into the staff's first full high school recruiting cycle by signing 27 prospects and having a top-50 haul in average star rating. However, there is a long way to go.
Clemson transfer Kane Patterson will address a need at off-ball linebacker, but Vandy could be in for another tough year on the field in 2022.