Transfer Portal Tracker: How Former Wildcats Fared in 2021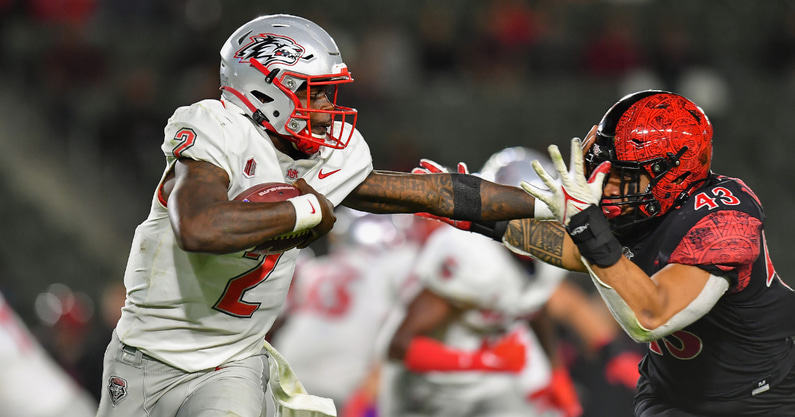 Since the conclusion of the 2021 regular season, at least 13 Kentucky football players have entered the transfer portal. We report when they enter the portal and their next destination, but how do they perform once they arrive at their next college?
Last year was the first offseason with the new transfer portal rules. Former Wildcats produced a mixed bag of results at their new destinations. One started every game for an ACC Championship team. Another left his new team after only two games. Most former Wildcats fall somewhere in-between the two extremes.
Terry Wilson, New Mexico — The former Kentucky quarterback could not catch a break from the injury bug in his final college football season. Wilson was limited to just six games due to a left elbow injury.
Even though he was limited, he still shined in a rivalry game. Against New Mexico State he completed 26-of-37 passes for 381 yards and three touchdowns to earn Manning Award weekly honors.
Bryce Oliver, Youngstown State — After catching eight passes in two seasons at Kentucky, he caught eight touchdowns for Youngstown State, accounting for a third of his 24 receptions this fall. The jump ball specialist totaled 266 receiving yards for the 3-7 Penguins.
Allen Dailey, South Alabama — The former UK starting wide receiver learned the grass is not always greener on the other side. Playing for former UK wide receivers coach Michael Smith at South Alabama, he caught one pass for six yards in his second game of the season. When he could not crack the rotation, he left the program without speaking to the head coach.
"I had a conversation through text message through his position coach [South Alabama wide receivers coach Michael Smith]," coach Kane Wommack told Al.com. "That is what it is, but we have a pretty high standard here and some people can't handle that, and I guess others can. It's disappointing; you always want to have a good player. But at the same time, in my mind when you're building a program you want to do it with people who are going to actually follow through."
MJ Devonshire, Pitt — You heard his name quite a bit if you were watching the Peach Bowl. Without quarterback Kenny Pickett, Pitt did not stand a chance against Michigan State, falling 31-21. Even though he did not end his season with a win, the former UK cornerback had a decent season starting at cornerback in Pat Narduzzi's primary man-to-man scheme. Devonshire recorded 18 tackles, four pass break-ups and an interception in overtime to clinch a win over North Carolina and help Pitt secure an ACC title.
Jamari Brown, Purdue — Like Cedrick Dort, the one-time starter for the Wildcats got out of the rotation to get a starting spot in the Big Ten. Brown did not record an interception, but he led the Boilermakers in pass break-ups with seven. He also recorded 32 tackles, 1.5 for loss, a sack and two forced fumbles to help Purdue to a nine-win season, the most in West Lafayette since 2003.
Nik Ognenovic, Akron — The tight end caught two passes for 38 yards, including a 21-yard touchdown. He was inches away from recovering a fumble in the end zone for a game-winning touchdown. Instead, Akron tallied one of its 10 losses. Tom Arth was fired, replaced by former Mississippi State head coach, Joe Moorhead.
Qua Mahone, Temple — After cracking the UK rotation as a reserve defensive lineman near the end of the 2020 season, Mahone took his talents to the AAC and played in all 12 games for Temple. He recorded 26 tackles, 2.5 for loss and a half sack for the 3-9 Owls. Rod Carey was fired at the end of the season, replaced by former Texas associate head coach Stan Drayton.
Akeem Hayes, Arkansas State — The slot receiver caught five passes for 56 yards and a touchdown in three games. Butch Jones' first season back in the head coaching ranks did not end well, finishing just 2-10.
Davoan "Day Day" Hawkins, Tennessee State — The defensive lineman had 29 tackles, 4.5 for loss, two sacks, two forced fumbles and blocked two kicks as Tennessee State went 5-6 in Eddie George's first season coaching Nashville's OVC football team.
Stanley Garner, Hampton — Once a four-star recruit by Rivals, Garner went to the FCS ranks to play safety. He broke up five passes, picked off one and recorded 21 tackles for the 5-6 squad.
Walker Wood, McNeese State — The Lexington Lafayette product backed up Cody Orgeron, Coach O's son, and played Wildcat quarterback in short yardage situations, rushing for two scores during the spring season. He did not receive any snaps during the fall of 2021.