Translating Part I of Calipari's State of the Program Series
This morning,
John Calipari released part one of a three-part series addressing the state of the Kentucky basketball program.
Cal revisited his master plan for the program when he came on board seven years ago, breaking down Kentucky's success each season in recruiting, wins, academics, and sending players to the NBA. I love Cal, but it's no coincidence that this manifesto came out with one major recruiting decision hanging in the balance. With that in mind, I spent the morning looking for the best "Cal-speak" passages to find out what he's really trying to tell us.
---
Quote:
I've said it before and I'll say it again, this year is going to be a war. I like the kids we have coming in and I think it could be another special season for us.
Translation:
This is how I feel about this season:
---
Quote:
How have we gotten to become the winningest program during this time frame, win a championship and have the most Final Fours, have the most players in the country reach their NBA dreams, and still stay true to our high academic standards?
Translation:
This humblebrag is about as subtle as a smack in the face with a 2x4. Seriously, if Marques Bolden was looking for a better pitch than that, well, he should just keep reading.
---
Quote:
What I'm most proud of is how those two teams of players performed in the NBA. What it did was it proved the narrative wrong that they were all pros before we got them. They all had pro potential, but the environment of being around each other, being challenged and being held accountable and responsible — even if you're the best player — has proven to be a great formula.
Translation:
We develop talent.
One of the myths Calipari's critics like to perpetuate is that he gets the best talent and just rolls the balls out; that Kentucky is merely a six-month stopover to the league, during which players don't get any better than they were when they arrived.
...Except for players like Eric Bledsoe, who came to Kentucky as a four-star recruit (247 Sports Composite) ranked 57th best in the country and left as the #18 draft pick. Or Willie Cauley-Stein, a four-star recruit ranked 43rd in the country who left as the #6 draft pick. Calipari may get the best guys, but those guys get even better by playing against each other in practice. Of course, there are always exceptions to the rule (Daniel Orton, Alex Poythress, and Skal Labissiere come to mind); however, I'd wager that 90% of the five-star players that come to Kentucky are better off for it.
As Karl Towns said on KSR this morning, it's easier to make the jump to the pros if you trained alongside pros in college.
---
Quote:
Kentucky is not for everybody. And the ones who don't come here, we're fine and we do not take it personal.
Translation:
If they could go back in time, how many of these players do you think would choose differently?
---
Quote:
Not every player should come here, and if you've been brainwashed to the point of doubt of what Kentucky is and what Kentucky isn't, you shouldn't come here.
Translation:
If you're naive enough to fall for negative recruiting, this isn't the place for you.
(PS. Hate us 'cause they ain't us.)
---
Quote:
We've posted a combined grade-point average of 3.0 or better in six of the last eight semesters and just posted a perfect APR score of 1,000, which is a four-year composite score, and only 17 other schools have received a perfect score — and no, they didn't.
Translation:
Admit it, you all thought I was joking when I said this in 2009, didn't you?
---
Quote:
Now the NCAA Tournament isn't a seven-game series, and even though we never seem to have an easy path, we're always right there with a chance.
Translation:
The Selection Committee still sucks.
---
Quote:
I also cannot believe that there's any program that has better and more meaningful relationships with its former players than we do with ours.
Translation:
Marques Bolden says he wants a program with a family atmosphere, and, with 22 former players in the NBA and at least three more on the way, there's nothing like La Familia.
Right, Trey?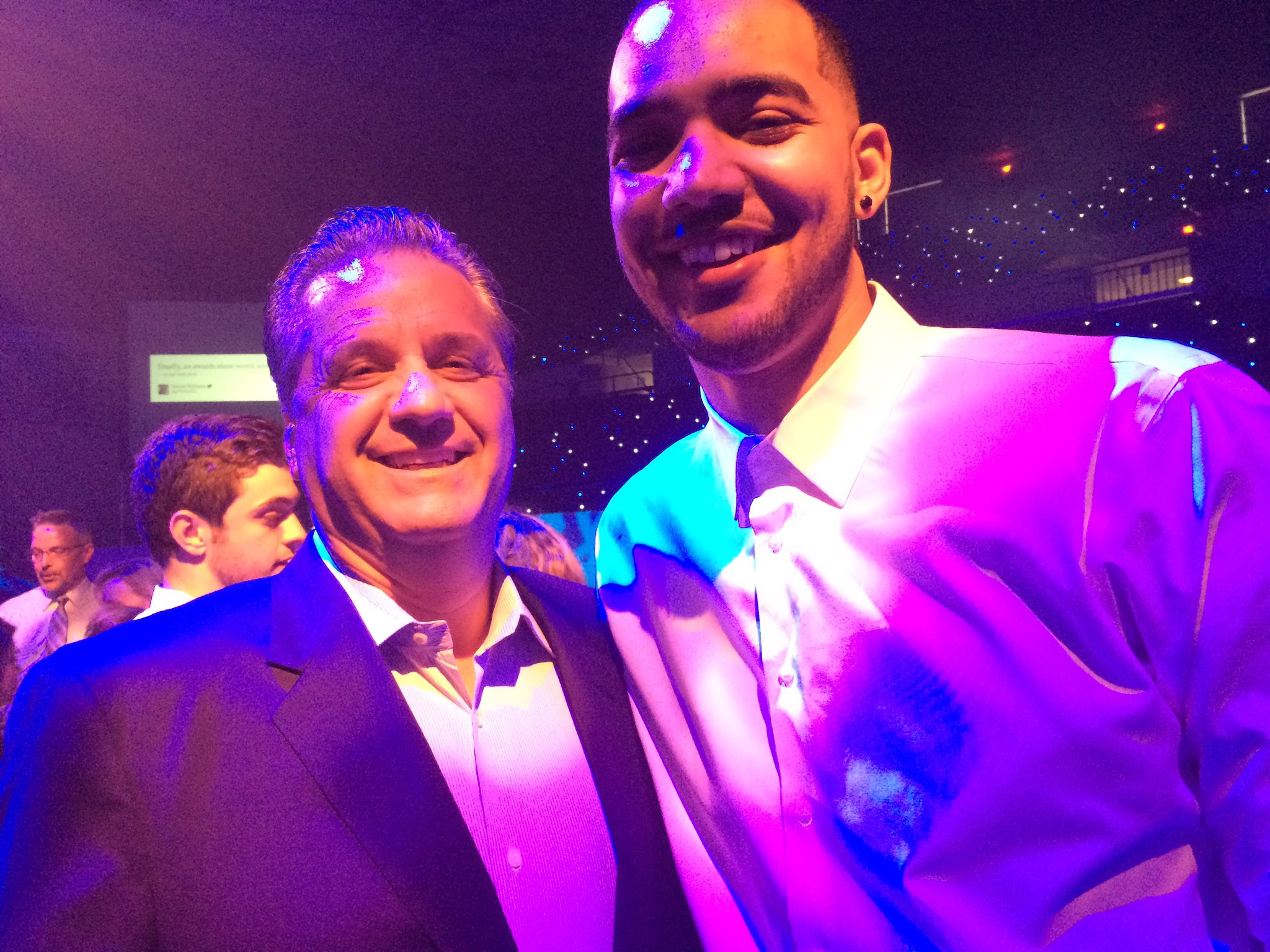 Right, Devin?
(Oh, hey Bill Clinton.)
Right, Karl?
Meet my new trainer. pic.twitter.com/UcmaYRWTwb

– John Calipari (@UKCoachCalipari) May 4, 2016
And that's just in the past two weeks.
---
Quote:
https://www.youtube.com/watch?v=awpv6ElSZAU
On Brad Calipari, a 12-year-old commit, playing at Kentucky:

He will play. You don't want to be on his position if you're on my team.
Translation:
Brad will play.
---
Quote:
And as we're going through this political season, the term flip-flopping has come to the forefront many times. As you'll see, there's no flip-flopping here! #NoFlipFlop

...

Let me drop the mic and just say, #NoFlipFlop.
Translation 1:
From day one, we've stuck to our goals and fulfilled our promises.
Translation 2:
Unlike some coaches, I am true to my word. (**COUGH, down I-64, COUGH**)
Translation 3:
This is just a chance for me to mention politics because I like politics and there's a presidential race going on. Did you see that Bill Clinton was in our locker room?
Translation 4:
You're never going to see me in flip flops. Only Gucci loafers for this boss.
Translation 5:
Modern country music sucks.
https://youtu.be/WKFcPnxeyWI https://youtu.be/JVejim_ZYko https://youtu.be/c8nY06Pt8Qw?t=59s https://youtu.be/tykUFkoXoRo   Stay tuned for more translations when parts two and three of Calipari's series are released.