Travis Perry is beginning to hear from college basketball heavyweights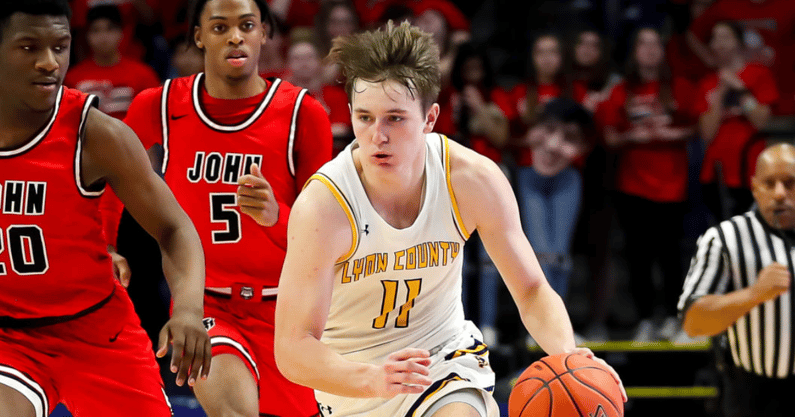 Eddyville (Ky.) Lyon County lead guard Travis Perry is a top-100 recruit in the class of 2024. The rising junior is well on his way to breaking the Kentucky state high school record for points in a career. John Calipari has taken notice and issued a scholarship offer.
However, others schools are starting to get involved in this recruitment.
Travis Perry recently spoke with Travis Branham of 247 Sports to provide an update on his recruitment. A pair of Big Ten programs have been making some noise in addition to a college basketball blue blood.
"I feel like Michigan has been prioritizing me lately, Purdue has been around a lot, Ole Miss has been around a lot and Cincinnati has been prioritizing me a lot," Perry said. "UNC has gotten in on me lately, they contacted me the other day, Virginia has been on lately. Pretty much all of the schools that have offered me I feel like are prioritizing me lately."
Since Memorial Day, Perry has received offers from Cincinnati, Kentucky, Iowa, Michigan, Missouri, Ohio State, Nebraska, Purdue, Stanford, and Wake Forest. The playmaking guard likes the sell he is receiving from Calipari.
"Coach Cal reached out after we won and has been talking about keeping him updated on Reed's [Sheppard] games and stuff whenever he isn't here and trying to land the big dogs," Perry told 247 Sports. "Everybody is still staying in touch. It was cool [to receive the offer] and to see coach Cal there and watching his stuff. It was a humbling experience that he saw something in my game. It was neat and a really good opportunity. I like the campus, I liked the facilities. It's just a good basketball place for sure."
Kentucky is working on closing out strong in the class of 2023 as the coaching staff puts in some important work at the Peach Jam. Travis Perry could be an important recruit in the class of 2024. The in-state product is generating a lot of interest.