Travis Perry tells KSR about his visit to Kentucky, offer from John Calipari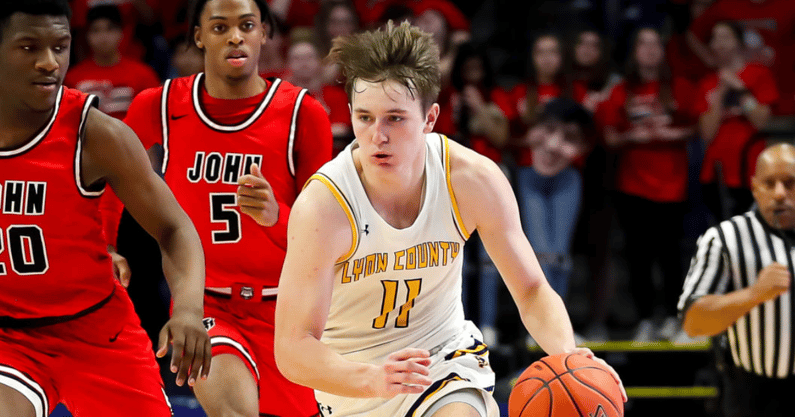 Last weekend, 2024 Lyon County star Travis Perry landed a scholarship offer from John Calipari while on an unofficial visit to Kentucky. Today, the 6'2″ point guard called into KSR to talk about the experience, his conversations with Calipari, and what lies ahead as he looks forward to his junior season with the Lyons. As you might expect, the last few weeks have been a whirlwind. After a standout performance at the Titans-Rockets Shootout in Shelbyville, Perry picked up offers from Kentucky, Cincinnati, Missouri, Wake Forest, Ohio State, and Michigan to go along with Iowa, Nebraska, and Purdue.
"It's really been crazy but also really fun," Perry told KSR. "It's just been a good experience getting to go around and see lots of colleges, talk to lots of people, and having fun with it, really. Taking it every day as it goes. Fun is the main thing for me, taking it all in. It's a once-in-a-lifetime experience obviously so I'm just trying to enjoy it and live in the moment."
A "perfect storm" led to Kentucky visit, offer
Perry has played varsity for Lyon County since the seventh grade, totaling 3,190 points so far in his career. That puts him on pace to break Kelly "King" Coleman's state record of 4,337 points, set in 1956. Scoring in bunches against Kentucky high school competition is one thing, but in Shelbyville, John Calipari watched got to see Perry and his team play against 2023 five-star center Xavier Booker and Cathedral High School (IN). Perry scored 36 points against the defending Indiana state champions. Had Perry's team not made it to Sunday, Calipari wouldn't have seen him play at all that weekend.
"It was kind of just a perfect storm, the right people were there at the right time," Perry said. "Coach Calipari was there. A lot of important people there so I feel like I played pretty good and our team played pretty good and a lot of people took notice of that."
Calipari's interest piqued, Perry and his family took an unofficial visit to Lexington the next weekend. They got to watch the Cats practice and afterwards, Calipari took them to his office to deliver the good news.
"We talked with him for about 15 or 20 minutes before practice. He was kind of laying out what was going to go on in practice and really just wanted to get us up there to show us how it would be in person, show us the intensity, and everything like that. So we watched an hour and a half to two hours of practice and then we went back to his office and talked to him a little bit, kind of discussed the game that he'd watched us play, discussed details of my game that he liked and thinks he'd fit at Kentucky. And he said he had a scholarship for me at the University of Kentucky, so that was obviously a really neat thing to be able to experience with my family for sure."
What Calipari likes about Perry's game
During their meeting, Perry said that Calipari recalled the game he'd watched him play vs. Booker and Cathedral in detailed memory.
"Watching the game, we were talking about plays and his memory of the game was insane. I like to think I have a high IQ on the court and can remember a lot out there but he was relaying off every play that was important in the game back to me like he was out there playing so that was really impressive. He touched on my IQ on the court and said that excels at any level and also my skill set. He told me multiple times the game is trending and is in the stage of skill set right now and my skill set will allow me to play at any level at a high level so that's the main thing."
Another part of Perry's game that Calipari likes is something the Lyon County star modeled after 2023 Kentucky commit Reed Sheppard.
"He loves that I get my hands on balls often. That's something I really learned watching Reed [Sheppard] all the time, watching him play in AAU."
The Kentucky experience? "Awesome"
Perry will only be a junior this fall, so there's likely a ways to go in his recruitment. That said, it sounds like his trip to Lexington went as well as it could have.
"I really like it up there. Coach Cal was awesome. He made us feel like a priority while we were up there. He didn't seem rushed at all. He's obviously a very busy man but he took time before and after practice to sit down with us and talk about how my game would fit there and what he sees for me in my future and just the future of Kentucky in general. He was awesome, the facilities are great obviously, the campus is great and the basketball there is amazing so it was awesome. I loved it up there. It was a great time."
Another fun note: Perry wears the No. 11 because of John Wall, his favorite player growing up. To use his words, awesome. Check out the full interview with Ryan and Drew below.