Trick Daddy's Saturday News and Views
I have no idea what exactly it is that Trick Daddy wants me to keep quiet about in this picture, but I can promise you that my lips are sealed. That picture is frightening. Trick Daddy was a popular rapper for a while during the later 90's and early 00's. I remember Trick (it just feels weird to shorten it to 'Daddy') mostly from his collaborations with fellow female rapper, Trina. I never knew for certain if they were in love, but anytime you can sing a song in such unison with someone as
"Take it to the House,"
the chemistry is simply undeniable. Perhaps Trick Daddy's most memorable song though was his 2004 hit
"Let's Go."
The song served as the perfect opening song on many warm-up CDs for sports teams in the early and mid 2000's. What you might not have known about Trick Daddy, born as Maurice Young, is that he was diagnosed with lupus, which affected his skin. Young/Trick/Daddy decided not to take the medication though, using the following explanation: "I just said all together, I ain't taking no medicine." More power to you. I hope Trick Daddy and Trina end up together again some day.  
Care for some news and views?  "Everybody knows somebody that knows somebody that knows somethin' bout it." And I know a little something about it...
-----
The buzz around the Bluegrass has all been focused on the night game match up with Florida in Commonwealth Stadium tomorrow night. Kentucky will have its first chance to line up against an SEC foe, putting the new coaching staff to the test.
The stage seems ripe for an upset though, with more and more experts picking Kentucky as a trendy choice for the upset bid of the weekend
. Between Florida's injuries, below average offense, the night game atmosphere, etc... there is just something brewing in the air in Lexington. Maybe we are all just foolishly hopeful, or maybe there's something to the tide turning toward Kentucky finding a way to pull off what would certainly be the biggest win of Mark Stoops' young Kentucky career.
-----
What's on the line? We've only touched on it all week here on KSR, but
a 26 year losing streak is what Kentucky is up against, along with a stingy Florida rush defense.
Although Kentucky is entering a new era, Florida seems as vulnerable as they have in years limping into Commonwealth Stadium with a few key injuries, including that of the Gators starting quarterback Jeff Driskel.
-----
One of the sub-plots of the entire week leading up to the Florida game has been the talk of Joker Phillips' return to the Bluegrass
on the opposing sidelines. Phillips will be making his first official trip back as the wide receivers/photo shop editor of the Florida Gators. Both sides have played it cool and tried not to make it "the storyline," but there's no denying that for a former Kentucky player, assistant coach, and head coach... the return is a story. Many fans were displeased with the state Joker Phillips left the Kentucky program in before Mark Stoops' hiring, but hopefully the drama will be left to the play on the field tomorrow.
-----
For the players' part,
the Kentucky players who played for Phillips told Kyle Tucker of the Courier-Journal that they will "show him love"
during his return to Lexington.
-----
Kentucky fans will finally get the chance to experience tailgating at its finest this season after surviving two straight noon kickoffs.
Kentucky will be under the lights and the tailgating scene tomorrow promises to be a good one.
Have fun. Don't drink and drive. Don't get married at your tailgate.   A quick switch to some basketball news...
John Calipari has been tearing up the recruiting trail over the course of the past few weeks, likely utilizing as much of his free time as possible before the team was officially allowed to start practicing 20 hours a week together.  Calipari has jet set across the United States, paying visits to various 2014, 2015 and even 2016 prospects. While in town to visit 2014 highly coveted target Stanley Johnson, Calipari made sure to make time to visit 2016 power forward Michael Cage, Jr. He is the son of former NBA center Michael Cage.
Calipari offered a scholarship to the 6'8 PF who ranks as the 19th best player in the class of 2016. Cage's other offers at this point include UCLA and Washington.
As we move closer and closer to the kick off of the college basketball season, the pre-season awards and accolades continue to roll in for one young Kentucky Wildcat.
Julius Randle was tabbed as a CBS Pre-season All-American this morning, which pairs with the same honor given earlier in the week by USA Today.
The rest of CBS' All-American line-up included Doug McDermott, Russ Smith, Andrew Wiggins and Marcus Smart. Not bad company. Andrew Harrison and Willie Cauley-Stein were both named as third team All-Americans by CBS. Kansas' Andrew Wiggins was slated as the Pre-season Player of the Year. CBS had the following to say about Randle:
Julius Randle F | 6-9 | FR | Kentucky Randle projects as the best player on what projects as the nation's best team. He's big, strong and super-aggressive – a matchup nightmare in the frontcourt who just might lead Kentucky in points and rebounds while leading the Wildcats to a second national title in three years.
-----
In former Wildcat news, DeMarcus Cousins is having the best week ever. First, one of the all-time great centers in the game of basketball declared that he was taking Cousins under his wing, while also staking a personal financial claim in the Kings. Shaquille O'Neal and Cousins' relationship seems to be budding at just the right time, and now the Kings sweetened the pot even more for Cousins.
DeMarcus Cousins and the Sacramento Kings reached an agreement on a four-year, $62 million dollar max contract extension.
For those keeping track at home, John Wall and DeMarcus Cousins have both been on the receiving end of monster pay days in the last 12 months. Congratulations to Cousins, a KSR favorite.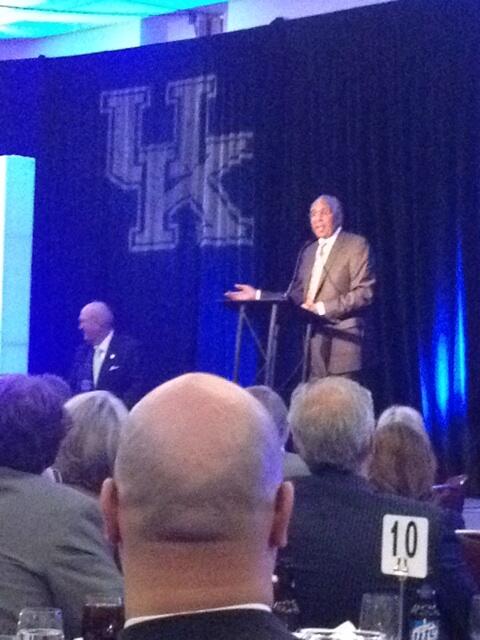 ----
And last but certainly not least, the UK Athletic Hall of Fame inducted some new members tonight, headlined by Tubby Smith and Rex Chapman. The big story was Tubby's first return to Lexington since leaving Kentucky for Minnesota.
Smith received an incredibly warm welcome from the crowd upon being introduced, receiving the only standing ovation of the night
. Smith was emotional and had only the nicest things to say about his time at Kentucky. Here are a few of his best quotes:
"You may leave Kentucky, but Kentucky never leaves you." "I spent more time in Lexington than anywhere except my childhood home in Southern Maryland. So this is a second home to me." Tubby on never quite understanding the fame, "I never thought I was a celebrity. I was Joe Bag of Doughnuts trying to get a job done. My Dad taught me an honest day's work, an honest day's pay."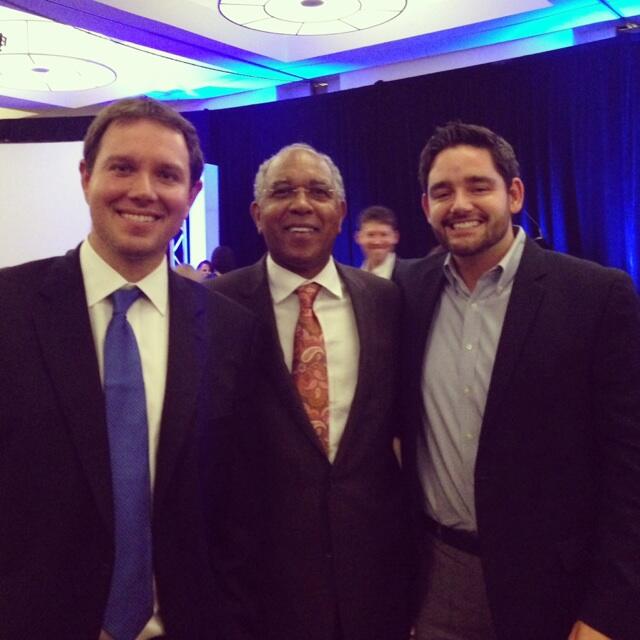 -----
Another KSR favorite, Josh Hopkins, had the honor of introducing Rex Chapman, one of his childhood heroes. Here are a few of the highlights from Chapman/Hopkins
Hopkins on Chapman, "It was like he was built in a basketball lab. He had it all." Chapman on being the son of a college player and coach, "I hit the genetic lotto."
  .... That's it for now folks. Rest up, we've got a long day ahead of us tomorrow. Upset alert. Go Cats. Go Krogering.