Trolling Drake's Tuesday Morning Wakeup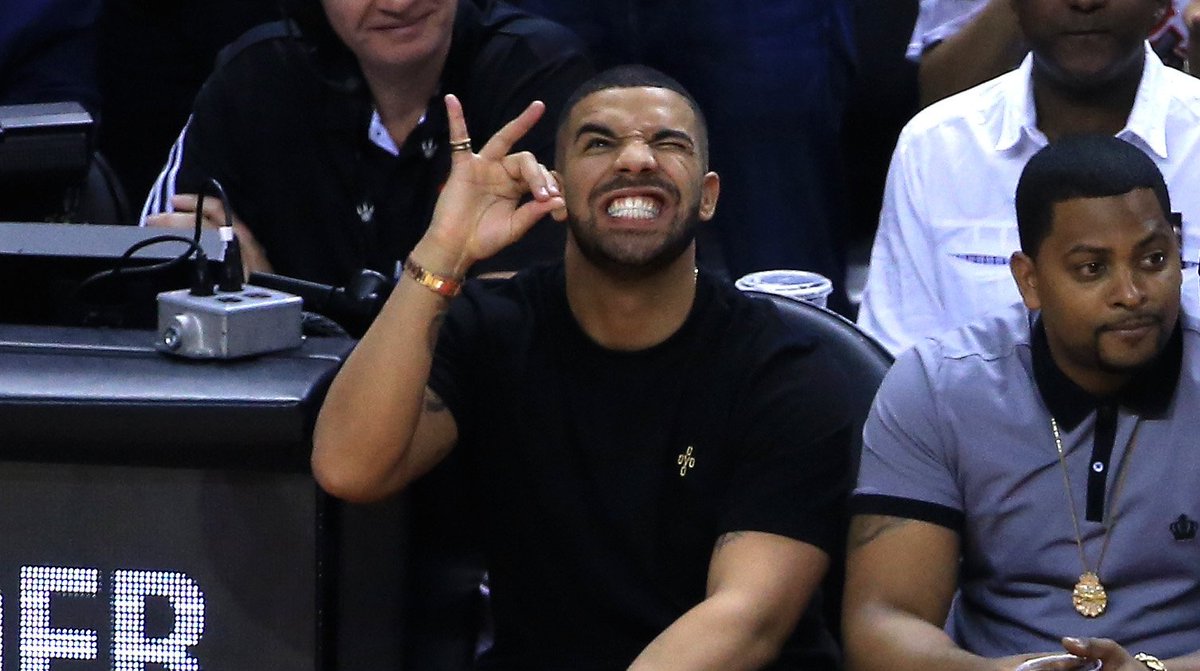 The Raptors are somehow still alive in the Eastern Conference Finals and the team's most famous fan boy, Drake, is trolling the hell out of LeBron James and the Cleveland Cavaliers on social media. And I have to admit: I kind of like it. Following Toronto's Game 3 win after going down 2-0, Drake shared a photo of a whiney LeBron James. (On that note, LeBron has been an enormous crybaby this series, and I generally like LeBron.)
Now after the Raptors evened it up at two games apiece, Drake is going after Kyrie Irving. "2 gave us 2," he wrote on this Instagram photo:
Then there is this one of that non-foul/great block, also from last night:
It's a bold strategy by Drake, considering the series should already be over. This will likely wake the Cavs for Game 5 and he'll be responsible for some of the blame. Of course, Drake is always to blame when he inserts himself into sports. But let's not go there. #TooSoon Other stuff...
Kentucky will host Kansas in Rupp Arena.
Kentucky will get a shot at revenge for that loss in Lawrence last season when Kansas comes to the friendly confines of Rupp Arena for the rematch. According to one Jon Rothstein of CBSSports.com, the marquee Big 12/SEC Challenge game will again be between the Cats and Jayhawks, only this time it is in Lexington. The other Big 12/SEC match-ups are as follows:
Texas @ Georgia
Baylor @ Ole Miss
Texas A&M @ West Virginia
Iowa State @ Vanderbilt
Kansas State @ Tennessee
Florida @ Oklahoma
Auburn @ TCU
Arkansas @ Oklahoma State
LSU @ Texas Tech
The date has not yet been announced.
Valparaiso will also come to town.
Yesterday we learned Kentucky has added Valparaiso to its 2016-17 non-conference basketball schedule. That date of the game is also TBD, but go ahead and pencil in the Crusaders as another early-season opponent for the Cats.
With two days to decide, Marcus Lee could go either way.
There is always a choice, he says. https://twitter.com/JustMarcusLee/status/734609779973312512 Hopefully that choice is to return to school for a senior season.
Alex Poythress and Tyler Ulis worked out in Los Angeles yesterday; Briscoe in Atlanta today.
The former UK teammates shared a private workout in the City of Angels yesterday, along with other NBA draft hopefuls, including Kris Dunn. Meanwhile, Isaiah Briscoe was in Minnesota showing the Timberwolves' brass his game. Briscoe has a workout with the Atlanta Hawks today. He has received positive feedback from four or five teams,
according to his father
.
We'll be following the NBA draft decisions of Briscoe and Lee until we hear them.
Two days...