Troy coaching search could prioritize Kentucky's Jon Sumrall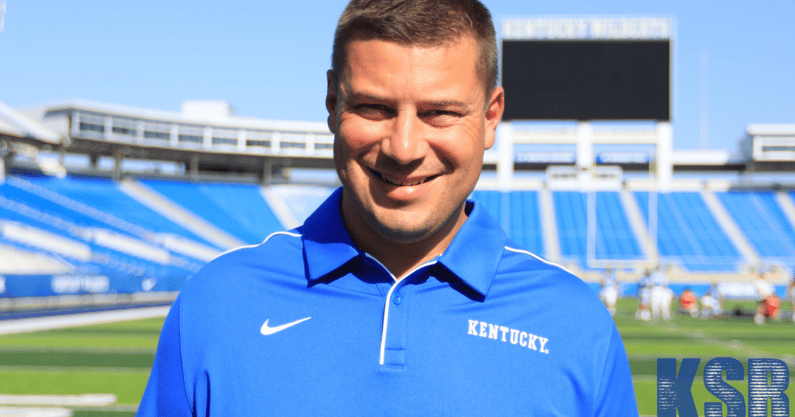 The coaching carousel has transformed into chaos among the power five ranks. Kentucky might be in the clear when it comes to Mark Stoops, but his assistants will certainly be targeted by other schools. Jon Sumrall checks a lot of boxes for Troy as the Sun Belt program searches for a new head football coach.
Troy fired head coach Chip Lindsey prior to its season finale against Georgia State. The Trojans were 15-19 during Lindsey's tenure and failed to reach the postseason in each of his three seasons.
Troy has poached a Stoops' assistant before. Neal Brown left his position as UK's offensive coordinator to become the Trojans' head coach in 2015. KSR cannot confirm if contact has been made between the two parties, but there's plenty of reasons to believe that Troy is interested in snagging another Stoops staffer.
Why Troy is Interested in Sumrall
Sumrall was one of Brown's first hires at Troy. He served as Brown's righthand man during one of the program's most successful three-year runs. Sumrall did everything but cook the pregame meal. He was the assistant head coach, linebackers coach, special teams coordinator and served as the program's lead recruiter in the state of Alabama.
Sumrall is from Huntsville, just a 3.5 hour drive north of Troy. He has deep ties to the area where he's successfully recruited at every level, from the Sun Belt to the SEC. He checks just about every box that Troy wants in a head coach. The Athletic's Bruce Feldman believes Sumrall will be a head coach sooner rather than later.
"He's on a lot of athletic directors' radars because of how well thought of he is in coaching circles," Feldman said shortly after the position opened. "He has also been a very good recruiter for Stoops. We expect Sumrall, 41, to get a head coaching job soon."
Why staying at UK makes sense
Just as Sumrall has ties to Alabama, he also has ties to the University of Kentucky. A Wildcat linebacker from 2002-04, he began his coaching career as a graduate assistant for Rich Brooks.
Since he has arrived in Lexington, Stoops has rewarded Sumrall for his work. Following his first season in 2019, Sumrall received a raise that pays him $675,000 annually. After his second season, Sumrall added the title co-defensive coordinator. With the contract expiring over the summer, he's due for another raise that's probably in the $800-$850k range. Last year Lindsey's salary was equal to Sumrall's.
In addition to the monetary benefits of coaching at Kentucky, his relationships with Stoops and Brad White, Sumrall has some ballplayers in his linebacker room. While it's not set in stone, I expect all five of his top linebackers to return next season. Meanwhile, Sumrall has the cake baking on a few high profile recruits from the South after landing top 200 players in consecutive classes.
Sumrall has become an important part of Stoops' staff in a short amount of time. Keeping the former Wildcat around a little longer must be a priority for Kentucky's head coach this offseason.