True Life: I'm a Top Basketball Recruit
  As Kentucky fans, we know what happens from the moment a highly coveted basketball recruit steps foot onto our campus as an official member of the team- the endless requests for pictures, the autographing of babies, and the cereal tributes made in their likenesses- but what happens while they're still in high school is a little bit of a mystery.
Luckily, Robbi Pickeral of ESPN.com spent a day with Kennedy Meeks, the second-ranked center in the class of 2013, to shed some light on what goes on behind the scenes in the daily life of a top high school player.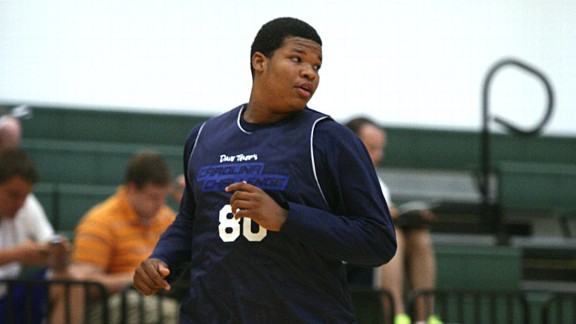 Ranked 28th overall in the class of 2013, Meeks is a 6-9 hunk of a center who rightfully shares Glen Davis' "Big Baby" moniker. He has over a dozen scholarship offers (not yet one from UK, although he has expressed an interest in the school) and probably four times as many daily text messages from top tier coaches.
His family has pitched in to help manage his recruitment, each relative with a different role  in academics, advise, and AAU trips financing
(although they are all constantly on the watch for shoes that fit Meeks' size 17 feet. They should probably ask Jarnell Stokes for some recommendations).   And of course,
with the constant travel comes separation from his family and support system- plus nearly missing out on milestone high school events,
such as prom:  
The hardest part of pursuing his dream, Meeks admitted, is being away from his close-knit family so often. Playing high-level AAU basketball has meant traveling almost every weekend since April and competing sometimes twice a day. In June and July alone, Meeks found himself at camps and/or tournaments in Las Vegas, Washington, D.C., South Carolina and Richmond, Va. The only way he was able to make it to his prom in May was to fly home early from an event in Texas. And because he had so little time to spare, he counted on family to have his clothes and transportation ready when his plane landed.  
The article is an interesting look at the intense schedules and pressures that inevitably come on the road to a college decision. Meeks delegates the task of answering texts and phone calls and juggling recruits to one aunt while he's playing in games- it's overwhelming enough to make you understand why Jabari Parker would change his phone number and keep those precious digits private.
What's even more daunting is realizing that if everything goes according to plan, this pressure-cooker situation won't stop for the players-
it will continue through college, through draft combines, and through NBA careers.   At Kentucky, we focus on what recruits can do for us and how Calipari is working his magic to lure high caliber players,
forgetting that the recruiting path goes two ways and high school players see their games and interactions with coaches as "job interviews."
Click
here
for the full article and remember- they may be our future national champions, but until then, they're just kids playing the sport they love and hoping to make a career out of it.   And, in case you were wondering (which I know you were, because recruiting tidbits are all we have to subside on for now),
Meeks is trying to narrow it down to five schools by this weekend
and make a final decision after taking official visits.  He says he's not leaning towards any specific schools yet. He also had a flattop at one point in his life.  
@KristenGeilKSR