Tuesday afternoon Kentucky Football recruiting notes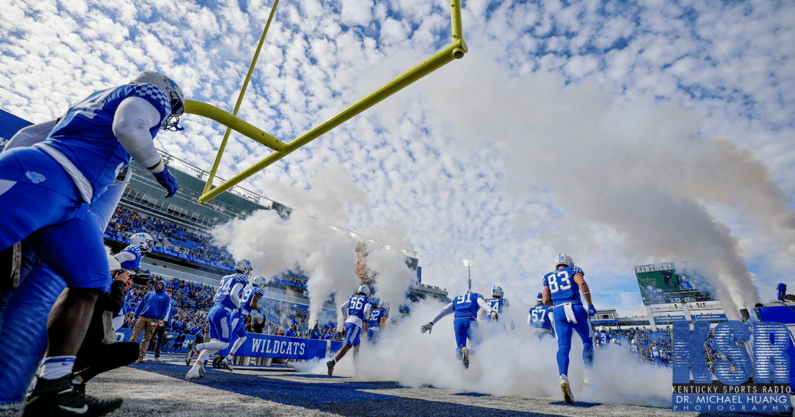 The Early Signing Period begins on Dec. 15 and the majority of Kentucky Football's current commits will be expected to put ink to paper and make it official. There is always a surprise or two, but Kentucky should head into that Wednesday morning confident its top 20 recruiting class will hold steady.
As we inch closer to the Early Signing Period, which runs through Dec. 17, there are plenty of storylines to cover. Let's dive right into them.
Home stretch for Kiyaunta Goodwin
Five-star offensive lineman Kiyaunta Goodwin has been committed to Kentucky for nearly eight months, but his recruitment is going to come down to the buzzer. With the early signing period just eight days away, the top 20 prospect is hearing everyone's final pitch. Thanks to On3's Chad Simmons, we now know who Goodwin will hear from.
His fifth and final official visit of the fall season is slated for this weekend at Michigan State. Goodwin has already been on well-documented OVs to Alabama, Florida State, Michigan, and Texas A&M this season. Kentucky didn't technically receive an official visit, but Goodwin was at most Wildcat home games and was a frequent visitor over the summer.
Throughout the current week, coaches from all six schools will visit with Goodwin. Simmons reports that Michigan paid him an in-home visit on Monday while Michigan State and Texas A&M head coach Jimbo Fisher will visit on Tuesday. Alabama head coach Nick Saban is stopping by on Wednesday with Florida State following on Thursday. But most importantly, Kentucky head coach Mark Stoops will get the final in-home visit on Friday, right before Goodwin heads up to Michigan State. Of the six schools after him, it feels notable that Kentucky, Alabama, and Texas A&M are the three schools sending head coaches for in-home visits.
This one could come down to Dec. 15.
Quentel Jones announces Thursday
Coming off his official visit to Kentucky over the weekend, three-star defensive lineman Quentel Jones will make his college decision this Thursday. He is reportedly down to three schools: UK, Miami (FL), and Auburn.
Jones has been a UK target since the beginning of the year, but his recruitment appears to have really heated up in recent weeks with the 'Cats. He spent the weekend in Lexington and has been to Miami as well, but did not take a trip to Auburn. Considering Miami's program is currently clouded by its confounding coaching carousel, UK would have to feel good about its chances with Jones heading into Thursday. Jon Sumrall even stuck around for Jones' official visit despite being hired as Troy's next head coach.
Rutgers OL picks up Kentucky offer
With one year of eligibility left, soon-to-be sixth-year senior Brendan Bordner picked up an offer from Kentucky on Sunday. The three-time Academic All-Big Ten member has spent the last five seasons playing on the line for the Scarlet Knights. Bordner played in all 33 games for Rutgers over the last three years, starting eight of them.
He was actually recruited by Kentucky out of high school before landing with Rutgers. Five years later, the two sides appear to be looking at rekindling the relationship. Bordner was a defensive lineman up until the start of his first senior year when he switched to the offensive line. He spent time at both left and right tackle the last two seasons, which is a position UK will need more depth at moving forward, especially with Dare Rosenthal's return up-in-the-air.
Kentucky isn't the only school showing interest though. Since putting his name in the portal on Dec. 1, Bordner has earned offers from the likes of New Mexico State, East Carolina, Hawaii, San Diego State, Arizona State, and Vanderbilt.
Other transfer portal targets
Marcus Banks (Alabama DB, Sr.) 6-0, 180 pounds
2021 stats: 3 games (0 starts), 6 tackles, 1 interception
Khris Bogle (Florida LB, Sr.) 6-4, 240 pounds
2021 stats: 10 games (3 starts), 22 tackles, 1.5 sacks
Tayvion Robinson (Virginia Tech WR, Sr.) 5-10, 185 pounds
2021 stats: 11 games (11 starts), 44 receptions, 559 yards, 5 touchdowns
Jordan Watkins (Louisville WR, Jr.) 5-11, 175 pounds
2021 stats: 12 games (2 starts), 35 receptions, 529 yards, 4 touchdowns
Bobby Haskins (Virginia OL, 5th Sr.) 6-7, 295 pounds
2021 stats: 10 games (10 starts), graded out at 92 percent overall, 94 percent on run plays, and 91 percent on pass plays
Tomiwa Durojaiye dominating in Delaware
With a state championship on the line this weekend, Kentucky EDGE commit Tomiwa Durojaiye will take the field as the 3A Defensive Player of the Year. The 6-foot-4, 255-pounder out of Middletown High School (DE) is also a First-Team All-Conference defensive end. Durojaiye and his Middletown squad will go head-to-head on Saturday against Smyrna, which boasts quarterback Cameron Edge, who is the 3A Offensive Player of the Year.
New offer out for 4-star EDGE
Desmond Umeozulu, a four-star EDGE out of Upper Marlboro, MD picked up an offer from UK defensive coordinator Brad White on Tuesday morning. On3 has the high school junior ranked as a top 300 player in its Consensus Rankings and a top-five prospect from the state of Maryland. Umeozulu also holds offers from the likes of Ole Miss, Boston College, Maryland, Michigan State, North Carolina, Virginia Tech, Rutgers, Pittsburgh, and Virginia. Penn State is also poking around.
BIG recruiting weekend on tap
We'll have an official list later in the week, but we'll at least hint at Kentucky hosting a slew of prospects and commits this weekend for official visits. It'll be massively important for locking up uncommitted players and just as important for firming up current commits. The next eight days are going to be exciting. Buckle up.