Tuesday Hot Take: Fighting in Sports is (usually) a Good Thing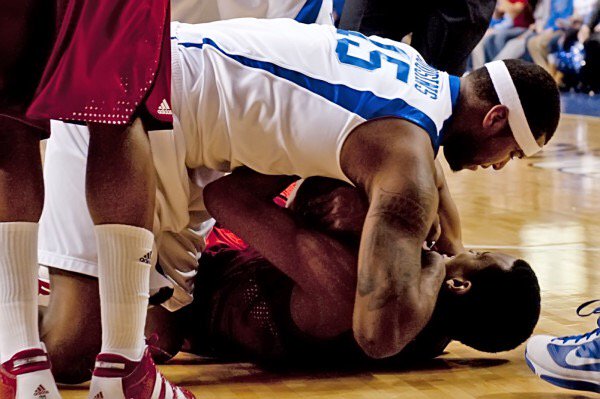 My fingers were so fiery, I couldn't wait for the Live Blog's #HotTakeTimeout at the under-eight media timeout.  Before I begin, let me say I am not encouraging assault, hence the "usually" in the title.  
While others jeer, I cheer every time I see fighting in sports.  It's not that I want to see the return of the gladiators.  I appreciate and admire those who use their mental toughness as an advantage to break down the opponent until he (or she) retaliates. Halfway through the second half in Athens, after run-ins with Georgia's Diatta Pape on consecutive possessions, Isaiah Briscoe got in a scuffle and was awarded a technical foul, his fourth personal foul.  Many fans responded with comments like, "What a punk;" "There's no room for that in basketball;" "Get that head-case to the bench." Isaiah Briscoe's technical foul was stupid, but not just because he was pushing and shoving.  There's a time and place for trash-talking that incites altercations. Before explaining why "fights" like that are good, let me call out all of those who make the loaded comments about "punks" who fight during games.  You think those people said the same thing about Bill Laimbeer? https://www.youtube.com/watch?v=XtBSIni2P6Q Fighting is a part of sports and should be treated as another tool when used appropriately. What makes it appropriate will surprise you.  The aggressor is the one who always wins.  The refs always catch the retaliator.  The aggressor preys on the mentally weak by pinching them, stepping on their feet, or with a simple, steady flow of trash talk.  If that person reacts just once, the aggressor has got inside their head and they are done for the day. Emotions run high in sports.  Seeing an altercation is a sign of competitiveness.  Some might say it shows that they care, a criticism levied against this Kentucky team just two weeks ago.  People don't get in fights if they aren't whole-heartedly invested in winning. There is a trick to it.  On the basketball court, you have to do it early in the game.  If you wait until later in the game, the technical can take you out of the game.  Briscoe's technical was his fourth personal foul and essentially ended his day.  The tool is most effective if you can mentally take your opponent out of the game in the early stages. In football there's a fine line you cannot cross.  It's a simple line: don't throw a punch.  It's easier to mess with your opponent in football, but much more difficult to receive a significant payout.  Linemen can jaw the entire game and mess with people in pile-ups.  However, the best trash-talking happens between corners and receivers.  I'm sure Derrick Baity has exchanged some words with his opponents, but never pulled a Cortland Finnegan. https://www.youtube.com/watch?v=8ZOEH44HHtI The greatest advantage in football: the penalty hurts much less than a technical foul. Altercations in basketball should be deregulated.  There are extreme cases that should be excluded.  The
Tates Creek-Henry Clay girls' fight
got grotesque and the
D-III player who threw a sucker-punch
deserves assault charges.  But for minor scraps, handing out a double-technical is insulting.  It accomplishes nothing.  There's jawing at every level of every sport.  If that's wrong, then I don't want to be right.