Sean Taylor Passes Away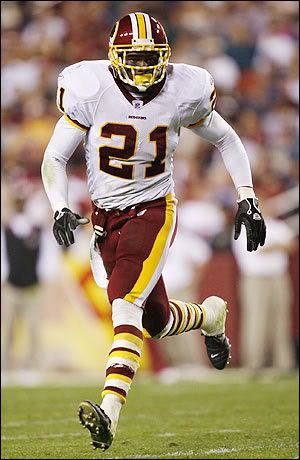 We awake this Tuesday to hear the unfortunate news that Washington Redskins standout safety
Sean Taylor has died due to complications from a gun shot wound he suffered early Monday morning
. Taylor was at his home in Miami when apparently a home intrusion took place in which Taylor was shot in the leg, severing his femoral artery and causing massive blood loss. He never regained consciousness and was pronounced dead at 5:30am Tuesday.
It is at times like these that we all should reflect and realize how special and valuable life truly is
. Taylor leaves behind his girlfriend and his one year old daughter, as tragically, he is dead at the age of 24. Sean Taylor was in his fourth season in the NFL after being selected fifth overall in the 2004 draft. He was an All-American at the University Of Miami and a member of the 2001 National Championship team.
Winston Guy Picks Cats
After backing out of his previous commitment to the University Of Arkansas, Lexington Catholic Star Safety
Winston Guy gave his pledge to Rich Brooks and the Kentucky Wildcats
just hours after the announcement that Razorback coach Houston Nutt would resign. Guy is rated the
number one prospect in the state of Kentucky for the 2008 class and will be a major addition to the UK defense in the future
. At 6'0 186 lbs, Guy is a speedster who possess the hitting mentality of a outside linebacker. Another big, big pickup for Richard Brooks, as he says retirement? What retirement?
I just landed another big time recruit.
Take that haters(you know who you are).
Practice Makes Perfect
Stevie Johnson benefited greatly from the extra bowl practice in 2006, as he has arguably become Kentucky's main receiving weapon this season after a quiet junior year.
Becoming bowl eligible is a great accomplishment for any school, especially for the fans. However one of the bigger perks that comes with qualifying for a bowl is the
extra practice time that is allotted
. The extra month is basically like another spring  session. The players are kept together and continuity remains high around the team. Once the bowl game is complete, off season workouts begin just a few weeks later,
so the cohesiveness of the unit is held together basically year round
. It can't be emphasized enough how many players improve drastically over that time period. As we saw last season, Joker Phillips warned how Steve Johnson was becoming a force during the extra scrimmage time,
and this season he has exploded to become the Cats leading receiver and touchdown producer
. A few names to keep in mind that could really start to turn the corner:
Paul Warford
Justin Jeffries
Shane Mccord
Jamil Paris
Kyrus Lanxter
Moncell Allen
A Tribute To Sean Taylor....Rest In Peace