Tuesday's Top 10: Late night sends Cats to the Super Regional
Like many of you, I was up way past my bedtime last night thanks to Kentucky's exciting baseball game in the Cliff. A rain delay (and some arguing) pushed the finish back into the wee hours of the morning, but it was all worth it to see Kentucky win the Regional for the first time. What a night, what a weekend, what a season for the Cats. Let's talk about it and more...  
1. Kentucky is moving on to the Super Regional in Louisville.
With last night's win, the Cats advance to the Super Regional for the first time ever. And who awaits in the Super Regional? None other than the Louisville Cardinals in a best-of-three series in Louisville for a spot in the College World Series. It is, without question, the biggest series in program history.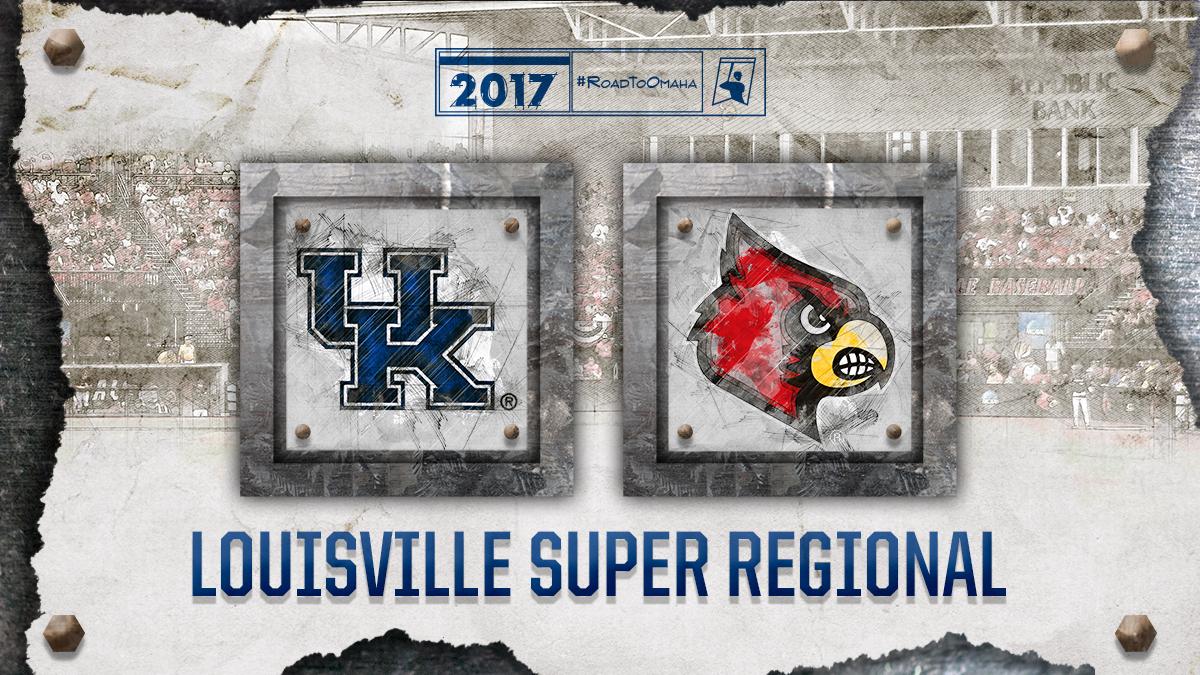 Here's the schedule, released moments ago:
June 9 - Noon ET - ESPN2 June 10 - Noon ET - ESPN June 11 - Noon ET - ESPN/ESPN2
Beat. Louisville.
2. VIDEO: KY Wildcats TV caught the postgame excitement.
Enjoy...
3. MORE VIDEO: Marlana VanHoose sang the national anthem.
Marlana VanHoose once again brought down the house with tonight's national anthem before the @UKBaseball regional final. pic.twitter.com/s6OtyNy9nh

— KYwildcatsTV (@KYwildcatsTV) June 6, 2017
You know it's a big game when they bring Marlana out for the national anthem.
4. Mitch Barnhart and Eddie Gran were wiping down seats after the rain delay.
https://twitter.com/MichaelMReaves/status/871887763632685058 I'd like to see Tom Jurich do that. (Note: Tom Jurich would never do that.)
5. John Calipari's new Wildcats have arrived on campus.
We have confirmed sightings of several members from Calipari's top-ranked recruiting class, including Kevin Knox, Jarred Vanderbilt and P.J. Washington, who have made their way to Lexington on Monday to begin their careers as Wildcats. Most everyone on the team will be back today for the summer session, which begins tomorrow. It's happening!
6. The new football Wildcats arrive this week, too.
https://twitter.com/UKFootball/status/871776355729506304 Also, Monday was Day 1 of summer workouts for the team:
Setting the foundation for a summer filled with hard work.

Day ☝️. We Back. #UKSummer17#WeAreUK #BBN pic.twitter.com/yJcZmqmGpH

— Kentucky Football (@UKFootball) June 5, 2017
They pass the look test. That's for sure.
7. Mark Stoops to speak at the Governor's Cup Luncheon today.
Our own Freddie Maggard will be in Frankfort this afternoon for the annual Governor's Cup Luncheon with appearances from Stoops, Bobby Petrino and former stars from both the UK and UofL football programs. We'll have a full report on the site once Freddie finishes his lunch, whenever that may be.
8. The Preds won to tie the series at 2-2.
More important, the win forced a Game 6 in Nashville and I will be there. As you probably know by now, I am the biggest Nashville Predators fan on planet Earth after discovering the team almost three whole weeks ago. Now I can't wait to get to the Music City this weekend to get behind my team and possibly die when Broadway implodes.
9. The KSR summer tour schedule will be up at 10 am.
So check back for that to see where we'll be stopping around the state.
10. Lots of baseball talk coming up on today's KSR.
Tune in!