Two former Kentucky stars earn All-NBA honors, Adebayo makes All-Defense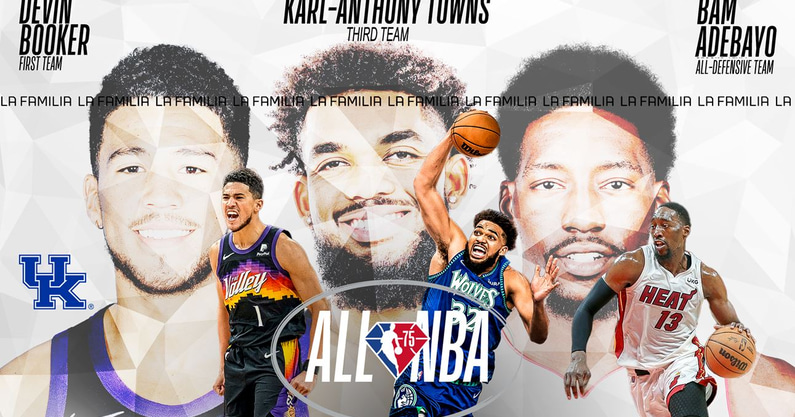 Three former Kentucky basketball standouts earned end-of-season NBA honors this week, highlighted by Devin Booker and Karl-Anthony Towns making All-NBA teams.
Announced Tuesday evening, Booker (Phoenix) earned All-NBA First Team accolades, joining Luka Doncic (Dallas), Giannis Antetokounmpo (Milwaukee), Jayson Tatum (Boston) and Nikola Jokic (Denver) on the list. It was the first All-NBA selection of Booker's career. Towns (Minnesota) was named to the All-NBA Third Team, his second third-team honor of his career (2018). He joined Chris Paul (Phoenix), Trae Young (Atlanta), LeBron James (Los Angeles) and Pascal Siakam (Toronto) on that list.
Elsewhere, Bam Adebayo was also named Second Team All-Defense for a third consecutive season.
With both Booker and Towns earning the prestigious honors, it marks the seventh time in eight years at least one former Wildcat has made an All-NBA team. It's also the seventh time in eight years at least one Kentucky player has earned NBA All-Defensive Team honors.
The program has seen 11 combined All-NBA selections since 2015 across six John Calipari-coached players in Booker, Towns, Julius Randle, Anthony Davis, DeMarcus Cousins and John Wall. Including Derrick Rose, Calipari has coached seven All-NBA players throughout his time as a college coach.

Booker led the Suns to a league-best 64-18 record, averaging a career-high 26.8 points per game on 46.6% shooting during the regular season. He finished in double figures every game this season and scored at least 30 points on 28 occasions, including three times during the playoffs. He was named the Western Conference's Player of the Week three times during the season and was tabbed to his third NBA All-Star Game.
Towns brought the Timberwolves back to the playoffs for the first time since 2018, leading his team in scoring (24.6), rebounding (9.8) and blocks per game (1.1). He earned Western Conference Player of the Week honors twice and appeared in his third career NBA All-Star Game. Towns also captured the 2022 3-Point Shooting Contest during NBA All-Star Weekend.
Adebayo is a defensive anchor for the Heat, who are currently competing in the Eastern Conference Finals for the second time in three seasons. He averaged 19.1 points, 10.1 rebounds, 5.1 assists, 1.2 steals and 1.0 blocks per game while shooting 55.7% from the field during the regular season. The former Wildcat led the Heat in blocks (44), offensive rebounds (137), defensive rebounds (427) and total rebounds (564) while finishing second in steals (80).
Well-deserved honors for the trio of former Wildcats.
#LaFamilia