Two Lessons Mark Stoops is Preaching Ahead of Season-Opener vs. Miami (OH)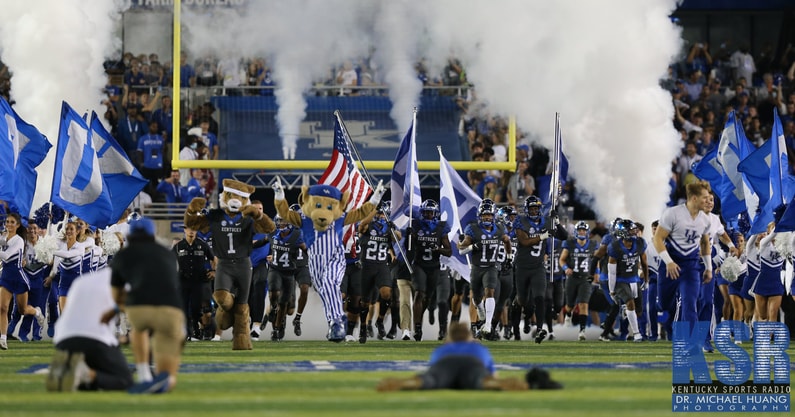 Mark Stoops enters the first week of his tenth season at Kentucky like every other season that came before. There is an excitement in the air and anxiousness surrounding the unknown. He's using couple of lessons learned throughout his 10-year tenure as Kentucky's head coach to mitigate any potential problems against Miami, Oh. in Saturday's season-opener.
"Do Your Primary Job"
Seven true freshman appeared on the first Kentucky depth chart of the season, with two starting at wide receiver, Dane Key and Barion Brown. There are also three redshirt freshmen in starting roles Saturday evening. Fortunately, they will be surrounded by veterans, easing them into the action.
However, the juices get flowing before that first kickoff. Everyone wants to be a hero, but it's not necessary. Do your job, and the rest will take care of itself.
"With a new team, you're gonna go into it with some inexperience at certain spots. It's something that we have to be ready for and prepared for. We have depth, we have experience with the guys around them. We need them to be a part of a team and not just feel by themselves that they have to do anything special. I think that is a message that all the players need to understand, especially in week one," Mark Stoops said Monday.
"It's something that I will hit them over the head with this week about doing their job. And in focusing on their job because the bright lights do come on and you're coming into a stadium and everybody wants to do a lot. You know you've heard that before. It's D-linemen wanting to do somebody else's job instead of taking care of the primary. They'll hear the word primary a lot this week. Do your primary responsibility first, and then play ball."
Stay up to date with interviews, podcasts and all things Kentucky football by subscribing to KSR's YouTube channel.
"Don't Beat Yourself"
Mark Stoops spent most of the weekend watching his sons play football, but he did find some time to break away and watch Nebraska blow an 11-point lead to Northwestern. There's one big takeaway from the Wildcats' win that he will share with his Wildcats.
"You can't beat anybody until you stop beating yourself," said Stoops. "We weren't fantastic last year with the turnovers and turnover margin. We don't harp on it. I don't want our team to play scared. I want to play fast, aggressive, physical, but we have to eliminate mistakes or you're not going to be at a quality team like Miami, or anybody. You can't beat anybody unless you stop beating yourself."
Kentucky ranked No. 125 in FBS with a -11 turnover margin in 2021. The Cats coughed the ball up 23 times and only forced 12 takeaways.
"We've been disciplined. We've been good in this camp, but last year we were negative a bunch in turnovers. We have to get that rectified right from the start."