Ty Bryant feels no pressure as Kentucky's latest legacy commit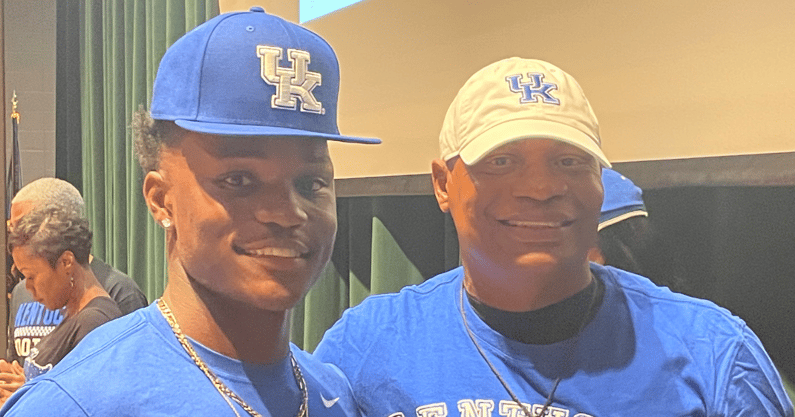 Sitting inside of the Frederick Douglass High School auditorium, smacked right in between his family, Ty Bryant made the biggest decision of his life so far–and he was completely confident in his choice.
On Thursday afternoon, Bryant, a class of 2023 ATH and son of former Kentucky wide receiver Cisco Bryant, announced to his friends, family, and the media that he will be attending the University of Kentucky. The younger Bryant recently reclassified from the class of 2022 to 2023 and will play two more years of high school football before making his way to UK. He just turned 17 years old on Wednesday and became Kentucky's first class of 2023 commitment on Thursday.
"It's something that I've wanted to do since a kid," Bryant said after picking the Wildcats. "Playing at Kentucky is a dream school of mine so I'm just glad I got the opportunity and I made it come true."
Bryant held offers from several Power 5 schools, including the likes of West Virginia, Tennessee, Maryland, and Kansas. However, his final decision came down to Kentucky and Cincinnati. Bryant didn't inform his father of the choice until the night before.
"He told us yesterday. So all night I was up happy," Cisco Bryant said. "But when I went to school today it was a performance, I got an Oscar. I wasn't smiling or anything. But I'm so happy."
It always felt like Ty Bryant was a Kentucky lean, even looking beyond his father's relationship with the program. Two of Bryant's best friends–Dane Key and Dekel Crowdus–have Wildcat ties. Key is a class of 2022 four-star wide receiver that the coaching staff is prioritizing while Crowdus is a freshman wide receiver on the current roster. Associate head coach Vince Marrow and assistant coach Frank Buffano knew how to use those connections to Kentucky's advantage.
Cisco Bryant has repeatedly said over and over that he would be perfectly fine with his son's choice, no matter which school he picked. But the former Wildcat wide receiver from the mid-80s couldn't help but gush over his son following in the family's footsteps.
"Cincinnati is a great university, his second choice, great coaches," Cisco added. "And I love that they showed him mad love but I'm a 'Cat. And I'm glad my son is a 'Cat and I'm very proud of that. I can't emphasize that enough."
Ty Bryant initially received his offer from Kentucky back in Jan. 2020 and the two sides have stayed in touch ever since. But it wasn't until Bryant's impressive showing at camp over the summer that he made his mind up: he wanted to be a 'Cat, just like his dad.
And despite his status as a legacy commit, Bryant isn't sweating the expectations.
"It's crazy, it's crazy," Bryant added. "I don't feel any pressure. I just feel like I need to go up there and do my thing and play my game and I'll be fine."
Bryant's game will be lining up as a defensive back, either at corner or safety, the same position he plays at Frederick Douglass.
"I know that they (UK) pride on DBs and they love their DBs there," Bryant said. "So I know when I go there I'm gonna get a lot of love and that's what I like."
His reclassification means he's still some time away from stepping on the Lexington campus, but that decision was one made in hopes of gaining long-term benefits. Bryant has goals of playing as a true freshman at Kentucky.
"Really just a maturity standpoint," Bryant said about why he reclassified. "I turned 17 yesterday, and so me and my family sat back and talked about it and we realized it would be better if I stay back another year just to mature my body a little bit more before I go to college and have to take on harder and bigger hits."
Welcome back home, Ty.