Tyler Herro could return for Heat in NBA Finals as soon as Game 2, per report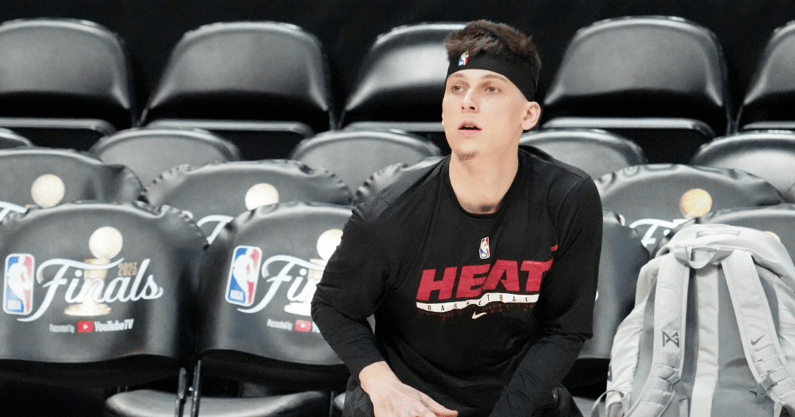 Tyler Herro hasn't suited up for the Miami Heat since April 16, but he could make his long-awaited return to the hardwood as soon as this weekend.
According to ESPN's Adrian Wojnarowski, the former Kentucky Wildcat shooting guard is trending toward making his first appearance in over six weeks this Sunday, June 4 for Game 2 (8:00 p.m. ET, ABC) of the 2023 NBA Finals. If he ultimately doesn't play in Game 2, Wojnarowski says that Game 3 on Wednesday (8:30 p.m. ET, ABC) will be the targeted return date.
"I'm told that Game 2 on Sunday looms as a possibility for Tyler Herro," Wojnarowski said ahead of Thursday's Game 1 on NBA Today. "He'll have a couple more days here to test out that fractured right hand that has now healed. He's on the court working out. Can that hand take contact?
"Sunday, Game 2 is something he will test it out for. But if not Sunday, then Game 3 on Wednesday back in Miami, I think barring a setback, there's confidence Tyler Herro will be ready to return then."
Herro has been sidelined with a broken right hand — his shooting hand — since Miami's first game of the 2023 NBA Playoffs against the Milwaukee Bucks. He would undergo surgery on his third and fourth metacarpal less than a week later on April 21 and was initially projected to make a possible return if the Heat made it all the way to the Finals, which began on Thursday night.
The Denver Nuggets took the series-opener against Miami, 104-93, in the Mile High City.
Herro has been ramping up for a return over the last week-plus and was even going through shooting drills ahead of Game 1.
Obviously, Miami — just the second-ever eight-seed to make the Finals — has not needed Herro to make it this deep into the postseason. But after shooting just 40 percent from the floor in Game 1, under 34 percent from deep, and attempting a record-low two free-throws all night long, the Heat sure could use a scoring punch to complement Jimmy Butler and Bam Adebayo.
After winning the NBA's Sixth Man of the Year award in 2021-22, Herro was elevated into the starting lineup for the '22-23 season. Through 67 games for the Heat, the 6-foot-5 sharpshooter averaged 20.1 points, 5.4 rebounds, and 4.2 assists in 34.9 minutes per game while shooting 43.9 percent overall, 37.8 percent from deep, and a league-leading 93.4 percent from the free-throw line.
NBA Finals schedule
• Game 1: Nuggets 104, Heat 93 | DEN leads 1-0
• Game 2: Heat @ Nuggets | Sun., June 4 | 8 p.m. ET (ABC)
• Game 3: Nuggets @ Heat | Wed., June 7 | 8:30 p.m. ET (ABC)
• Game 4: Nuggets @ Heat | Fri., June 9 | 8:30 p.m. ET (ABC)
• Game 5: Heat @ Nuggets | Mon., June 12 | 8:30 p.m. ET (ABC) * if necessary
• Game 6: Nuggets @ Heat | Thurs., June 15 | 8:30 p.m. ET (ABC) * if necessary
• Game 7: Heat @ Nuggets | Sun., June 18 | 8 p.m. ET (ABC) * if necessary
Discuss This Article
Comments have moved.
Join the conversation and talk about this article and all things Kentucky Sports in the new KSR Message Board.
KSBoard