Tyler Ulis hasn't walked in five months following serious car accident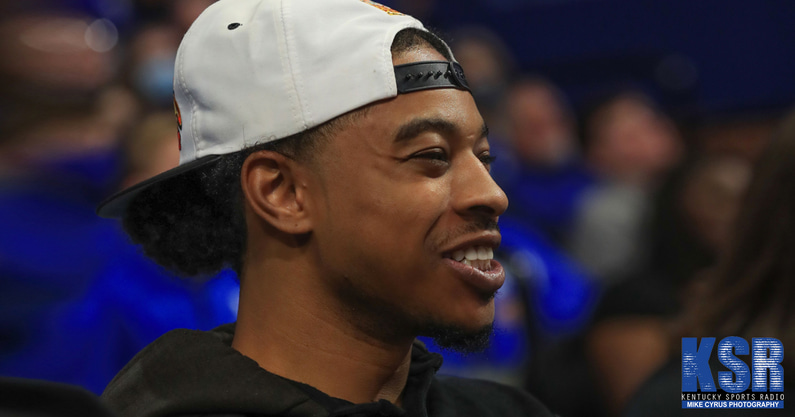 Back in February, former Kentucky star Tyler Ulis was hospitalized after his car was struck head-on by a car going in the wrong direction on an interstate in Michigan. It was an accident that resulted in a broken ankle and broken bones in his foot and wrists. He still hasn't been able to walk without assistance in five months.
Now, though, he's back to the game he loves — at least from a distance. The former Wildcat was back in Lexington this week hosting a skills camp, one of two at his past college home. The first took place at Sports Center from June 29-July 1, with a second scheduled for July 18-20.
He has other camps scheduled in Chicago and Lima (OH) for kids.
At this stop, though, Ulis spoke with the media about his recovery, where he revealed he would be held out of basketball activities for at least one full year.
"I understand I'm going to be out a year," he said, via Lee K. Howard of WKYT. "I just want to come back here and give back as much as possible. … I haven't walked in five months. Hopefully here in the next month or so I'll start walking. I won't start running for another four months, maybe. Then from there, it's about building your body back up, getting stamina. When you play at the highest level, you've got to be prepared in all aspects."
Ulis hasn't played competitive basketball since 2020, last suiting up for the Sacramento Kings G-League affiliate. Now, his focus is on getting back on his feet so he can return to the floor.
"God gave me a gift, I know," said Ulis. "Circumstances have changed a lot of things being hurt, but you've just got to work and take it day by day, building your body back up and keep pushing."
Ulis recently spoke to Jerry Tipton about his recovery and the difficulties that have come along the way.
"They literally had to basically do everything for me," Ulis said of his family. "Bring me food. Helping me get to the bathroom. Literally the last four months, I haven't had to lift a finger. I couldn't ask for a better group of people. My family was like a trauma team."
Ulis added that his plan is to return to the NBA, telling Tipton that he has no timetable for a return, but he'll get there.
"My end goal is always the NBA," Ulis wrote Tipton in a text message. "But at this point, I'm focusing on things off the court and taking it day by day. I don't have a timetable. But I won't play this season! So, whenever I'm healthy, whenever I can get reps and test my health, I will play!"
Best of luck to Ulis as he works to get back on his feet.