Tyler Ulis' younger brother, Ahron Ulis, enters transfer portal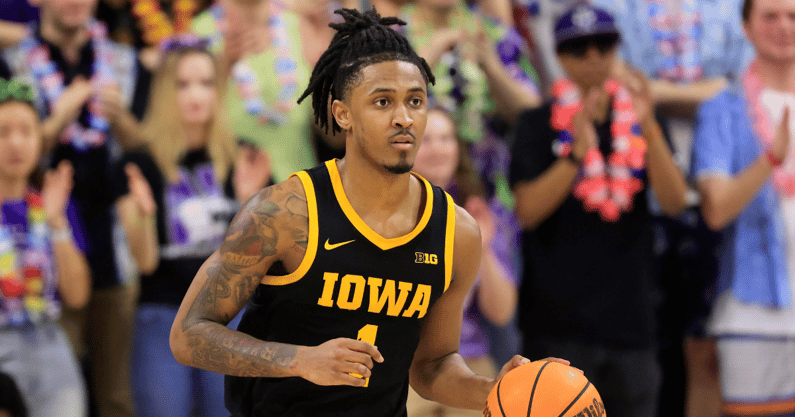 Kentucky already has one member of the Ulis family on the team. Could John Calipari look to add another?
On Wednesday afternoon, news broke that Ahron Ulis, the younger brother of Kentucky graduate assistant Tyler Ulis, has entered his name into the transfer portal. Ahron has spent the last three seasons playing at Iowa under head coach Fran McCaffery, starting in 27 of his 36 games played as a junior in 2022-23. The younger Ulis brother averaged 6.1 points and 2.1 assists in 22.6 minutes per game on 39.6 percent shooting for the Hawkeyes this past season.
He will have one year of college eligibility remaining.
Ahron Ulis went from an end-of-bench player to a consistent starter in Iowa City. The 6-foot-3 guard averaged just 7.0 minutes per game in 17 contests as a freshman in 2020-21 before doubling his playing time as a sophomore in 2021-22 to 13.9 minutes per outing across 35 games played. Following a productive junior season, Ulis will now look for a new home in search of an even larger role.
"I want to thank the Iowa coaching staff for giving me the opportunity to play college basketball at this level and become a Big Ten champion," Ulis said in a release from Iowa announcing his transfer. "I also would like to thank my teammates and fans for embracing and supporting me over the past three years. I have built lifelong relationships and brotherhoods during my time as a Hawkeye."
Ahron's older brother, Tyler, originally joined Calipari's staff as a GA during the middle of the 2022-23 season, where he made an immediate impact helping coach from the bench. More notably, Tyler was known as a star point guard during his college playing days at Kentucky from 2014-16. If you're looking for another UK connection, you should know that Ahron played alongside current Wildcat CJ Fredrick during the '20-21 season at Iowa. Fredrick would transfer to Kentucky the following offseason.
Considering Calipari's incoming recruiting class features a handful of talented guards, there might not be a true need for a player of Ahron Ulis' caliber on next season's squad, but there are certainly enough dots there to make a connection. Coming out of high school, Ahron was considered a three-star prospect and the No. 157 recruit in the class of 2020, per the On3 Consensus.