Wan'Dale Robinson could have 'Tyreek Hill' utilization with Giants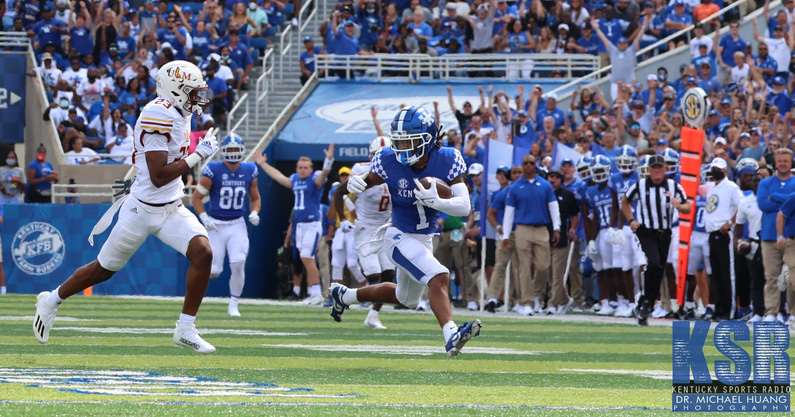 The rebuild is on with the New York Giants as the NFC East organization enters a new year with general manager Joe Schoen and head coach Brian Daboll taking on leadership positions within the franchise. With a pair of top-10 picks, the new front office is looking to put its fingerprints on the roster early.
However, good players that can become solid starters are still found in the other rounds. The Giants believe that Kentucky's Wan'Dale Robinson could be a difference-maker in their lineup.
Schoen has called the slot wideout "a generator when the ball is in his hands" and believes the former top-100 recruit can help New York right away. New offensive coordinator Mike Kafka spent the last five seasons in the Kansas City Chiefs organization working under Andy Reid and should bring a few ideas on how to get playmakers the ball in space.
NFL analyst Greg Cosell went on the Ross Tucker Podcast and explained that the Giants could utilize Robinson in similar way that the Chiefs used Tyreek Hill.
"I think one reason they drafted him — and he's not Tyreek Hill so I don't want people to think he's Tyreek Hill — but Mike Kafka is now their offensive coordinator. He came from the Chiefs, and I think Robinson fits that mold of a player you can move around your offensive formation," Cosell told Tucker. "He's a motion player, he's a jet sweep player, he's an orbit reverse player. Think of Tyreek Hill and how much he was in motion in the Chiefs offense. As I said, Robinson is not Tyreek Hill, but in terms of deployment conceptually within an offense, he kind of fits that mold.
Obviously, Wan'Dale Robinson is not the vertical playmaker that Hill is and the Frankfort (Ky.) Western Hills product does not have Hill's elite long speed. However, the NFL is all about creating matchups. The wideout has proven to be a playmaker when he can get the ball in his hands in space, and that will be a top goal for the offensive coaching staff in New York.
Heavy amount of motions, condensed formations and different alignments within an offensive structure will scheme Robinson open and that is when the talent playmaker can become a generator for an offense. The Giants seems to have big plans for the rookie out of Kentucky.