Tyreese Fearbry: Top 50 Edge Explains Why He Picked Kentucky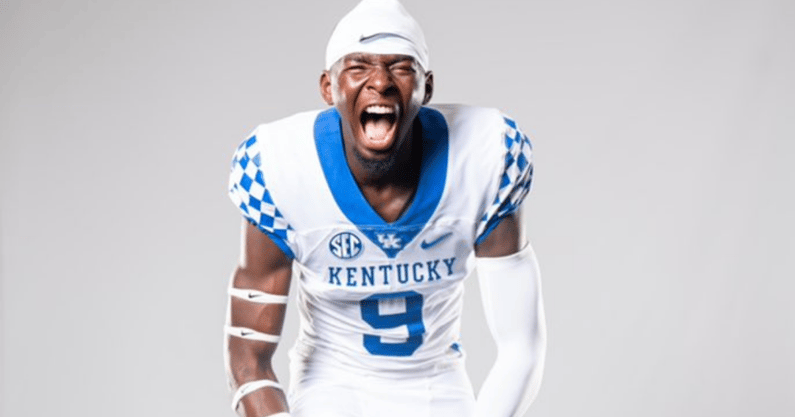 Tyreese Fearbry became the second Top 50 to player to join the 2022 Kentucky football recruiting class when he surprisingly announced his commitment Saturday night.
Fearbry is a 6-foot-5, 225-pound pass-rusher from Pittsburgh. In the On300 rankings he's the fifth-ranked edge rusher and No. 34 player overall. Days after his decision he shared with KSR why he wanted to be a Wildcat.
Fearbry's Gut Feeling
Fearbry took four of his five official visits in June, touring Lexington and Kentucky's campus June 11. Shortly after concluding his tour of college campuses, on the Fourth of July he committed to Penn State. It did not take long for Fearbry to have second thoughts.
"When I committed to Penn State I had a gut feeling after, like a week after. Is this really where I want to be? Do I want to be here the next three years? I had to really think to myself, do I really want to be here? I felt wanted there, but at the same time, that's not where I wanted to be," Fearbry told KSR.
Even though he had pledged his allegiance to James Franklin's Nittany Lions, Kentucky remained in contact with the elite edge rusher. Before the month of July ended, Fearbry re-opened his recruitment.
Connections with Kentucky Coaches
As his high school season began, Fearbry's recruitment continued without any visits. Eventually, his connections with the Kentucky coaching staff convinced him to commit.
"Just building that bond with the Kentucky coaches, they've been here the whole way through," he said. "That was a real big thing because some college coaches will stop talking to a kid when they feel like he's not going to be here or you're not going to come here. Even though I did commit to Penn State, Kentucky was still there.
"Being with the coaching staff like that with Coach Stoops, Coach Buff (Frank Buffano) and Coach (Brad) White, those are great guys down there. They really care about their players and that's why I want to be there."
One thing from Fearbry's visit to Kentucky stood out above his potential suitors at Auburn, Pitt and Penn State. Shortly after meeting Brad White, the two went into the film room. Kentucky's defensive coordinator did not show him Kentucky tape. Instead, the outside linebackers' coach critiqued Fearbry's game.
"When I met him in person, his personality, I knew that's a guy you want to be around. Coaching-wise, that's a great coach to have. Sitting down with him and talking film, not too many coaches will do that with a player they're recruiting, helping me fix the mistakes I'm making on the field. Having a coaching staff that will help you, even when you're in high school, that's a big thing."
White has experience coaching elite edge rushers like Josh Allen at Kentucky and a handful of others for the Indianapolis Colts. However, Fearbry admitted White's NFL experience played no part in his decision.
"I'm going to be totally honest, I forgot Coach White even coached in the NFL."
Unavoidable Fearbry Comparisons to Josh Allen
When Fearbry walked toward the Joe Craft Football Training Facility in June, he strolled right by an enormous Josh Allen banner hanging from Kroger Field. The 2018 collegiate defensive player of the year's name was brought up quite a bit.
"I've been getting compared to Josh Allen since I stepped on campus," Fearbry said.
It's easy to understand why. Fearbry has a lengthy frame to grow into, although he's much more filled in with muscle than Allen was as a two-star recruit. A two-way star that plays on the edge and at wide receiver for Perry High School, Fearbry also runs track. Last year he recorded an 11.63 100m dash and 23.93 in the 200 meters, times normally reserved for 185-pound sprinters. Fearbry clearly passes the look test. He can develop into a star under Brad White's tutelage at Kentucky.
Fearbry has no other visits planned for this fall but hopes to make it to Lexington for a game. Hear the complete candid conversation on the Kentucky Roll Call podcast.