Tyrese Maxey, Immanuel Quickley reminisce on Kentucky; praise John Calipari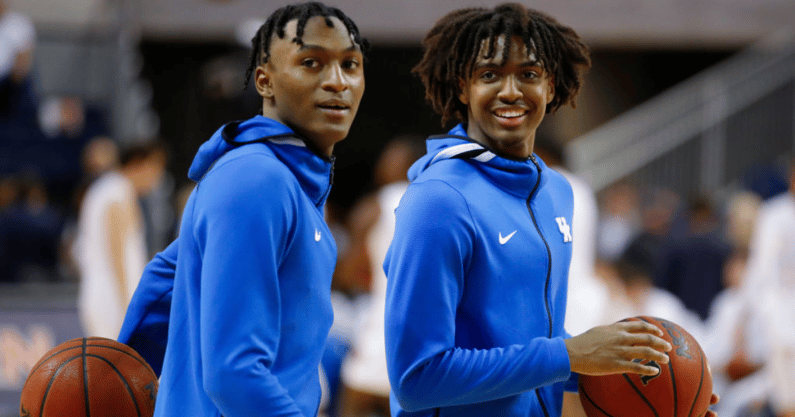 It seems like everyone and their uncle has a podcast these days, but when it comes to former Kentucky players, I'm good with that. Tyrese Maxey started a podcast back in February called Maxey on the Mic and his most recent episode featured his former Kentucky teammate, Immanuel Quickley.
The two reminisced about their time in Lexington, Coach Cal, and their shared disappointment when the tournament was canceled due to Covid.
The NCAA tournament that never happened
Both Maxey and Quickley agreed that the 2019-2020 Kentucky squad had what it took to win it all, starting with team camaraderie. Maxey joked that even though head coach John Calipari would yell at them a lot, they'd all go back and talk about it later which brought them together.
They talked up Nick Richards (while congratulating him on getting paid), talked up how much of a defensive pest Ashton Hagans was, praised Johnny Juzang, and even gave shoutouts to EJ Montgomery and Nate Sestina doing their thing overseas.
As much as they missed out on playing in the NCAA Tournament, they hinted that it may have been a blessing in disguise because of how happy they are now. Maxey absolutely loves Philadelphia and Quickley feels the same about New York, while reiterating their fanbases are very similar to Big Blue Nation.
They theorized that when Kentucky would have gone on their inevitable deep tournament run, the national stage would have elevated their draft status resulting in different teams selecting them higher in the draft.
March Madness or not, they both dropped way too far in the draft. If the league had a 2020 draft redo, both of those guys likely go in the top 10, a take with which they and most sports blogs around the Internet agree.
Maxey, Quickley praise Calipari and the Kentucky experience
In an era where Calipri naysayers are popping their heads back out of the bushes everywhere, don't consider Tyrese Maxey or Immanuel Quickley among them. One of the core topics the two kept readdressing was how much Calipari and Kentucky got them ready for the NBA.
Quickley said:
"When you're playing at a school like Kentucky, it's not any other school. You gotta have that confidence. You gotta have that killer [instinct] that whoever you step on the floor with, I'm gonna go at them…that's what you have to have at Kentucky and it carries over into the league."
Maxey was quick to praise Cal for helping with that confidence: "Cal did a really good job of making us build our own confidence. When I look back, I really appreciate him for that."
Quickley later dropped some scoop that Calipari tried to get them both to reclassify and join the team a year early. Neither chose to go that route, but they used it as proof that Cal wanted as much competition as possible.
Maxey had more Calipari praise: "[Cal| really taught us that you had to maximize your opportunities with very limited [chances], and that was the same thing in the [NBA]."
With all this admiration, Maxey threw in one somewhat playful barb early on, saying that the reason he only shot 22% from 3 at Kentucky was that Cal had him scared to shoot.
At the end of the day, though, it was all love for Cal. Maxey said: "The biggest thing Cal does is brings in a group of egos (because we all have egos), dumps us into one pond and says, 'Figure it out.'"
Practice stories
Aside from Cal, Maxey and Quickley had a ton of positive things to say about the entire coaching staff, especially Kenny Payne. Maxey talked about how KP would yell at them during practice and then be the first to take them out to eat later that night.
They also talked about how, one summer during a pickup game, Cal walked in, saw them playing, stuck his head out the office window, blew his whistle, and began an impromptu practice because of what he saw. The team only got so many hours during the summer to legally practice and Cal canceled a future session and had one on the spot.
The most interesting story, though, was one that the two brushed over as if to not give out too much inside info. Reading between the lines, it sounds like the coaching staff had the whole team running nonstop one practice. After being told to get on the line again, Quickley shouted, "We not runnin!" in both a veteran leadership role and as an act of defiance. They both shared a big laugh and now I need to know the rest of the story.
The entire podcast is a good listen and definitely worth 30 minutes of your day.
Discuss This Article
Comments have moved.
Join the conversation and talk about this article and all things Kentucky Sports in the new KSR Message Board.
KSBoard