Tyrese Maxey shoots down trade rumors; other notes from BBNBA Media Day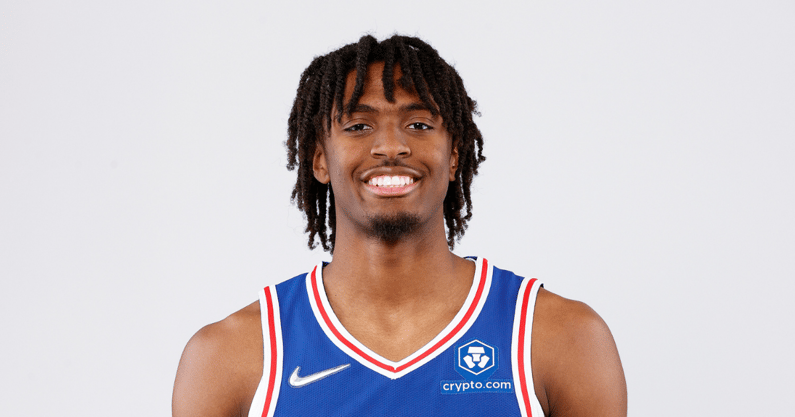 NBA Media Day 2021 got off to a…loud start this week.
With COVID-19 still a wildly hot topic as the 2021-22 season inches closer and closer, questions were bound to pop up surrounding player vaccination status–and boy did they. A vocal minority of players such as Kyrie Irving, Andrew Wiggins, Jonathan Isaac, Bradley Beal, and a few others, have made clear their views on receiving the vaccine and why they oppose it. Places such as San Francisco and New York City have already mandated vaccine requirements for players, which could result in unvaccinated players being forced to miss games in those cities. Roughly 85 percent of the league is vaccinated, but it's the other 15 percent making their peers and fans uncomfortable.
Lost in the kerfuffle of "personal research" was, well, everything else that happened on Media Day, which also took place on Tuesday for a handful of NBA franchises. From a BBNBA perspective, there was plenty of discussion-worthy content: from Tyrese Maxey addressing old trade rumors, an update on Devin Booker entering health and safety protocols, and who's bulked up in the offseason. Let's break it all down.
Tyrese Maxey trade rumors
If there is anyone who has been roped into the Ben Simmons trade rumors more than Ben Simmons himself, it would be his Philadelphia 76er teammate Tyrese Maxey.
The soon-to-be-sophomore point guard addressed the media on Monday to shoot down a previous rumor that Maxey and his agent, Klutch Sports' Rich Paul, requested to be included in any potential Simmons deal. The rumor was that Paul didn't want any of his clients in Philly (Simmons is also represented by Paul), but Maxey quickly shot that down.
There have also been reports of Maxey filling in as the team's first-unit point guard early on. Whenever Simmons is ultimately dealt, Maxey will get his shot as the 76ers lead ball handler.
Bam Adebayo and Nerlens Noel looking to shoot more
Two guys known as non-shooters, Bam Adebayo of the Miami Heat and Nerlens Noel of the New York Knicks both discussed the idea of shooting more outside jumpers this season to help expand their games.
Adebayo said he was getting bored with some of the same spots he was scoring at last season, leading to him wanting to keep defenders honest. He said he wants to "be a shooter," which doesn't mean he needs to hit 40 percent on five 3-point attempts per game, but chucking up one or two every night with a 35 percent success rate would make him twice as versatile on offense.
As for Noel, the elite rim-protector told the media he had been working on his perimeter shot over the offseason. In particular, he's been working on the corner-3, which is the shortest 3-point shot in the NBA and one he could get open for on a consistent basis.
Eric Bledsoe back with the Clippers
Back where it all began, Eric Bledsoe sported his Los Angeles Clippers jersey for the first time since 2013. The point guard spent his first three NBA seasons with the Clips before stints with the Suns, Bucks, and Pelicans. Now 31 years old, he's returned to L.A. with a chance at making an NBA Finals run.
Devin Booker tests positive COVID-19
During a video game livestream not long after the Phoenix Suns announced that he would miss Media Day due to health and safety protocols, Devin Booker confirmed that he tested positive for COVID-19, but did not say if he was vaccinated or not.
"I'm not gonna tell you guys if I have the vaccine or not," Booker said. "But you could still get COVID with the vaccine, for anybody that's saying that. Educate yourself, educate yourself."
The two-time All-Star added that he's lost his taste and smell but should be back with the team "in no time."
Anthony Davis embracing the center position
After years of openly admitting he did not want to play the five, Anthony Davis appears ready to slide down to center. He told the media on Tuesday that he will play mostly down low after filling as a power forward for the majority of his stint with the Los Angeles Lakers.
"There was the expectation and that was discussed, and I expect to play center," Davis said. "I'm not sure what's going to happen. Me and (head coach) Frank (Vogel) talked about it a couple of times and that's the plan. Right now, nothing is set in stone but we want to see what that looks like, and I'm comfortable with that.
Rajon Rondo missed his Lakers
Speaking of Anthony Davis, his Laker teammate Rajon Rondo, who returned to the franchise after spending the 2020-21 season with the Atlanta Hawks and Los Angeles Clippers, got "emotional" during questions. Rondo was previously a member of the Lakers' 2020 NBA Finals winning squad and made his way back during the offseason.
In typical Rondo fashion, he ironically teared up when he was told that Davis and fellow Laker LeBron James missed him last season.
De'Aaron Fox and Tyler Herro adding muscle
A couple of the young rising stars in the BBNBA world spent the offseason hitting the weights. Considering those players were notoriously skinny guards De'Aaron Fox (Sacramento Kings) and Tyler Herro (Miami Heat), it was music to those fan's ears.
Fox says he bulked up a lot over the summer while Heat head coach Erik Spoelstra says Herro added 10 pounds of muscle.
How can you not like Keldon Johnson?
Like, seriously?
Enes Kanter continues to speak out
There aren't many more outspoken professional athletes out there than Boston Celtics big man Enes Kanter. Over the last few days, he's been on TV doing interviews to help raise awareness for getting the COVID-19 vaccine.
"We are leaders, community leaders, and there's so many people idolizing us," Kanter recently said on MSNBC. "We need to use this platform to encourage others to get vaccinated."
Mychal Mulder is a better shooter than Klay Thompson: confirmed
KAT's struggles
We don't need to talk about it much more than we already have, but Karl-Anthony Towns has had a hell of a year-and-a-half. He's lost family members to COVID-19, suffered the consequences of contracting the disease himself, endured injuries, and somehow still has the courage to speak out.
Isaiah Jackson hype
Indiana Pacers rookie Isaiah Jackson is receiving high praise ahead of his NBA debut. Reports out of Media Day included unexpected progress in his jump shot and an athleticism comparison to that of former Pacer Paul George.
---
With Media Days coming to a close, training camp will quickly get underway as we're now less than a month until the start of the 2021-22 season. The schedule tips off with two primetime showdowns on Tuesday, Oct. 19, which will feature Nets-Bucks (7:30 p.m. EST) and Warriors-Lakers (10:00 p.m. EST) on TNT.