TyTy Washington comfortable in his role as the quiet star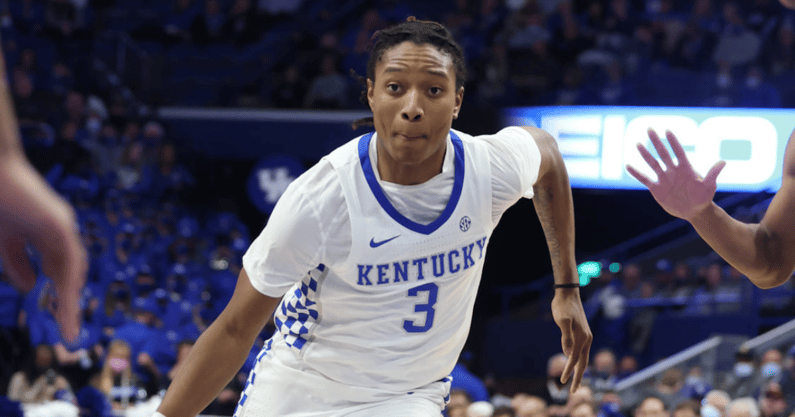 TyTy Washington came to Kentucky with expectations of shouldering an almost overbearing amount of hype. The 6-foot-3 point guard was a late addition to John Calipari's 2021 recruiting class, but easily the most important. Eight games into the 2021-22 season, Washington hasn't shown immediate star power comparable to the likes of former Wildcat guards John Wall or Tyrese Maxey.
But considering the deep roster makeup of this year's Kentucky squad, that's not the role Washington is being asked to fill. Instead, he's one of two lead ball handlers, playing alongside a veteran point guard with over 60 games of college experience under his belt in Sahvir Wheeler. Oscar Tshiebwe is UK's clear superstar right now, too, averaging 15/15 on the young season.
Washington is a near-perfect mold for what Calipari is looking for in a point guard; he's also the first during Cal's Kentucky tenure allowed to take a step back. However, Washington isn't taking a step back at all. He's just not over-exerting himself.
In a 76-64 win over Southern University on Tuesday night, Washington was excellent once again, finishing with 14 points (5-10 shooting), three rebounds, five assists, and one steal in 26 minutes of action.
Only Wheeler has played more minutes than Washington this season. Washington's 99 shot attempts this season (of which he's made 47.5 percent) are the most on the team by 18. Only Kentucky's two bigs, Tshiebwe and Daimion Collins, shoot a higher overall percentage than him. Tshiebwe is the only Wildcat averaging more rebounds per game than Washington, as well.
Washington's numbers on the season have quietly been wildly impressive. The freshman is averaging 14.8 points (second-most on the team) on a shooting split of 47.5/39.3/81.3 that has NBA executives drooling. He doesn't turn the ball over at a fat rate despite high usage. He rarely commits fouls and has an instinct for involving his teammates.
But when you watch Kentucky play, you wouldn't know he was putting up these types of stats. Outside of the season-opener against Duke, where Washington was rushing himself and forcing plays, he can feel invisible on the court. That's not a bad thing, though. If anything, it's a testament to his attitude and maturity.
He hears the noise from the outside, where fans and media members (KSR included) suggest he could be the bonafide star Kentucky needs to morph into a Final Four-caliber team. But Washington doesn't feed into it, even if he might believe it too. He's too humble to do so.
"Yeah, I hear it but I really don't focus on it," Washington said after Tuesday's win over Southern. "I don't listen to the outside noise like that. My family, they do a really good of telling me like 'you're not the best player on the team, do your role, be a star in your role' and that's the same thing the coaches are telling me too. I got the coaches telling me that and my parents telling me that.
"My parents and my family, they know it's all about winning at the end of the day. Winning takes care of everything and that's the standard that's held here. Kentucky is known for winning. So every game it's just bring what I bring to the table and hopefully that turns out to be able to get us the win."
Kentucky is 7-1 on the season, with Washington making significant contributions in every victory. As each game goes by, he continues to look more and more like the star point guard UK lacked last season; doing so with impressive efficiency. Washington's style of play isn't meant to be flashy anyways. He's just incredible sound at nearly every aspect of the game.
That level of poise and control for an 18-year old doesn't come around very often. It's a product of the people around him that helped raise him. Washington has never been a "me me me" player, it's always about "win win win".
"It's just the way I play," Washington added. "At the end of the day, I feel like the way I play is just–whenever somebody asks how do I describe my game the first thing I always say is winning. Because that's my ultimate goal is to win, so I don't care what I have to do win. I know with the team we got, I don't have to go out there and try to score 30 points every single night."
Even in this "reserved" role, Washington is rising up NBA Draft boards. He's easily Kentucky's top professional prospect right now without playing anywhere close to his potential. Eventually, his aggression will catch up with his confidence and willingness to win. Once that happens, the sky will be the limit.