TyTy Washington continues stretch of strong scoring performances: "That's what he does."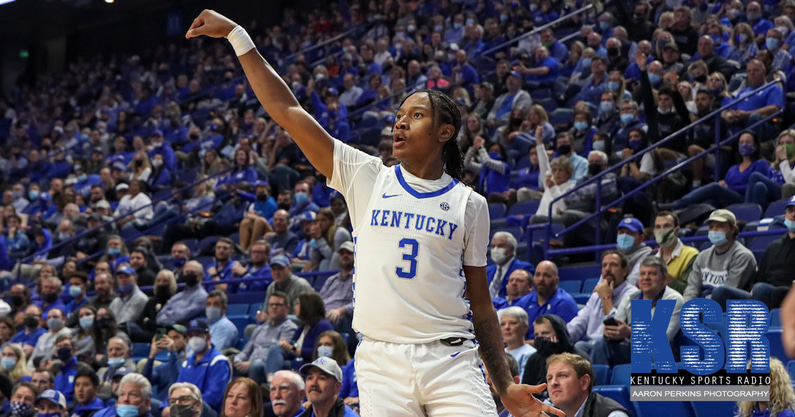 TyTy Washington struggled in his freshman debut as a Wildcat, finishing with nine points on 3-14 shooting in Kentucky's season-opening loss to Duke. Since then, though, the 6-foot-3 guard has managed four straight games in double figures and back-to-back 20-point scoring performances.
He's topped or matched his previous scoring total every game this season, with the latest example coming in Kentucky's win over Albany on Monday. Washington finished the day with 20 points on 7-14 shooting overall, 2-3 from three and 4-5 from the line to go with six rebounds, three assists and two blocks in 38 minutes.
It was a performance that pushed his scoring average up to a team-high 15.0 points per contest on 46.2 percent shooting, 33.3 percent from three and 83.3 percent from the line. He's also averaging 5.0 rebounds and 3.4 assists per game.
Needless to say, the former five-star recruit is finding his footing at the collegiate level rather quickly.
"I feel like I'm adjusting really well, letting the game come to me," Washington said after the game. "Just getting out in transition, one of the good aspects of my game is getting out and beating everyone up the floor and making easy plays for either me or my teammates."
His floater in the lane has become deadly, he's comfortable in the mid-range with soft touch on his pull-up jumper, and the 3-point shots are starting to fall. The reputation he earned as an elite three-level scorer in high school has followed him to Lexington.
"I feel comfortable anywhere on the court."
If you ask him, he's confident from anywhere on the floor. Attacking the rim, hitting mid-range jumpers, and knocking down shots from deep, he's comfortable doing it all.
"(There's) not really (one area I thrive in the most)," Washington said. "I just go out there and play, really. I feel comfortable anywhere on the court."
Is it a surprise to his teammates how quickly he's finding his footing as a scorer at this level? Not at all.
"That's what he does for us."
"No, I'm not surprised, because he's a scorer. That's what he does," graduate transfer guard Kellan Grady told KSR. "He's got a knack for being in the right spot, making the right play, just putting the ball in the hoop. That's what he does for us, that's what he's going to continue to do.
"Not really surprised — everyone within this inner circle that sees what he does every day knows what he's about."
"TyTy was TyTy."
That's just who he is. The way he played Monday evening is the way he's capable of playing every time he steps on the floor.
"TyTy was TyTy," junior guard Sahvir Wheeler said. "He was efficient, made free throws, he was aggressive. That's what we need him to do — be a scorer, be a guy who can make plays for others, get to the paint, create, shoot the floater, finish around the rim, make catch-and-shoot threes. That's what he did.
"He was steady, he was consistent, and that's all you can ask for."
"How do you stop that?"
The scariest part isn't necessarily what Washington is capable of doing each night, it's the production his teammates can add on top of it. If your core players all play well — all five of Kentucky's starters finished with 12 or more points against Albany — there's nothing you can do to slow them down.
"He's definitely getting more comfortable," Wheeler said of Washington. "It's just constant encouragement, like, "Hey bro, we want you to shoot those shots, we want you to be aggressive." As a team, we have so many threats. If TyTy is rolling, Kellan is rolling the way he is, Keion (Brooks Jr.) had his game, I mean, how do you stop that?"
Great question.