TyTy Washington excited for a rivalry game; Calipari says it's a good one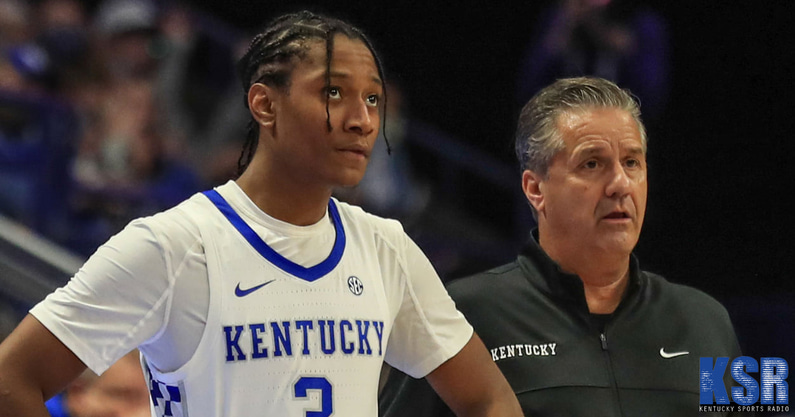 TyTy Washington is excited to return home to Rupp Arena for another big SEC matchup. This weekend, Washington and his Kentucky teammates are back home following a trip to Nashville where the Wildcats earned their first road win of the season. Washington had 15 points, four rebounds, and four assists in the game, his second stint as the full-time point guard.
"It feels really good," Washington said after Kentucky's 78-66 win at Vanderbilt. "As soon as we got back in the locker room, that was the first thing we were all talking about. It's different when you're on the road away from your home fans. You don't really have that homecourt advantage."
Kentucky was close to having the homecourt advantage at Vanderbilt—Keion Brooks called Big Blue Nation's turnout, "pretty dope"—but the real homecourt advantage will be felt this Saturday in arguably the biggest home game of the year. Rupp Arena will need to be at its best as Kentucky hosts its bitter rival, No. 22 Tennessee in the one o'clock ESPN game.
Washington is excited for a marquee game on Kentucky's own floor.
"I can't wait," he said of Saturday's game against the Vols. "I know we didn't get a chance to play against Louisville, so I know Tennessee is the next closest team to a rivalry so I know the fans are going to get in there and it's going to be rocking."
Regarding the matchup, Washington added, "I know they're going to come out playing physical. We're going to set the tone, we're going to be the aggressor in that game."
"Always a good game, a good rivalry"
John Calipari also had a few comments on the upcoming Tennessee game. Last night on his call-in radio show, Calipari told stories from his long relationship with Vols head coach Rick Barnes and how he encouraged Barnes to take the Tennessee job in 2015.
"I didn't expect him to come in and beat us a bunch," Calipari joked. "But they have. It's always a good game. It's a good rivalry."
Calipari and Kentucky hope to dodge a three-game home losing streak to Tennessee as the Vols have won the last two in Rupp Arena. Overall, Barnes has a winning record against Calipari and Kentucky at 8-6.
We'll hear more from Calipari tomorrow in his pre-Tennessee press conference.