TyTy Washington Gained Confidence During Sahvir Wheeler's Absence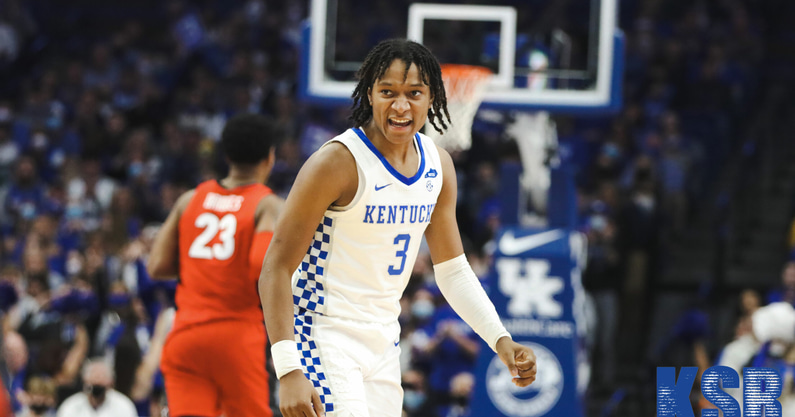 Sahvir Wheeler's unexpected midseason absence gave TyTy Washington an opportunity to run the Wildcats' offense. As Wheeler prepares to return to action, Washington emerges as an improved, confident player, unlocking this Kentucky basketball team's potential.
In the first five minutes of Kentucky's first significant road test of the season at LSU, Wheeler injured his neck when he ran into a hard screen. It forced the Cats to scramble, handing the keys of the offense to a true freshman. UK struggled in the short term, falling 65-60 to LSU, but it might just be the best long term development for this team.
Wheeler returned to practice Thursday. Barring a significant setback Friday, he will resume playing point guard for the Wildcats against Tennessee. During the two-game stretch as UK's starting point guard, Washington transformed into a better basketball player.
"It made him more aggressive," Calipari said Friday morning. "You can't be afraid to make errors. You're not being taken out for missed shots. If you don't work, if you don't sprint, if you don't attempt to rebound, if you get absolutely bullied, you're coming out. Not because you make an aggressive play and the ball doesn't go in. You'll come out for not shooting balls more than you will for missing shots."
Veterans Give Washington Confidence
Washington's growth over the last 2.5 games could not have happened without the help of Kentucky's vets. Leading into his first start against Georgia, they encouraged him to take command of the offense by becoming a more vocal leader.
"I gained confidence in all types of forms," Washington said. "My teammates were telling me all week in practice, 'Even though you're a freshman, you still have a say-so on this team. You're one of our guys. So if you ever have to say something, tell us and we're gonna do it.' Having the coaches there, always motivating me to be a leader and stuff like that, they understand if I'm being a leader, the team will still listen, no matter how young I am."
Washington responded immediately, setting a new UK single-game assist record in his debut with 17. The veterans and coaches soon realized the benefit of having a shooter as the primary ball-handler. Instead of playing off Wheeler and crowding the lane, opponents had to respect TyTy's jump shot. It opened the floor, creating easier opportunities to find open looks.
"I play with a lot of vets. They all know the tricks of the trade to the game. They know how to play. They've been in college and they know what to expect," Washington said. "When I'm playing the way I play, they just encourage me to continue to be who I am, continue to be myself. At the end of the day, they just want me to help us get to a win."
Prior to Wheeler's injury, there were question marks at point guard. For the offense to flow smoothly, they needed Wheeler to create. In Wheeler's absence Washington revealed new possibilities for the Wildcats' offense and became an empowered, rising star.
"Getting that type of confidence takes pressure off your shoulders and makes you feel like you can go out there and play freely," Washington said.