TyTy Washington, Sahvir Wheeler back to 100%, status uncertain for Daimion Collins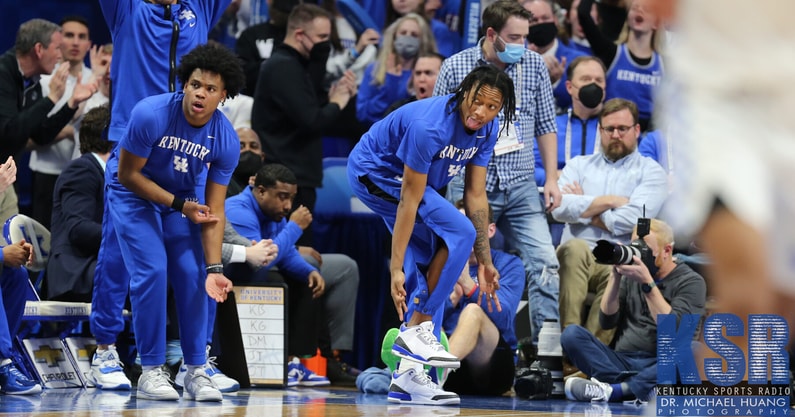 There have been no setbacks for Kentucky's starting backcourt duo in TyTy Washington and Sahvir Wheeler as the team prepares for its trip to Tampa for the SEC Tournament. Daimion Collins' status, though, remains in question.
We'll start with the bad news — or uncertain news, rather. When asked about Collins — who missed Kentucky's regular-season finale at Florida due to a shoulder injury — and his status for this week, John Calipari went with his go-to Cal-ism.
"I didn't see him today," Calipari said during his call-in radio show. "I haven't seen him, so I don't know. My hope is it's good."
To his credit, the Kentucky head coach said after his team's win in Gainesville that he was going to give his players two days of rest, Sunday and Monday, before returning to practice on Tuesday. With his call-in radio show broadcast live Monday evening, the idea of not seeing Collins is understandable, if not likely.
Now for the good news. After dealing with various injuries late in the regular season, Washington (ankle) and Wheeler (wrist) are both back to full strength. The former has been undergoing treatment and resting his body during his pre-SEC Tournament break, while the latter is wearing a brace on his wrist. Minor precautionary measures for both to ensure full recoveries with no setbacks going into postseason play.
"Yes I am (back to full strength)," Washington said Tuesday. "I've been doing a lot of treatments these last few days. We had a few days to take some time off, so I've really been just focused on taking care of my body because I know the stretch we've got coming up. We're gonna be playing a lot without practices and stuff like that, playing back-to-back-to-back. It's important for not only myself, but the rest of us to keep our bodies safe and healthy. That's what I've been really doing."
"Yeah, it's just a precaution. Making sure everything is cool," Wheeler said of the brace on his wrist. "I think if you've seen the last couple of games I've played, I don't feel like I'm having any pain or any restrictions. I've been wearing this for the last — however long it's been. It's nothing new."
Both Washington and Wheeler were named to the All-SEC Second Team on Tuesday, with Oscar Tshiebwe also earning All-SEC First Team and SEC Player of the Year honors. Washington is currently second on the team in scoring, averaging 12.2 points per game to go with 4.1 assists, 3.4 rebounds and 1.3 steals. Wheeler averages 10.1 points to go with 6.9 assists, 2.3 rebounds and 1.1 steals per contest.
Collins' status remains up in the air, but Kentucky's core rotation is officially back to full strength.