John Calipari updates TyTy Washington, Sahvir Wheeler's statuses following Alabama win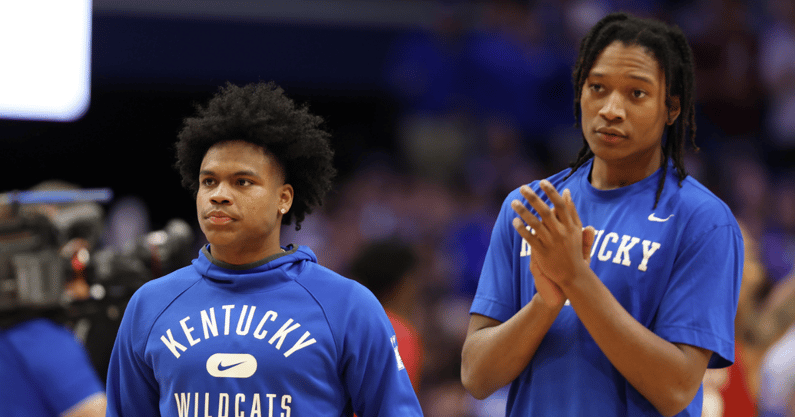 Kentucky managed to beat No. 25 Alabama without Sahvir Wheeler and TyTy Washington, which is a good thing because the Cats could be without them for a few more games. After the Cats' 90-81 win over the Crimson Tide, John Calipari said Washington (leg) and Wheeler (wrist) may sit another week in order to ensure they're fully healed for the final stretch of the season.
"They may be out another couple of games. I need them healthy before March. We don't need them to play hurt. If we don't win a game because they're not there, then we don't win the game."
"They're both injured," he added later. "It's another one of those — we just don't need nagging [injuries]. So if they've got to take another week off, take another week off."
Washington first suffered the leg injury last Saturday vs. Florida. He gave it a go at Tennessee but clearly was not 100%, limping to the sideline less than a minute into the second half. Wheeler was seen grabbing his wrist towards the end of the Tennessee game and checked out with two minutes left. Just before tip-off today, Kentucky announced they are both day-to-day.
It didn't look like it at first, but Kentucky was able to weather the storm without its starting backcourt. Davion Mintz and Kellan Grady shared point guard duties, dishing 13 assists to only seven turnovers. Kentucky hosts LSU on Wednesday and travels to Arkansas on Saturday. Here's hoping TyTy and Sahvir are back soon, but the Cats turning in this type of performance without them only inspires more confidence heading into March.